We are reader-supported. Buying through links on our site may earn us commissions. Learn More.
Deal Alert! Huge James Allen Sale- 3% off Earth Diamonds AND 25% off settings or

15% off at Blue Nile!



Michael Hill Australia Diamonds Review: Poor Quality at Premium Prices
Overall Score:

1.5

Price:

1

Selection:

1

Customer Service:

2.5

Cons

Poor selection
Very high prices

Other Recommended Retailers
Bottom Line Recommendation

Every time I went into a Michael Hill location in Australia, I felt myself getting angrier and angrier. I understand that not everyone has the budget (or interest) to go to Tiffany & Co or another high street retailer. That doesn't mean that you need to get an engagement ring that looks terrible.
There is no question you are able to get a much higher quality product than what they were offering here. If you decide to sacrifice on quality, at the very least you shouldn't be getting ripped off while doing so. Michael Hill's premiums were higher than just about every place we went to in Australia while their quality was hands down the lowest.
The service was subpar, the locations were drab (the Brisbane experience being the exception), the quality of the diamonds were horridly low and the prices were shockingly high. I can't think of any reason why someone will buy a diamond ring at Michael Hill.
Their online selection is no better than what is in person. We talk about their issue with using subpar certification (see below), but even ignoring that, Michael Hill is a crazy rip-off. Take this ring offered on their website and compare it to this diamond from Blue Nile. While I wouldn't recommend this diamond to a consumer, it is significantly higher quality than the diamond Michael Hill offers. It is higher color and clarity and it's certified by GIA, the gold standard of certification. If you pair that diamond to this comparable setting, the Blue Nile ring is 35% cheaper than the Michael Hill offering.
If you are interested in our secret shopping of Michael Hill outside of Australia, read this article.
The History
Despite not being much of a name in the US, Michael Hill has quite the presence around the globe. Michael Hill started it all 40 years ago by opening their first store off the beaten path in Whangerei, New Zealand.
After growing their presence in New Zealand, Michael Hill landed in Australia and quickly gained traction there. In 2002, Michael Hill made the voyage over to North America. Their main presence is in Canada, with a little bit in the United States.
Certification
This is a big issue with Michael Hill Jewellers. It is paramount that you purchase a diamond with a GIA or AGS certificate. Without a certificate from a reputable laboratory, you have know way of knowing the color and clarity grades. Some labs are more lenient and will inflate the quality claims. Without a GIA or AGS certificate, there is no way to figure out how much the diamond you are buying is worth the money they are charging.
Fortunately for Australians, this isn't much of a problem. The majority of jewellers we visited on the trip use GIA or AGS certification for their diamonds. Occasionally they used a local certificate (which I am unfamiliar with), but it wasn't hard to find a GIA certified diamond. Michael Hill was one of the two exceptions.
Sydney – Parramatta Mall
The Experience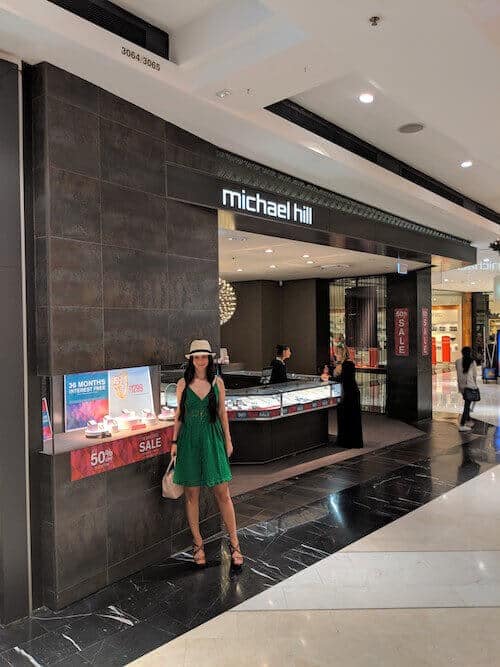 About four hours after landing in Australia, Jenny and I hopped in an Uber to the Parramatta mall to start off our secret shopping bonanza. Our first stop in the mall was Michael Hill Jewellers. I'm not going to lie; it was a rough start.
Parramatta Mall is not exactly what you'd describe as a high-end mall. That said, the other jewellers in the shopping centre managed to exude a level of luxury befitting a place you are purchasing an engagement ring. Michael Hill certainly did not. The inside was decidedly drab and underwhelming, with dark lighting and unimpressive showcases.
We finally found the section for engagement rings and started to peruse on our own. A salesperson came over to help us out. While friendly and attempting to be helpful, we could immediately tell that the salesperson was not educated about diamonds.
The Product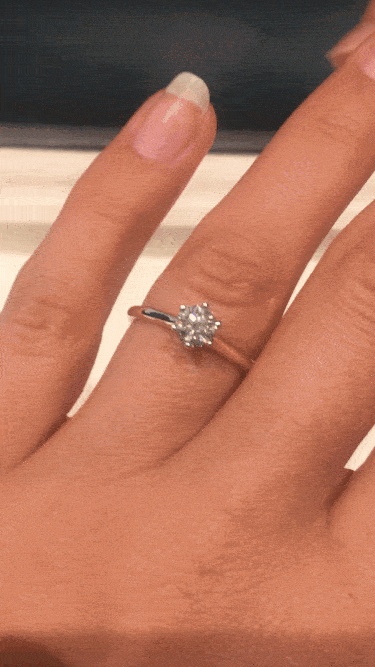 In Sydney we saw a 0.50ct I color, I1 clarity set in a simple white gold solitaire setting. The diamond was incredibly dark, either due to a poor cut or the fact that it may not have been an I color diamond. The inclusions were very noticeable and the ring cost AU$3,500.
Brisbane – Queens Plaza
The Experience
This was the nicest Michael Hill location we visited on the trip. The store may not have as nice of an ambiance as other retailers in Australia, but it did have a clean, modern vibe to it. The salespeople seemed a little more educated when offering us some options.
The Product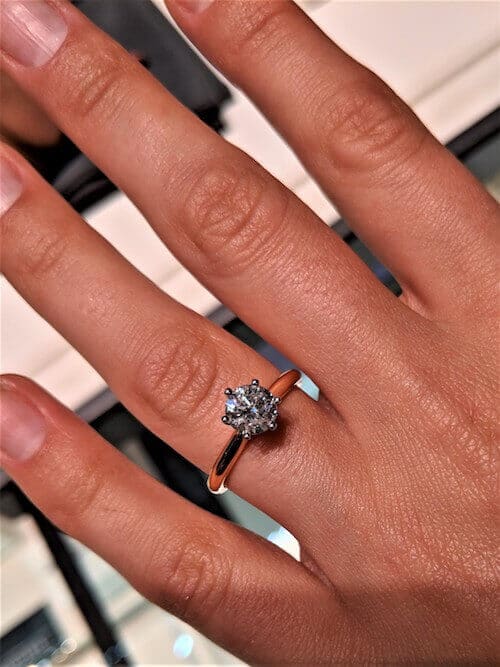 Unfortunately, the product wasn't much better. first ring we looked at was a 1.00ct G color, I1 clarity round diamond in an 18kt rose gold solitaire setting for AU$ 9,999. This diamond was very poorly cut (64.5% depth) and not even remotely eye-clean.
Melbourne – Collins Street Area
The Experience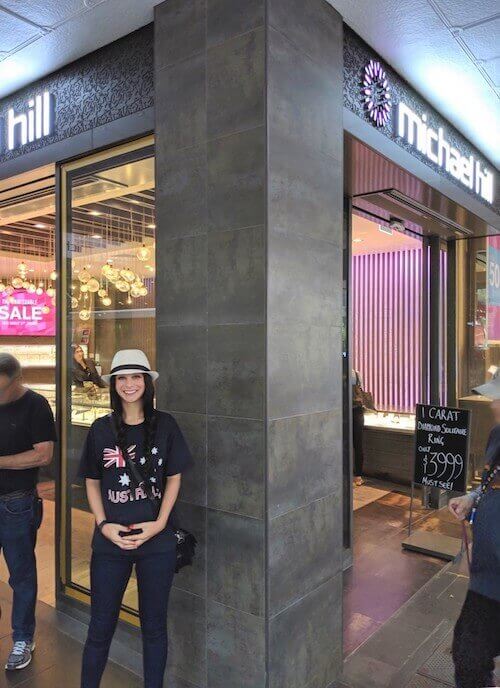 We actually visited two locations around Collins Street. The first place I got so frustrated with I walked out straightaway. In both of these locations, we were shown the worst diamonds we saw in the one month of secret shopping. In the first location, I asked about certification and the response was "you don't need certification" so I walked out right away.
The next day we went to another location off of Collins Street. Again they showed us the lowest quality diamonds (without prompting) that Michael Hill offers. I believe it was their Evermore brand. There was no certification and the quality was so far below what we recommend, I won't even be able to offer a comparison (no reputable online jeweller will offer such low quality).
Product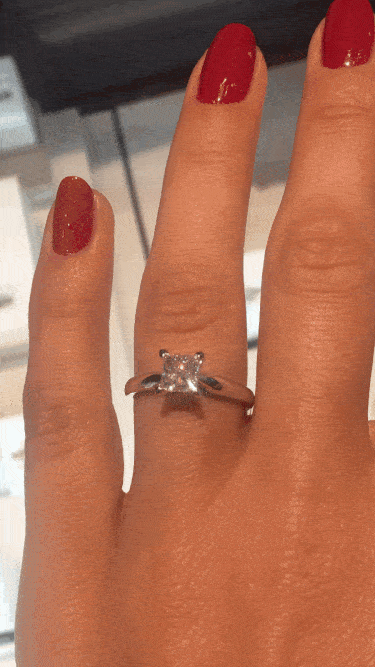 The diamond we saw was a 1.00ct "GHI" colour (looked like a K color) I1/I2 clarity (the diamond was completely clouded with inclusions). It was set in a 14kt gold setting and cost AU$6,999. At least this time, the salesperson admitted that we will be better off with a certified diamond.
The Value
Let's start off with what we saw in Sydney. That was a 1/2ct round diamond in a 14kt solitaire setting for AU$3,500. I would recommend going with a diamond like this gorgeous 0.51ct F color, SI2 clarity diamond from Blue Nile. It is head and shoulders above the quality we saw at Michael Hill and it costs AU$1,753. If you add it to this solitaire setting, your total cost is AU$2,116. You are getting a diamond with a better certificate that is higher quality (significantly better color and clarity) for half the price.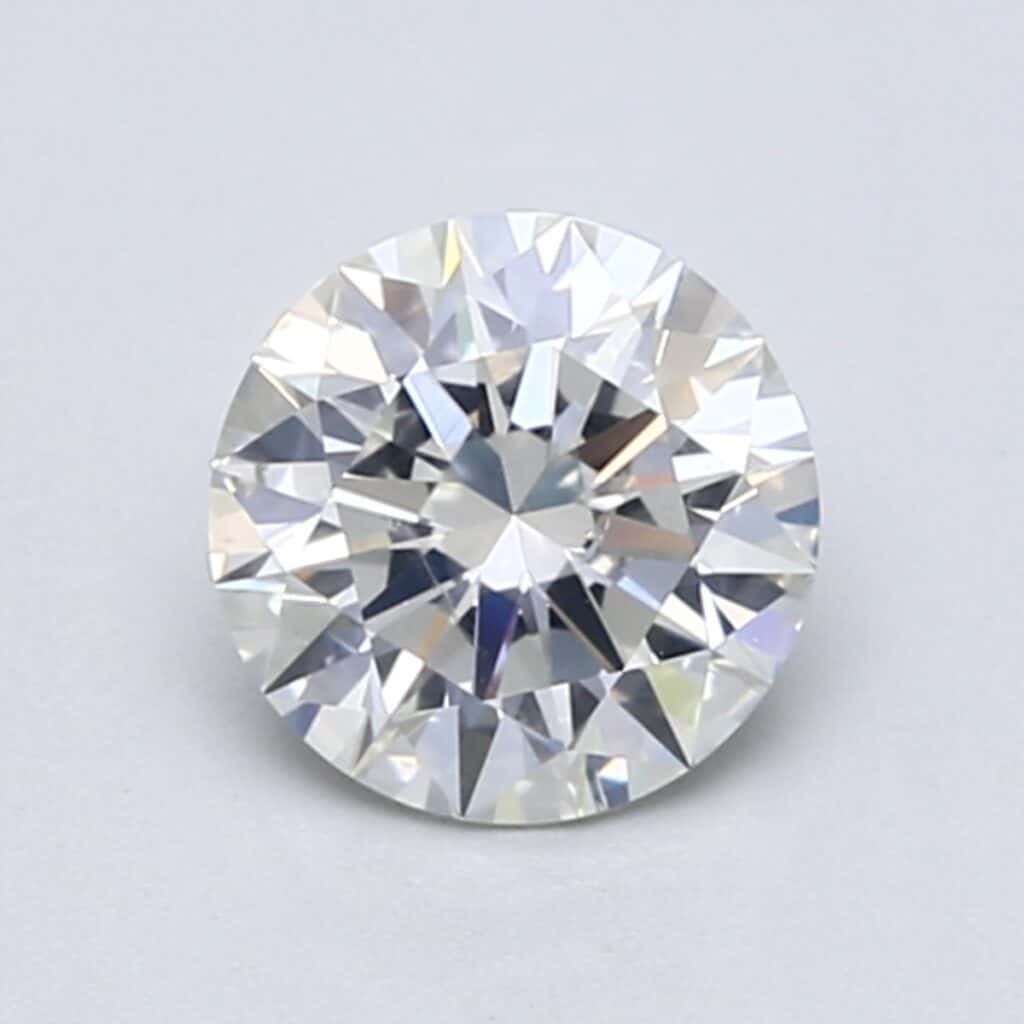 The diamond in Brisbane didn't fare much better. Here is a 1.02ct G color, SI2 clarity diamond from Blue Nile for AU$6,080. Adding into the same solitaire setting will still save you 35%. That seems better than previous comparison, but keep in mind that the price disparity between an I1 and SI2 is much bigger once you are looking at diamonds over 1ct. So the upgrade you are getting with this diamond is much more significant.
I can't even find a price comparison for the diamonds we saw at Michael Hill in Melbourne. The quality was so far below the qualities a reputable online retailer would sell, I can't make any comparison that is close to apples to apples.
Online Experience
Some of our readers have asked us specifically about products they viewed on Michael Hill's website. Originally I was planning on ordering something from them online to compare as well. But given just how poorly their store performed, I didn't see a point in doing so.
Let's start off with the overall usability of the site. When searching for a ring, Michael Hill does not offer much versatility. All of the top online retailers allow you to build your own ring, which lets you pick the exact setting you like and then match it with the perfect diamond. Take a look at the incredible options you have when building your own on Blue Nile. Michael Hill only offers "pre-set" rings (with their low-quality diamonds), severely limiting your options
Here is a 1ct Princess cut solitaire from their website. The price is AU$6,999. Even giving them the benefit of the doubt that the quality is decent, the price is still ludicrous. Here is a comparable diamond from Blue Nile (with a much higher clarity) paired with this setting. You can get this ring for AU$4,577. The Michael Hill ring is more than 50% more expensive!
James Allen

James Allen is the leader in online diamond sales. Their imaging technology is the same as inspecting a diamond with a jeweler's loupe. They have the largest exclusive loose diamond inventory online and fantastic prices. They also have the nicest collection of lab created diamonds online. Now save 25% off settings AND 3% off Earth Diamonds during James Allen HUGE limited time sale!
What we love about them:
No questions asked returns within 30 days of shipment. James Allen will send you a paid shipping label to return the ring.
Lifetime Warranty
Free International Shipping
Free prong tightening, repolishing, rhodium plating and cleaning every 6 months
Provide insurance appraisals
One free resizing within 60 days of purchase
Free ring inscriptions
Best-in-class high quality imagery of all diamonds in stock
24/7 Customer Service
Best-in-class packaging

---
Blue Nile

Blue Nile is the largest and most well known internet jewelry seller. They have a very large exclusive online inventory. Their high quality images are catching up to James Allens' and their prices are amazing. Blue Nile have generously offered our readers an exclusive one-time use coupon.

(Click Here to save $100 off engagement ring settings)
What we love about them:
No questions asked returns within 30 days of shipment. Blue Nile will send you a paid shipping label to return the ring.
Lifetime Warranty
Free Shipping
Free prong tightening, repolishing, rhodium plating and cleaning every 6 months
Provide insurance appraisal
One free resizing within the first year of purchase
High quality images of about half of their diamonds
24/7 Customer Service
100% credit towards future upgrades (must be at least double in value)
Best in class fulfillment

---
Still afraid of getting ripped off?
Before you buy a diamond, get personal buying advice from industry veterans. We'll help you get the best diamond for the money.
Ask your diamond purchase question here
DISCLAIMER: We don't use your email for marketing. Period.