We are reader-supported. Buying through links on our site may earn us commissions. Learn More.
Deal Alert! Huge James Allen Sale- 3% off Earth Diamonds AND 25% off settings or

15% off at Blue Nile!



Lee Michaels Fine Jewelry Reviews: High Prices, Average Service
Overall Score:

1.83

Price:

1.5

Selection:

2

Customer Service:

2

Pros

---

Cons

Poorly cut diamonds
High prices
Underwhelming service

Other Recommended Retailers
Bottom Line Recommendation
Given the luxurious ambiance at Lee Michaels, there are expectations that the service and products will be top notch. That was far from the case. Maybe it was a bad day for the sales people, and we can let that slide. But there is no excuse for such a nice store to have such low standards in quality for their diamonds.
I genuinely couldn't recommend their diamonds at any price. You can get far more bang for your buck buying from a reputable online retailer like James Allen or Blue Nile. Even if you don't go the online route, find a retailer that values quality diamonds.
The History
Lee Michaels story began in 1978 with their first store in Baton Rouge by Lee and and Brenda Berg. With the second generation of the family joining the ranks, Lee Michaels has grown to eight stores in three states.
The Experience
Annie and I were wandering around The Shops at La Cantera (in San Antonio) after secret shopping another location. Amazingly enough, we stumbled upon Lee Michaels. We were planning on visiting another location later in San Antonio. This gave us more time to enjoy San Antonio style chili.
The store fit into the upscale shopping center perfectly. It certainly had an upscale feel, but it also managed to give off a comfortable vibe. The salespeople seemed to be very busy on the phones, so we perused on our own for a solid 10 minutes.
Finally a saleswoman made her way over to us. To be honest, I have never seen such a disinterested salesperson. She kept checking her watch and was not helpful at all. After repeated requests, she indicated that it may be possible to see certificates, but she needs to figure that out. So we came back 20 minutes later.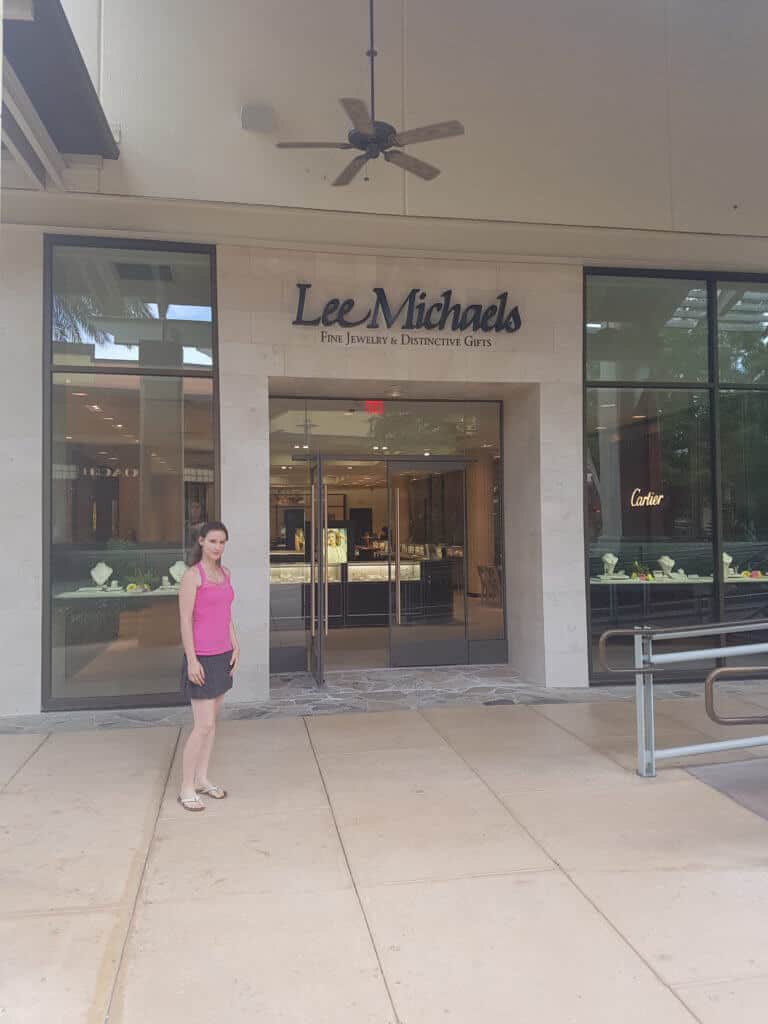 I think I should clarify. I know how hard it is to work in retail. It's frustrating people treat you poorly and customer expectations are often divorced from reality. I also have vast experience secret shopping. This was not your typical level of salesperson apathy. The very next day we were in a different store where the salesperson couldn't find the certificates. But he was a fantastic salesperson who happened to be facing everyday work frustrations. That's perfectly fine.
Why does this bother me so much? Because physical retailers are behind the eight ball to begin with. As we explain here, there is simply no way they can match the reputable online retailers when it comes to price and selection. They need to offer an amazing in store experience to compete. Lee Michaels didn't do that.
Lee Michaels Jewelry Diamonds
The products were underwhelming to say the least. About the only saving grace was the GIA certification. It was all downhill from there. Specifically when it came to diamond cut. The first diamond we looked at was a 1.03ct Round H SI2 Good cut diamond for $4,950. Annie was looking at the diamond first as I was writing down the details and I was initially surprised at the price (more about that later). Then I got to see the diamond and realized why it was so cheap. The diamond was as deep as can be. I rarely see such poorly cut diamonds. It was devoid of brilliance entirely, looked tiny, had very noticeable inclusions and had zero appeal.
The second diamond diamond wasn't much better. This one was a 1.00ct F SI1 good cut diamond for $6,450. A "Good cut" is a bit of a misnomer. You might think it sounds like a decent grade and it's the middle grade out of five that GIA uses. But in reality, about 93% of all GIA certified round diamonds are Excellent or Very Good cut grades. So this is truly the bottom of the barrel.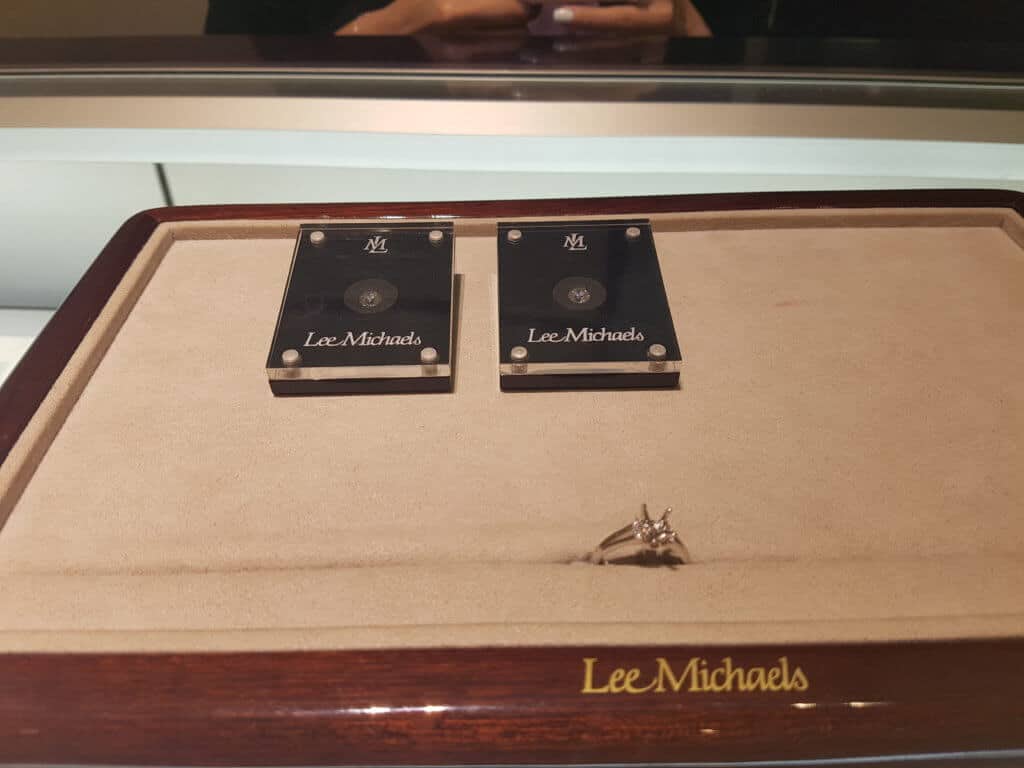 Comparing Lee Michaels Jewelry Rings
In this section, I am doing an apples to apples comparison so you can see how overpriced these diamonds are. These diamonds are so poorly cut and I wouldn't recommend them (or the diamonds I compare them to) at any price. The diamonds I will be using for comparison are poorly cut as well. I would never recommend these diamonds. I'm just highlighting the value you are getting (or lack thereof) from Lee Michaels.
So here is a diamond that is virtually identical to the H SI2 from Lee Michaels. This is a 1.01ct H color, SI2 clarity good cut diamond from Blue Nile for $3,412. So you would be getting the same (underwhelming) diamond for 30% less. For the second diamond (the F SI1) I selected a diamond from James Allen for comparison. Here is a 1.01 D color, SI1 clarity good cut diamond from James Allen for $4,430. That would be a savings of 30% compared to the Lee Michaels diamond as well.
So what would we recommend? For those prices, you can get far superior choices without a problem. Here is a stunning 1.05ct H color, SI1 clarity excellent cut from Blue Nile for $4,881. It is superior to the Lee Michaels diamond in every way, yet its still cheaper. The same can be said for this diamond. Here is a gorgeous 1.01ct F color SI1 clarity excellent diamond from James Allen for $5,910. Again, this diamond blows away the Lee Michaels diamond in the brilliance department, yet it's 10% cheaper.
James Allen

James Allen is the leader in online diamond sales. Their imaging technology is the same as inspecting a diamond with a jeweler's loupe. They have the largest exclusive loose diamond inventory online and fantastic prices. They also have the nicest collection of lab created diamonds online. Now save 25% off settings AND 3% off Earth Diamonds during James Allen HUGE limited time sale!
What we love about them:
No questions asked returns within 30 days of shipment. James Allen will send you a paid shipping label to return the ring.
Lifetime Warranty
Free International Shipping
Free prong tightening, repolishing, rhodium plating and cleaning every 6 months
Provide insurance appraisals
One free resizing within 60 days of purchase
Free ring inscriptions
Best-in-class high quality imagery of all diamonds in stock
24/7 Customer Service
Best-in-class packaging

---
Blue Nile

Blue Nile is the largest and most well known internet jewelry seller. They have a very large exclusive online inventory. Their high quality images are catching up to James Allens' and their prices are amazing. Blue Nile have generously offered our readers an exclusive one-time use coupon.

(Click Here to save $100 off engagement ring settings)
What we love about them:
No questions asked returns within 30 days of shipment. Blue Nile will send you a paid shipping label to return the ring.
Lifetime Warranty
Free Shipping
Free prong tightening, repolishing, rhodium plating and cleaning every 6 months
Provide insurance appraisal
One free resizing within the first year of purchase
High quality images of about half of their diamonds
24/7 Customer Service
100% credit towards future upgrades (must be at least double in value)
Best in class fulfillment

---
Still afraid of getting ripped off?
Before you buy a diamond, get personal buying advice from industry veterans. We'll help you get the best diamond for the money.
Ask your diamond purchase question here
DISCLAIMER: We don't use your email for marketing. Period.