Diamond Pro is reader-supported. When you buy through links on our site, we may earn an affiliate commission. Learn More.
Deal Alert! 25% off James Allen settings
and
15% off Blue Nile settings!
Lee Hwa Diamonds Review
Overall Score:

2.33

Price:

2

Selection:

2.5

Customer Service:

2.5

Other Recommended Retailers
Bottom Line Recommendation
Lee Hwa had beautiful looking stores, but we found the experience and product underwhelming. As you will see below, there were major inconsistencies with their product and customer experience. Overall the prices were far too high to find any sort of value there. You are better off shopping at a reputable online retailer like Blue Nile or James Allen. Barring that, there are better physical retail options in Singapore.
The History
First shop was set up in 1970. Lee Hwa Jewellery is the first publicly listed jeweller in Singapore. Its market-leading, innovative design philosophy has led to its celebrated position as the official Singapore licensee of Forevermark, a diamond brand from the De Beers group of companies.
A strong believer in innovation, the company introduced the world's first 19K solid Purple Gold in 2000. It was also the first to popularise white gold – positioning it as a lifestyle product to appeal to the fashion savvy modern woman and touting 15 boutiques island-wide.
The Experience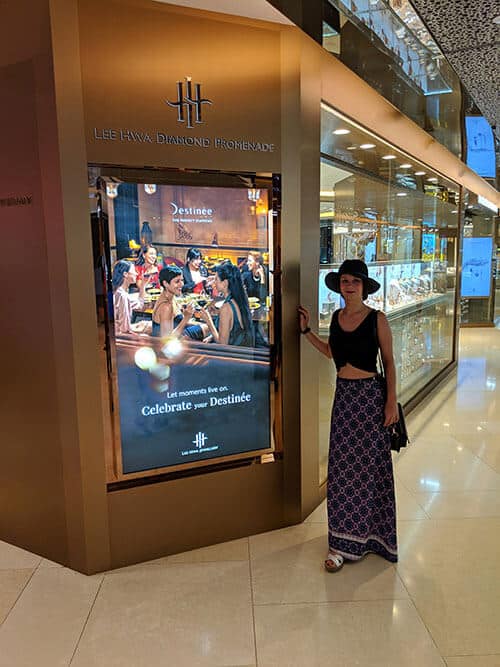 We visited two locations for Lee Hwa. The first experience was at the Diamond Promenade in the ION Orchard shopping mall. The Diamond Promenade is an interesting area. While ION Orchard is bright and airy shopping mall with upscale jewellers (Tiffany & Co, Harry Winston etc) the Diamond Promenade seemed a bit like a cramped afterthought squeezed into a connecting walkway.
That said, Lee Hwa was one of the two jewellers in the promenade that had a larger store which felt like a diamond retailer. The store was bright with a modern feel. We walked around for a minute or two before the saleswoman came over. The saleswoman was a bit pushy for my tastes. We were also not allowed to take photos in the store.
There was very little discussion she just asked which ones we wanted to look at. We asked to see the certificates of the diamonds and we got a lot of pushback for that. Ultimately, we managed to look at one certificate. Additionally they had a security guard standing over our shoulder the entire time. It was really weird. I know that jewellery retailers have serious security concerns but I rarely feel like I am being shadowed by a security guard.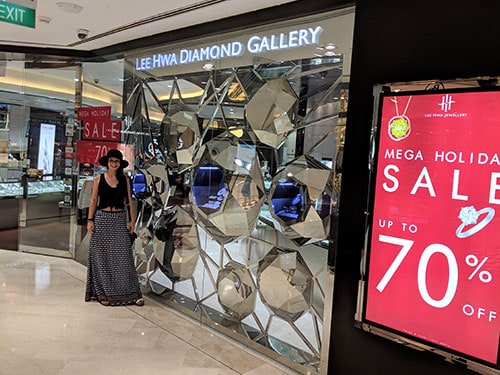 The second store was a much better experience. Located off Orchard road, we thoroughly enjoyed the second stop. The store felt more luxurious and elegant compared to the first location. The salesman didn't speak English that well, but he was very friendly and helpful. Not only was he patient and friendly, but he also allowed us to take pictures.
The Product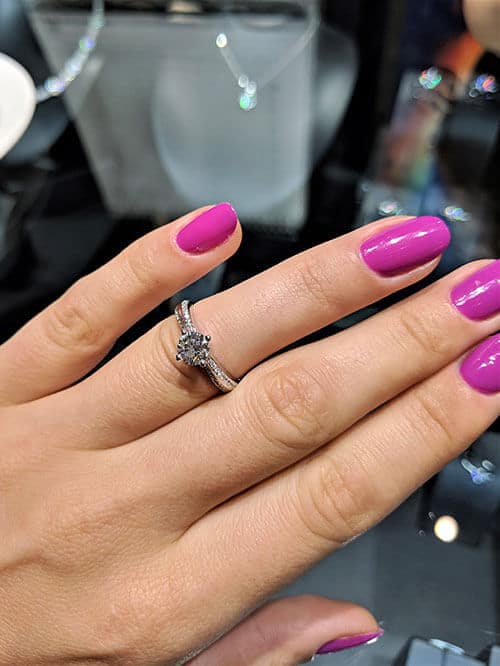 The first ring we looked at was 0.73ct E color, VS1 clarity diamond in a split shank pave setting. The diamond was stunning. It was well cut and proportioned and there were no issues at all. The total cost for the ring was 16,608 SGD.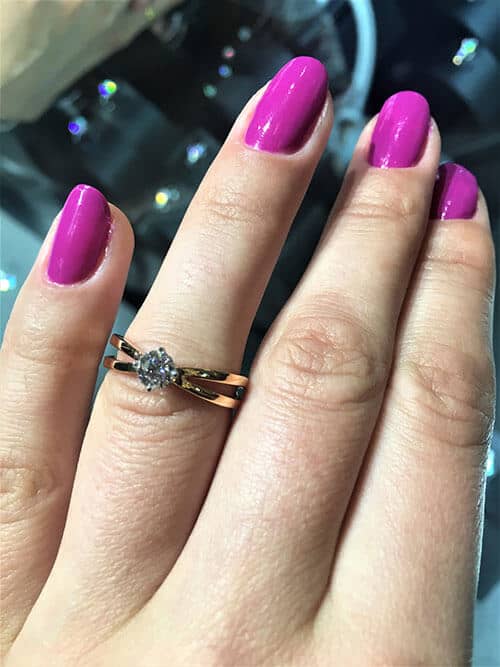 The second diamond we looked didn't quite live up to the standards we expected. This one was a 1.01ct D color, VS1 clarity round diamond in a double pave setting. This diamond was not nearly as well cut, with a 67% depth and a fair cut grade. Despite being a D color, the diamond was very dark due to the depth. The price for this ring was 15,916 SGD.
The Value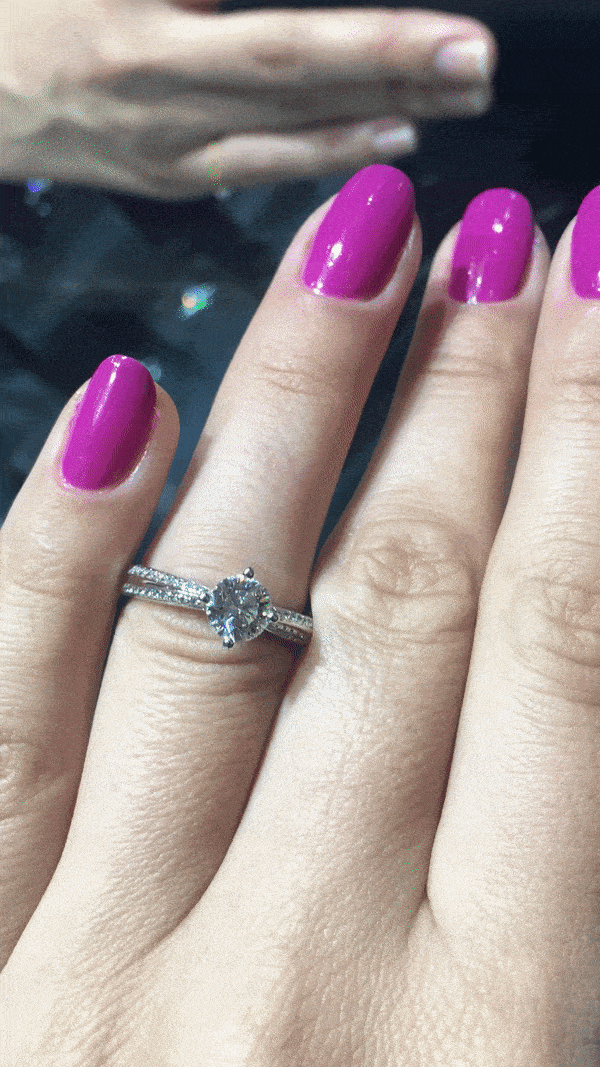 Let's start with the first diamond. Granted it was a beautiful 0.73ct E VS1, but I'm not sure it was worth the price. Here is a stunning 0.74ct E color, VVS2 clarity diamond from Blue Nile for 4,312 SGD. Here is a comparable split shank pave setting for 1,600 SGD. The total ring from Blue Nile will cost you 5,912. That is a whopping 64% less than the ring we looked at in Lee Hwa.

The second diamond we looked at was a 1.01ct D VS1 poorly cut diamond for 15,916 SGD. Here is a comparable 1.00ct D color, VS1 clarity diamond from Blue Nile for 7,767 SGD. If you add it to this setting, the total cost comes to 10,017 SGD. That is a seemingly more reasonable 37% less than the Lee Hwa ring.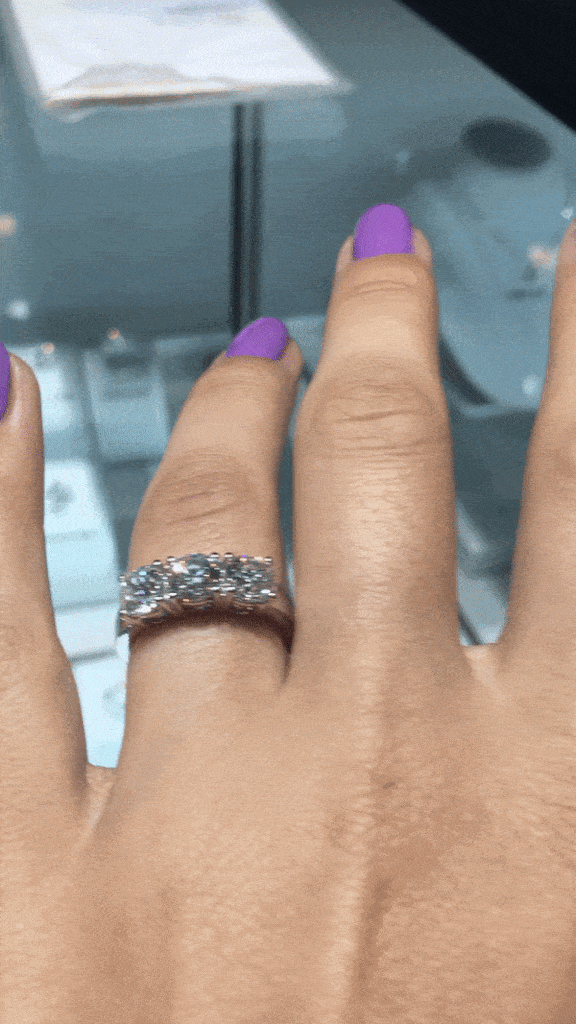 But that doesn't seem more reasonable for the consumer. The feeling I got was that Lee Hwa offers beautiful diamonds with extremely high markups and for those looking to save money, they offer poorly cut diamonds with more reasonable markups. Either way, you the consumer loses.
In Conclusion
Like most physical retailers, Lee Hwa charges significantly higher prices than online retailers like James Allen and Blue Nile. Higher prices in a physical store are understandable, since it's necessary to pay rent, salespersons' salaries and other costs that online retailers don't have.
However, the markups at Lee Hwa are simply too large to recommend shopping here. For the diamonds we viewed, you could save between 37 and 64% simply by buying similar diamonds and settings online instead of shopping in-store.
Sometimes, a high markup can be explained somewhat by a store offering a great experience for shoppers. This wasn't the case at Lee Hwa. While the second store we visited felt luxurious and elegant, the first felt unwelcoming and overly obsessed with security.
Final Thoughts
The biggest advantage a physical retailer like Lee Hwa offers over buying a diamond ring online is that you can see it in person before you make a purchase. However, the poor value for money and inconsistent shopping experience make it hard to recommend this as a good option.
The prices at Lee Hwa were significantly higher than what you'd pay for similar diamonds from an online retailer, especially for the more beautiful diamonds. In general, you'll get better value for money and a larger selection from an online diamond retailer like James Allen or Blue Nile.
James Allen

James Allen is the leader in online diamond sales. Their imaging technology is the same as inspecting a diamond with a jeweler's loupe. They have the largest exclusive loose diamond inventory online and fantastic prices. They also have the nicest collection of lab created diamonds online. Save 10% off select Lab Grown Diamonds and 25% on setttings!
What we love about them:
No questions asked returns within 30 days of shipment. James Allen will send you a paid shipping label to return the ring.
Lifetime Warranty
Free International Shipping
Free prong tightening, repolishing, rhodium plating and cleaning every 6 months
Provide insurance appraisals
One free resizing within 60 days of purchase
Free ring inscriptions
Best-in-class high quality imagery of all diamonds in stock
24/7 Customer Service
Best-in-class packaging

---
Blue Nile

Blue Nile is the largest and most well known internet jewelry seller. They have a very large exclusive online inventory. Their high quality images are catching up to James Allens' and their prices are amazing. Blue Nile have generously offered our readers an exclusive one-time use coupon.

(Click Here to save $100 off engagement ring settings)
What we love about them:
No questions asked returns within 30 days of shipment. Blue Nile will send you a paid shipping label to return the ring.
Lifetime Warranty
Free Shipping
Free prong tightening, repolishing, rhodium plating and cleaning every 6 months
Provide insurance appraisal
One free resizing within the first year of purchase
High quality images of about half of their diamonds
24/7 Customer Service
100% credit towards future upgrades (must be at least double in value)
Best in class fulfillment

---
Still afraid of getting ripped off?
Before you buy a diamond, get personal buying advice from industry veterans. We'll help you get the best diamond for the money.
Ask your diamond purchase question here
DISCLAIMER: We don't use your email for marketing. Period.