We are reader-supported. Buying through links on our site may earn us commissions. Learn More.
Deal Alert! Huge James Allen Sale- 3% off Earth Diamonds AND 25% off settings or

15% off at Blue Nile!



Jan Logan Diamonds Review: Odd Business Model Misses the Mark
Overall Score:

2.33

Price:

3

Selection:

1.5

Customer Service:

2.5

Cons

Missing certification
High prices
Odd business model

Other Recommended Retailers
Bottom Line Recommendation

I did not like the in-store experience at Jan Logan. We always feel that you will get better value by purchasing a diamond from a reputable online jeweller like Blue Nile or James Allen. That said, some people are willing to pay a premium for an in-store experience.

Jan Logan's hybrid in-store experience sacrifices many of the reasons people are willing to pay a premium by purchasing from a physical retailer. Granted, their premiums were slightly lower than a typical retailer, but I don't understand why someone would want to pay 20% more than they would purchasing online.

Other than that, I was not particularly impressed with their selection or the quality of the diamonds. Not being able to tell me if the diamonds were GIA certified (let alone showing us the GIA certificate which 90% of retailers have no problem doing) was a big turn-off for me.

The History
Jan Logan is an Australian luxury jewellery brand with a contemporary take on timeless elegance. Original, unexpected yet always wearable, Jan Logan combines unusual coloured stones and precious metals to create unique expressions of modern simplicity.
An Australian sense of ease and natural beauty permeates the fine jewellery brand founded in Sydney in 1989 by Jan Logan, the elegant daughter of a farmer and a grazier. Born in Narrabri in country New South Wales, Logan spent her childhood living in her imagination and playing with her mother's jewellery box before opening her flagship boutique in Double Bay in 1989.

Today the company has stores in Australia and Hong Kong as well as range of stockists and concessions. Naomi Watts, Jennifer Lopez, Taylor Swift and Abbie Cornish are among the international actresses who favour Jan Logan on the red carpet, reflecting the brand's strong links with the film industry.

Each year an upcoming Australian actress is selected to grace its catalogue, in line with the company's belief in film as a powerful creative medium and its commitment to supporting local talent. Annual opening credits have included Teresa Palmer, Courtney Eaton, Rachael Taylor, Elizabeth Debicki, Phoebe Tonkin and Rose Byrne (amongst many talented performers); all women whose strong personalities, keen intelligence and bright natures reflect the key values of the brand.

Jan Logan is proudly a family company, with Angus Logan overseeing the business as it has grown into a dynamic global enterprise while retaining the intimacy, integrity and heritage of a family owned brand, and that fine jewellery journey continues today.

The Experience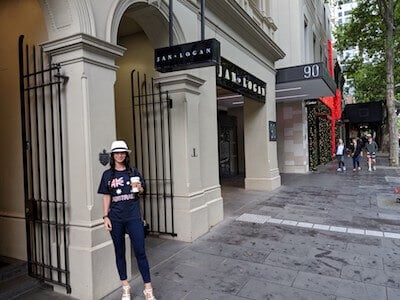 We visited two Jan Logan locations in two different cities, Brisbane and Melbourne. In our other reviews, we separated the review into sections based on locations. In Jan Logan's case, the experiences were virtually identical. In fact, this was the most consistent experience between locations of any retailer we visited in Australia. So we will combine the two experiences into one breakdown.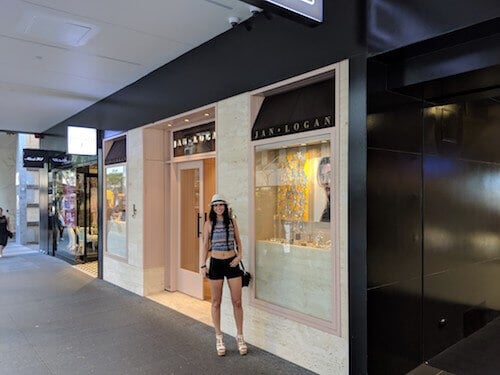 Jan Logan's locations were small and cozy. It was smaller than most places we went to, having only two or three showcases in the store. We were greeted by friendly salespeople and asked if they can help. We asked if they had any engagement rings and were shown the limited selection of six or seven rings. We were about to find out that there were even less than that.

Odd Business Model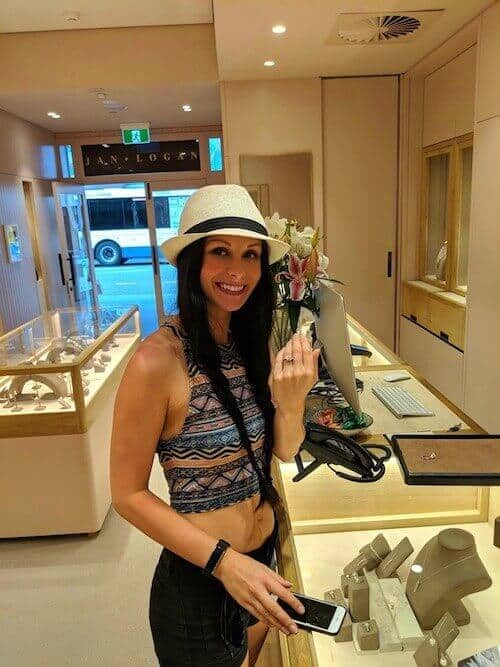 Here is where things get tricky. That limited selection of engagement rings was not even what it seemed. We were told that most of the rings are samples only. If you want to purchase one, you need to order it online with a wait time of a few weeks. In both stores, there were only two rings that had actual diamonds.

This is a very confusing business model to me. The largest advantage physical retailers have over online retailers is the fact that you can try on a ring and purchase it on the spot instead of waiting. We don't feel that this is worth the premium physical retailers must charge (to cover their higher overhead and operating costs), but at least you get something. Why exactly would you pay that premium and then have to wait the same way you would buying a diamond online?

The Product

This was a little frustrating. We were guided to the rings that had actual diamonds in them, but the salespeople (especially in Melbourne) were unable to provide enough information about the products. They were unable to find the GIA certificate or even show you a copy or number. They didn't know any of the cut details or the fluorescence grades. In fact, they couldn't even guarantee the diamonds had GIA certificates.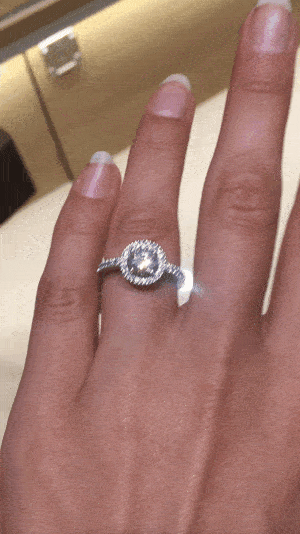 The first ring we saw was a 1.00ct F color, SI1 clarity round diamond in a halo setting for AU$ 12,000. This one apparently was GIA certified, even if we couldn't see it. The ring had a very noticeable inclusion but it's possible it was an SI1 clarity. This was the only ring with an actual diamond in it.

In Melbourne we saw two rings. I will only focus on one. The first one was a three stone ring but they couldn't tell us any of details of the center diamond. The second ring was a 1.00ct G color, SI1 clarity round diamond, but we don't know which certificate it had. This was in a halo setting and cost AU$12,250. It was eye-clean but the diamond was incredibly dark. I can't tell if it was improperly set or if it was poorly cut.

The Value

It's really hard to compare diamonds when the store doesn't give you enough information about the rings you are looking at. In truth, that should immediately disqualify a retailer as an option to purchase from. That said, I will try to make comparisons giving Jan Logan the benefit of the doubt in terms of quality.

The first ring was a 1.00ct F color, SI1 clarity round diamond in a halo setting for AU$12,000. Here is a comparable F color, SI1 clarity round diamond from Blue Nile for AU$7,654. If you add it to this elegant halo setting you are saving 15%.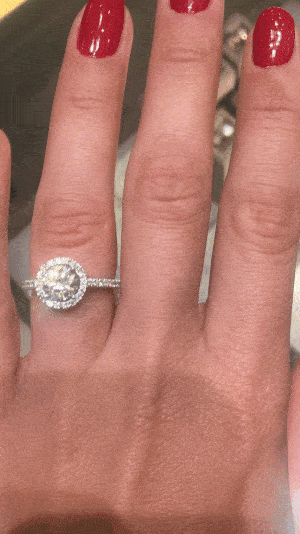 The second ring we looked at was 1.00ct G color, SI1 Clarity round diamond in a halo setting for AU$12,550. Here is a comparable G color, SI1 clarity round diamond from Blue Nile with a similar setting for AU$9,904. That is 21% cheaper than the Jan Logan.

Theoretically the 20% premiums Jan Logan aren't too bad. That is less than typical physical retailers usually charge. But that comes at a huge cost. Their knowledge of diamonds (and ability to explain that to the consumer was severely limited) and 90% of their rings are the same as buying online, ordering custom and taking weeks to receive the item (in fact Blue Nile usually has a delivery time of less the a week, significantly better than other places). So while you may be willing to pay a premium in order to get the in-store experience, you aren't actually getting that at Jan Logan.

James Allen

James Allen is the leader in online diamond sales. Their imaging technology is the same as inspecting a diamond with a jeweler's loupe. They have the largest exclusive loose diamond inventory online and fantastic prices. They also have the nicest collection of lab created diamonds online. Now save 25% off settings AND 3% off Earth Diamonds during James Allen HUGE limited time sale!
What we love about them:
No questions asked returns within 30 days of shipment. James Allen will send you a paid shipping label to return the ring.
Lifetime Warranty
Free International Shipping
Free prong tightening, repolishing, rhodium plating and cleaning every 6 months
Provide insurance appraisals
One free resizing within 60 days of purchase
Free ring inscriptions
Best-in-class high quality imagery of all diamonds in stock
24/7 Customer Service
Best-in-class packaging

---
Blue Nile

Blue Nile is the largest and most well known internet jewelry seller. They have a very large exclusive online inventory. Their high quality images are catching up to James Allens' and their prices are amazing. Blue Nile have generously offered our readers an exclusive one-time use coupon.

(Click Here to save $100 off engagement ring settings)
What we love about them:
No questions asked returns within 30 days of shipment. Blue Nile will send you a paid shipping label to return the ring.
Lifetime Warranty
Free Shipping
Free prong tightening, repolishing, rhodium plating and cleaning every 6 months
Provide insurance appraisal
One free resizing within the first year of purchase
High quality images of about half of their diamonds
24/7 Customer Service
100% credit towards future upgrades (must be at least double in value)
Best in class fulfillment

---
Still afraid of getting ripped off?
Before you buy a diamond, get personal buying advice from industry veterans. We'll help you get the best diamond for the money.
Ask your diamond purchase question here
DISCLAIMER: We don't use your email for marketing. Period.