We are reader-supported. Buying through links on our site may earn us commissions. Learn More.
Deal Alert! Huge James Allen Sale- 3% off Earth Diamonds AND 25% off settings or

15% off at Blue Nile!



Gubelin Switzerland Reviews: Limited Selection, High Prices
Overall Score:

3.67

Price:

2.5

Selection:

4

Customer Service:

4.5

Pros

Excellent Customer Service
High Quality Rings
Luxurious Experience

---

Cons

Somewhat Limited Selection
Pricing Could Be Better

Other Recommended Retailers
The History:
Gübelin is the oldest jeweler we have secret shopped to date. Their storied history goes back to 1854 when the first House of Gübelin watchmaker shop was opened in Lucerne. In the 1920s, Gübelin expanded to jewelry as well as watches.  To this day, it is still a family owned and operated company. Today they have 8 locations in Switzerland as well as boutiques in Hong Kong and Kuala Lampur.
The Experience:
I thoroughly enjoyed the experience at Gübelin . We visited the Lucerne location on the quay facing the lake with stunning views of the mountains. The saleswoman was helpful, friendly and even knew something about diamonds (unfortunately that is rare). She was not pushy at all. The place had a luxurious vibe, but it was not overbearing or stuffy. There were a couple of tour groups going through the store at the moment (I'm guessing it's common for tour busses full of people to show up at this location) which made for a louder atmosphere than expected, but it was still a pleasant experience.
The Product:
We were shown two rings, both with GIA certificates. The first was a 1.05 excellent cut F VS1 in an 18kt white gold solitaire setting for 17,830chf. The ring was simple and stunning. The diamond was gorgeous (very well cut). The second ring was a 0.60ct excellent cut G VS2, also in an 18kt white gold solitaire, for 5,070chf. This diamond was not quite as good (the cut wasn't quite as spectacular) but still a nice diamond.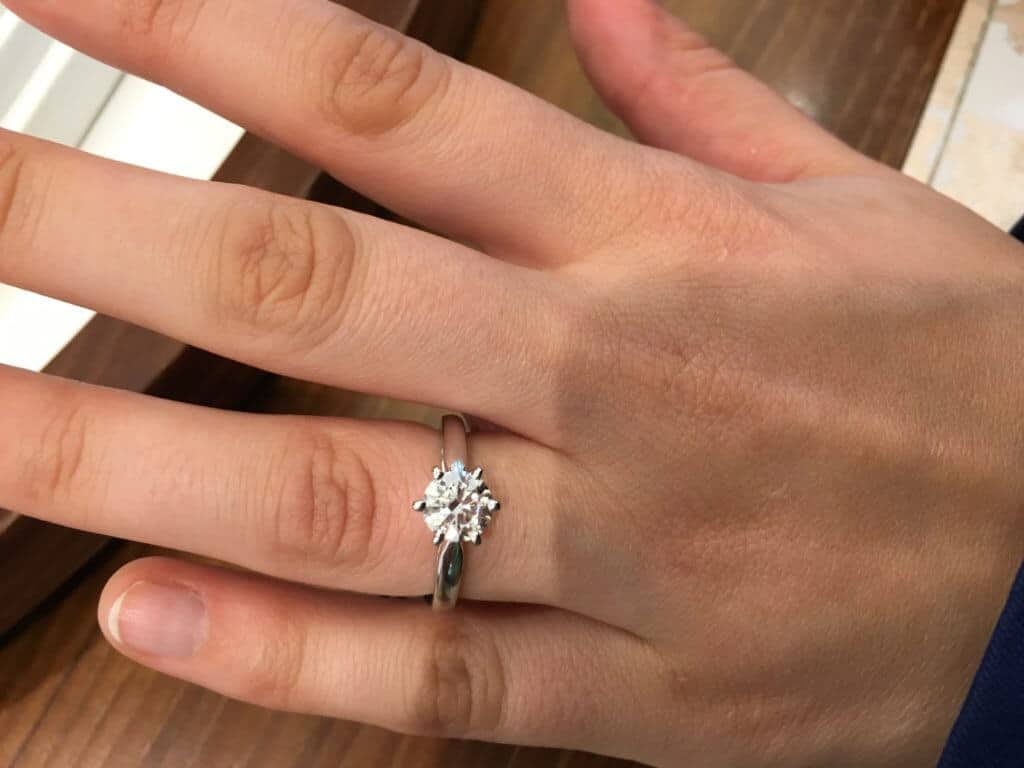 The Value:
This is where things get tricky. I understand that going into a nice store and having a luxury experience while purchasing has value. But that value is highly subjective. Most people would agree that the far more important part of the experience is the quality and value of the product you receive. While the quality of the product was not an issue, the value certainly was.
Take this ring from Blue Nile as an example. Here is a stunning 1.01 excellent cut F VVS2 diamond with a similar solitaire setting for 8,016chf. The ring would look identical to the one I saw at Gübelin  for double the price. That is a lot of money to spend on the "luxury experience" you feel in the hour or two you spend in the store. I would think that money would be better spent on the ring you (or your partner) will wear the rest of your life. Look at this beautiful 1.55ct excellent cut F VS1 from Blue Nile. Putting it in the same ring, you are still spending 15% less than you would for the original choice at Gübelin .
You would think the smaller diamond would be a better value (or at least the same). Unfortunately this is not the case. Comparing that ring to this 0.60 G VS2 from Blue Nile and you see that they are charging 2.5 times the price at Gübelin  for a similar ring.
Bottom Line:
While the quality and experience were up to par, the value just doesn't seem to be there. You are better off getting a much larger diamond (or saving a significant amount of money) for an identical ring from a reputable online jeweler like Blue Nile, than spending more than double at Gübelin  for a comparable jewelry piece.
James Allen

James Allen is the leader in online diamond sales. Their imaging technology is the same as inspecting a diamond with a jeweler's loupe. They have the largest exclusive loose diamond inventory online and fantastic prices. They also have the nicest collection of lab created diamonds online. Now save 25% off settings AND 3% off Earth Diamonds during James Allen HUGE limited time sale!
What we love about them:
No questions asked returns within 30 days of shipment. James Allen will send you a paid shipping label to return the ring.
Lifetime Warranty
Free International Shipping
Free prong tightening, repolishing, rhodium plating and cleaning every 6 months
Provide insurance appraisals
One free resizing within 60 days of purchase
Free ring inscriptions
Best-in-class high quality imagery of all diamonds in stock
24/7 Customer Service
Best-in-class packaging

---
Blue Nile

Blue Nile is the largest and most well known internet jewelry seller. They have a very large exclusive online inventory. Their high quality images are catching up to James Allens' and their prices are amazing. Blue Nile have generously offered our readers an exclusive one-time use coupon.

(Click Here to save $100 off engagement ring settings)
What we love about them:
No questions asked returns within 30 days of shipment. Blue Nile will send you a paid shipping label to return the ring.
Lifetime Warranty
Free Shipping
Free prong tightening, repolishing, rhodium plating and cleaning every 6 months
Provide insurance appraisal
One free resizing within the first year of purchase
High quality images of about half of their diamonds
24/7 Customer Service
100% credit towards future upgrades (must be at least double in value)
Best in class fulfillment

---
Still afraid of getting ripped off?
Before you buy a diamond, get personal buying advice from industry veterans. We'll help you get the best diamond for the money.
Ask your diamond purchase question here
DISCLAIMER: We don't use your email for marketing. Period.