Diamond Pro is reader-supported. When you buy through links on our site, we may earn an affiliate commission. Learn More.
Deal Alert! 25% off James Allen settings
and
15% off Blue Nile settings!
Goldheart
Overall Score:

2.5

Price:

1.5

Selection:

2.5

Customer Service:

3.5
Bottom Line Recommendation
Goldheart offered one of the better in-store experiences of all the stores we visited in Singapore, with a nice atmosphere and superb salespeople. However, I just can't get behind them.
The diamonds we looked at were very inconsistent when it comes to quality and the prices were incredibly high. In fact, some of the engagement rings we saw at Goldheart were almost double the price of similar diamonds and settings available online.
Overall, you will get much better bang for your buck by purchasing an engagement ring or other diamond jewelry from a reputable online retailer like Blue Nile or James Allen.
The History
Goldheart is one of several Singapore-based jewelry chains owned by the Aspial Corporation, a jewelry, property development, and financial services company founded in 1970. With 21 stores in Singapore, Goldheart is one of the largest diamond jewelers in the city-state.
One of Goldheart's focuses is bridal jewelry. The brand's retail stores tend to stock a wide range of bridal jewelry sets. It's also the exclusive distributor of Celestial diamond, a 73-facet diamond with a unique starburst cut.
These days, Goldheart is easy to find throughout Singapore, with stores in a variety of upmarket shopping centers and neighborhoods.
The Experience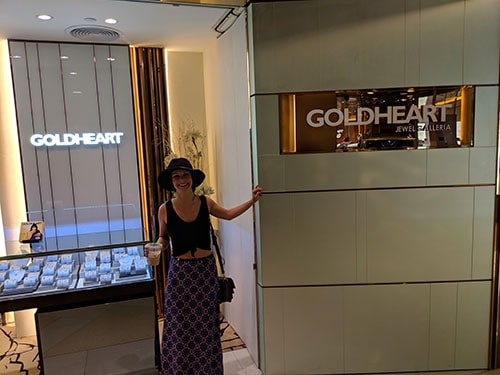 Our first experience secret shopping Goldheart took place in the Diamond Promenade at ION Orchard.
Experience-wise, Goldheart was the best store we visited at the Promenade. Many of the places in the Promenade were very cramped. That was not the case here. The store we visited had an open, bright and modern vibe.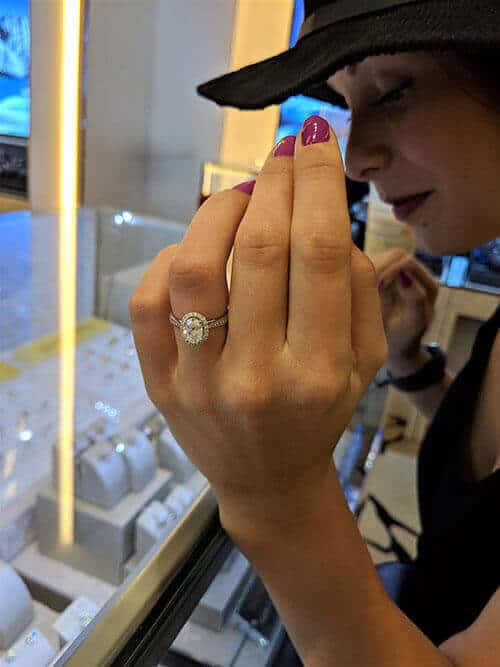 We were greeted by Priscilla and shown to the engagement ring area. Priscilla was very friendly and helpful. She gave us some space to peruse on our own, but stayed nearby to offer help when needed.
The second experience was nice as well. We stopped at another of their locations further down Orchard Road. Once again the saleswoman, Yvonne, was fantastic. This location was not as impressive as the ION Orchard store, with a pretty standard mall-location ambiance.
It could just be a coincidence that two of our favourite salespeople in Singapore both worked at Goldheart, but it's worth noting. It's hard to find, train and retain good staff at retail locations, but Goldheart seems to be doing a great job at that.
The Product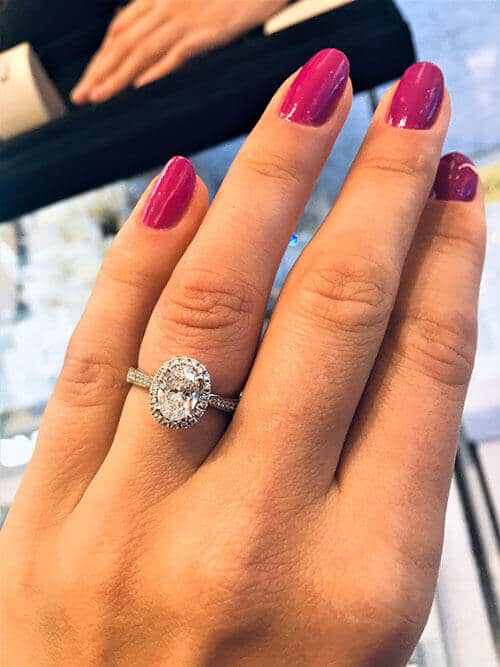 The first engagement ring we looked at was an oval cut diamond in an 18kt white gold halo setting. The diamond was a 1.01ct D color, VVS2 clarity oval cut and the cost for the ring was SG$26,356.
This diamond was very nice, though the table was a tad small for my taste. While the diamond was very bright and brilliant, the small table made the diamond appear smaller to the eye than it really is. Despite this, it was overall a stunning ring.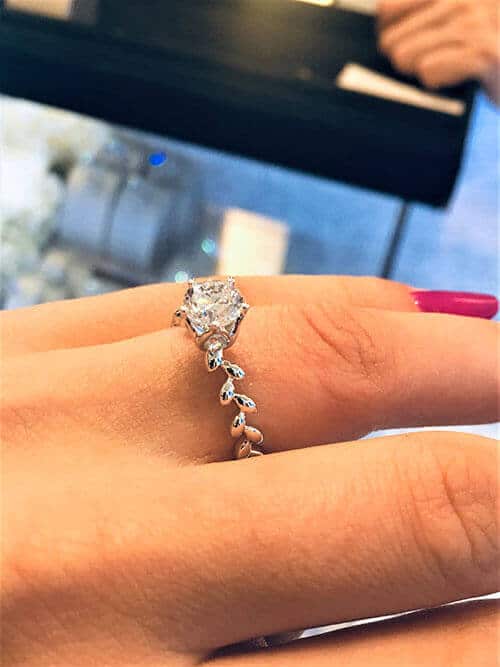 The second engagement ring we looked at was a round diamond set in a white gold solitaire setting. The diamond was a 1.00ct D color, SI2 clarity brilliant cut and the price for the ring was SG$12,034.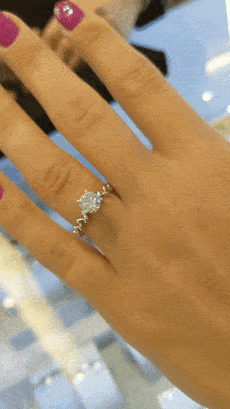 The setting for this ring was pretty funky. Personally both Jenny and myself liked it. As nice as the setting was, it doesn't make up for this diamond. This was one of the worst cut diamonds I have ever seen in my life. The depth on the diamond was 66.6% and the table was 65%.
That is an absolutely horrific combo of cut parameters. On top of all of this, the diamond was not eye-clean.
The Value
So far we've talked about their exceptional service and their uneven quality. Now let's see how those diamonds stack up against the competition. Let's start with the oval cut in a halo setting (the 1.01 D VVS2).
Here is a stunning 1.01ct D color, VVS2 clarity oval cut diamond, available from Blue Nile for SG$8,581.
This diamond is absolutely stunning. It is just as bright and brilliant as the diamond we saw at Goldheart, but the larger table makes the diamond look significantly larger than the Goldheart diamond.
This comparable halo setting goes for SG$2,550. If you buy this as a ring, the total price would be SG$11,131. That is an incredible 55% cheaper than the engagement ring that was offered by Goldheart.
The second ring we looked at was a 1.00ct D SI2 round diamond in a funky white gold solitaire setting for SG$12,034. As we mentioned above, it was poorly cut and not eye-clean.
Here is a comparable 1.00ct D color, SI2 clarity round diamond from Blue Nile for SG$5,665. I wasn't able to find a perfectly similar setting. However, this is a comparable setting in terms of price that sells for SG$795. In total, the price is SG$6,460, or 47% cheaper than the Goldheart ring.
For perspective, you can get a far superior diamond for that price. Here is a stunning 1.20ct D color, SI1 clarity round diamond from Blue Nile for SG$10,304. This diamond is vastly superior in every way (cut, clarity, size). If you add it to the same ring you're still saving $1,000 compared to the ring sold by Goldheart.
In Conclusion
The ambiance and customer service at the Goldheart stores we visited were both well above average. We loved both of the salespeople we worked with. Overall, Goldheart's service was excellent at both of the locations we visited.
The diamonds we looked at at Goldheart were on both ends of the quality spectrum. The oval cut diamond was stunning. Overall, it was one of the best diamonds we looked at during our time in Singapore.
On the flip side, the round diamond we looked at was not at all impressive. Overall, it was one of the worst diamonds we saw in Singapore. While Goldheart has some excellent diamonds, there isn't a consistent approach to quality.
Where Goldheart hits a brick wall is value. The prices were, in my opinion, insanely high. While the oval diamond we saw was very nice, it's more than twice the price of a comparable diamond from Blue Nile.
The margin on the ugly diamond was slightly lower (they were probably trying to get rid of it) but it was still very expensive.
Final Thoughts
The two Goldheart locations we visited both had knowledgeable, friendly staff who were eager to help when needed. The stores, particularly the ION Orchard location, were also nice, with a bright, open design that was a nice change from the cramped retail stores in the area.
Despite this, it's hard to recommend Goldheart as a place to buy a diamond ring. The prices are simply too high and the quality isn't consistent. Instead of shopping here, you'll find better prices and more consistent quality with at a reputable online jeweler like Blue Nile or James Allen.
James Allen

James Allen is the leader in online diamond sales. Their imaging technology is the same as inspecting a diamond with a jeweler's loupe. They have the largest exclusive loose diamond inventory online and fantastic prices. They also have the nicest collection of lab created diamonds online. Save 10% off select Lab Grown Diamonds and 25% on setttings!
What we love about them:
No questions asked returns within 30 days of shipment. James Allen will send you a paid shipping label to return the ring.
Lifetime Warranty
Free International Shipping
Free prong tightening, repolishing, rhodium plating and cleaning every 6 months
Provide insurance appraisals
One free resizing within 60 days of purchase
Free ring inscriptions
Best-in-class high quality imagery of all diamonds in stock
24/7 Customer Service
Best-in-class packaging

---
Blue Nile

Blue Nile is the largest and most well known internet jewelry seller. They have a very large exclusive online inventory. Their high quality images are catching up to James Allens' and their prices are amazing. Blue Nile have generously offered our readers an exclusive one-time use coupon.

(Click Here to save $100 off engagement ring settings)
What we love about them:
No questions asked returns within 30 days of shipment. Blue Nile will send you a paid shipping label to return the ring.
Lifetime Warranty
Free Shipping
Free prong tightening, repolishing, rhodium plating and cleaning every 6 months
Provide insurance appraisal
One free resizing within the first year of purchase
High quality images of about half of their diamonds
24/7 Customer Service
100% credit towards future upgrades (must be at least double in value)
Best in class fulfillment

---
Still afraid of getting ripped off?
Before you buy a diamond, get personal buying advice from industry veterans. We'll help you get the best diamond for the money.
Ask your diamond purchase question here
DISCLAIMER: We don't use your email for marketing. Period.