Diamond Pro is reader-supported. When you buy through links on our site, we may earn an affiliate commission. Learn More.
Deal Alert! 25% off James Allen settings
and
15% off Blue Nile settings!
Gassan Diamonds Reviews: Poor Quality, Sky-high Prices
Overall Score:

1.5

Price:

1

Selection:

1.5

Customer Service:

2

Pros

---

Cons

Tired looking tourist trap
Poor quality
Insane prices

Other Recommended Retailers
The History
Gassan Diamonds was founded in October 1945 by Samuel Gassan. Back then the company concentrated primarily on cutting diamonds and importing and exporting both rough and polished diamonds,gems and jewels. By 1960, Gassan moved to a larger factory. It was at this location that Gassan first developed into a "tourist attraction". Tourists came from every corner of the world to Amsterdam to see diamond cutters at work. International promotions and wholesaling had become key elements of the company"s strategy. The first location abroad was opened in 1952 in Belgium (Antwerp) and shortly thereafter in Germany (Pforzheim and then Dusseldorf in 1959),in Israel (Tel Aviv) in 1960,Switzerland (Zug) in 1966 and the US (New York) in 1980. Since 1967, Gassan has also operated a representative office in Tokyo for promotional purposes.
In January 1996 Gassan purchased the Amsterdam Diamond Center that sells diamonds,watches and jewelry from two ideally located shops in the heart of Amsterdam. The Amsterdam Diamond Center is particularly complementary because the business serves tourists who visit the city center after touring Gassan Diamonds. In 1997 two after-sales offices were opened in Beijing on the Chinese mainland and in Jakarta,Indonesia. And Gassan opened an after-sales office in Hong Kong in 1999. Gassan Diamonds recognizes the importance of the tourism aspect within its branch of industry. The aim is to promote Amsterdam"s standing as a "City of Diamonds," a reputation that the city has enjoyed since 1586. Gassan currently has approximately 500 employees.
The Experience
This is one tired place. It looks like they gave up on trying to be classy and elegant sometime in the nineties. The place is stuffy, outdated and unpleasant. The only thing worse than the atmosphere was the service. We were "helped" by an exceedingly bored and unhelpful saleswoman who should have retired 15 years before. After much prodding from us, we were finally shown some diamonds and rings. This place screams tourist trap.
The Product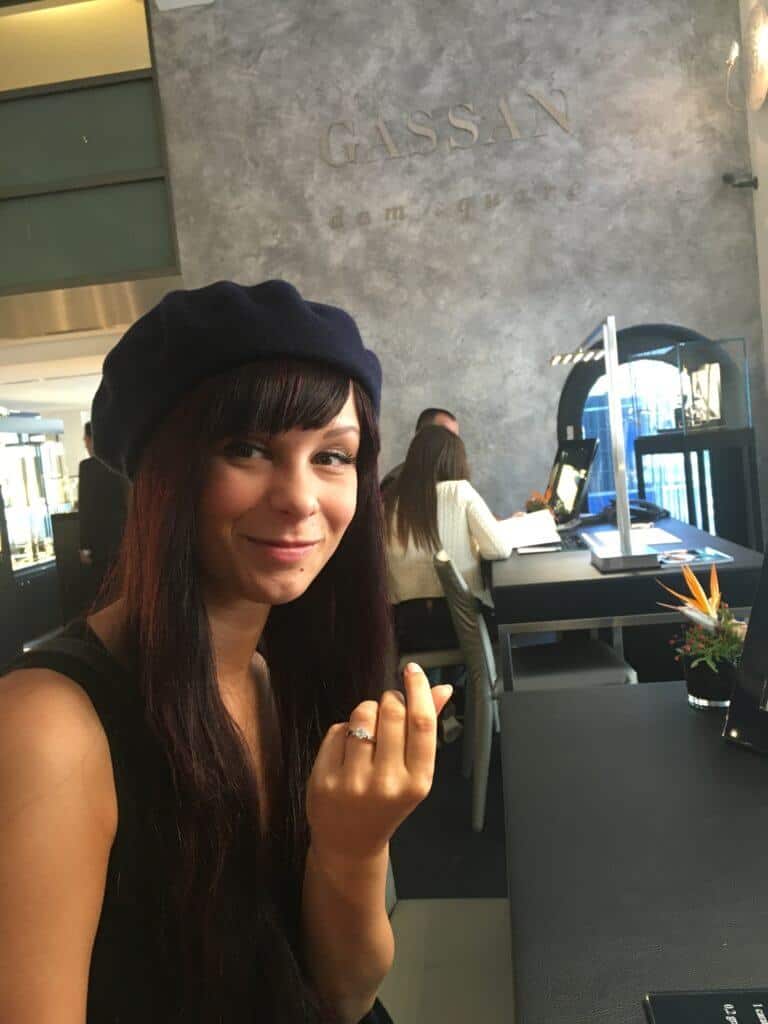 I was absolutely stunned at the quality, or lack thereof, of the diamonds we were shown. To start, they did not use GIA certification, but the much weaker HRD certificates (you can read our article here). So all of the quality claims were inflated. And the first diamond they showed me was a horridly cut (64% depth) H I1 (really an I2) with huge black inclusions in an 18kt white gold solitaire for € 8,067. After seeing a few more embarrassments (no point listing them all), they finally showed us a relatively decent diamond; A 1.02 F VS1 very good cut in a white gold solitaire setting. The price for this one was an insane € 23,125.
The Value
First let's take into account that they use a weak certificate to make inflated quality claims. Being generous, I will only adjust the color and clarity by one grade each, giving them the large benefit of the doubt. Take a look at this 1.00ct G VS2 excellent cut from Blue Nile. Adding that diamond to this beautiful solitaire setting and you get a total price of € 7,099. That means Gassan is charging you THREE TIMES THE PRICE for the same ring. And this was the only diamond they showed us that wasn't a complete piece of garbage. I was dumbfounded by the prices there. I get that their real estate is prime, but the place oozes anything but luxury. The service was terrible (the live chat person on Blue Nile was far more knowledgeable and helpful), and the product was not particularly impressive.
Bottom Line
I found Gassan to be such a bad choice, I was offended. If I'm going to spend my hard earned money, I'd like for the product to be priced fairly and to have the store at least pretend they are making an effort to provide me service. They should be ashamed at the quality, value and service they are offering. You can get a far superior product for a ⅓ of the price ordering from Blue Nile or another reputable jeweler.
James Allen

James Allen is the leader in online diamond sales. Their imaging technology is the same as inspecting a diamond with a jeweler's loupe. They have the largest exclusive loose diamond inventory online and fantastic prices. They also have the nicest collection of lab created diamonds online. Save 10% off select Lab Grown Diamonds and 25% on setttings!
What we love about them:
No questions asked returns within 30 days of shipment. James Allen will send you a paid shipping label to return the ring.
Lifetime Warranty
Free International Shipping
Free prong tightening, repolishing, rhodium plating and cleaning every 6 months
Provide insurance appraisals
One free resizing within 60 days of purchase
Free ring inscriptions
Best-in-class high quality imagery of all diamonds in stock
24/7 Customer Service
Best-in-class packaging

---
Blue Nile

Blue Nile is the largest and most well known internet jewelry seller. They have a very large exclusive online inventory. Their high quality images are catching up to James Allens' and their prices are amazing. Blue Nile have generously offered our readers an exclusive one-time use coupon.

(Click Here to save $100 off engagement ring settings)
What we love about them:
No questions asked returns within 30 days of shipment. Blue Nile will send you a paid shipping label to return the ring.
Lifetime Warranty
Free Shipping
Free prong tightening, repolishing, rhodium plating and cleaning every 6 months
Provide insurance appraisal
One free resizing within the first year of purchase
High quality images of about half of their diamonds
24/7 Customer Service
100% credit towards future upgrades (must be at least double in value)
Best in class fulfillment

---
Still afraid of getting ripped off?
Before you buy a diamond, get personal buying advice from industry veterans. We'll help you get the best diamond for the money.
Ask your diamond purchase question here
DISCLAIMER: We don't use your email for marketing. Period.