We are reader-supported. Buying through links on our site may earn us commissions. Learn More.
Deal Alert! Huge James Allen Sale- 3% off Earth Diamonds AND 25% off settings or

15% off at Blue Nile!



Fink's Jewelers Reviews: Great Service, Higher Prices
Overall Score:

3.5

Price:

2

Selection:

3.5

Customer Service:

5

Pros

Superb Customer Service
Beautiful Diamonds
Elegant Store

---

Cons
Other Recommended Retailers
Bottom Line Recommendation
WE HAVE BEEN CONTACTED BY FINK'S LAWYERS. THEY HAVE ASKED US TO MAKE OUR AFFILIATE DISCLOSURE MORE CLEAR. SO HERE IT IS: WE ARE AFFILIATED WITH JAMES ALLEN AND BLUE NILE. WE ARE NOT AFFILIATED WITH FINK'S. IF YOU HAVE REACHED THIS ARTICLE BECAUSE YOU GOOGLED "FINK'S REVIEWS" YOU SHOULD KNOW THAT I WILL BE PAID BY MY AFFILIATES IF YOU BUY FROM THEM. TAKE THE FOLLOWING REVIEW WITH THAT INFORMATION UNDER CONSIDERATION.
Now having said that – we absolutely stand by our conclusion, which, in a nutshell is this: Fink's is a great store, but is overpriced by 30% or so when compared with the largest online vendors (yes, our affiliates, James Allen & Blue Nile).  The giant red bold all caps type is to prove a point to Fink's legal team that I'm not afraid to disclosure our affiliate relationships because the facts are the facts. Fink's is overpriced compared to our affiliates.
Overall, our secret shopping experience at Fink's Jewelers was very positive. I would have been a lot happier if the premiums Fink's charged in comparison to the online stores were a bit smaller. Had the number been 20 – 25% (instead of 30%) I would have no problem giving our readers the thumbs up if they asked us about a ring like this.
So if you are dead set on buying your diamond ring from a physical store, Fink's is not a bad choice. You will be paying a premium. Unlike at many other stores, you are getting a beautiful product and fantastic service for that premium. But overall, you get better bang for your buck from an online retailer like James Allen or Blue Nile.
The History
Fink's Jewelers is yet another regional chain that we had a chance to visit, which is family owned and operated. Going back 80 years, Fink's Jewelers started out in Roanoke, VA back in 1930. In contrast with their current chain of luxurious stores, Fink's has humble beginnings in the jewelry business. During the Great Depression, Nathan Fink would push a jewelry cart around neighborhoods, selling watches and other jewelry on credit.
With those trying times in the rear view mirror, Fink's Jewelers has a much different look today. They currently operate 14 stores scattered around Virginia and North Carolina.
The Fink's Experience
Annie and I had a chance to visit Fink's Jewelers while visiting Richmond, Virginia. We took a quick trip to Short Pump Town Center in Henrico. The shopping center had a very classy feel to it, and Fink's lived up to the expectations. The store had a calm and elegant feel to it and we were immediately put at ease.
Despite us going there to secret shop engagement rings, I could not help gravitating towards the Rolex display as it was quite prominent and alluring. After spending a few minutes being distracted, we made our way over to the engagement ring section.
The staff at the store kept discreetly out of our way, allowing us to peruse the showcases without feeling pressure from the salespeople. As soon as we seemed ready, Carlos ambled over to chat with us. Carlos had a fantastic demeanour, giving off a friendly vibe without the over the top cheeriness you often get from salespeople.
Carlos was also very well informed and helped guide us through the selection process. He talked a bit about the qualities so we'd understand what we were looking at, without overwhelming us with an avalanche of technical minutiae.
Buying a Diamond at Fink's Jewelers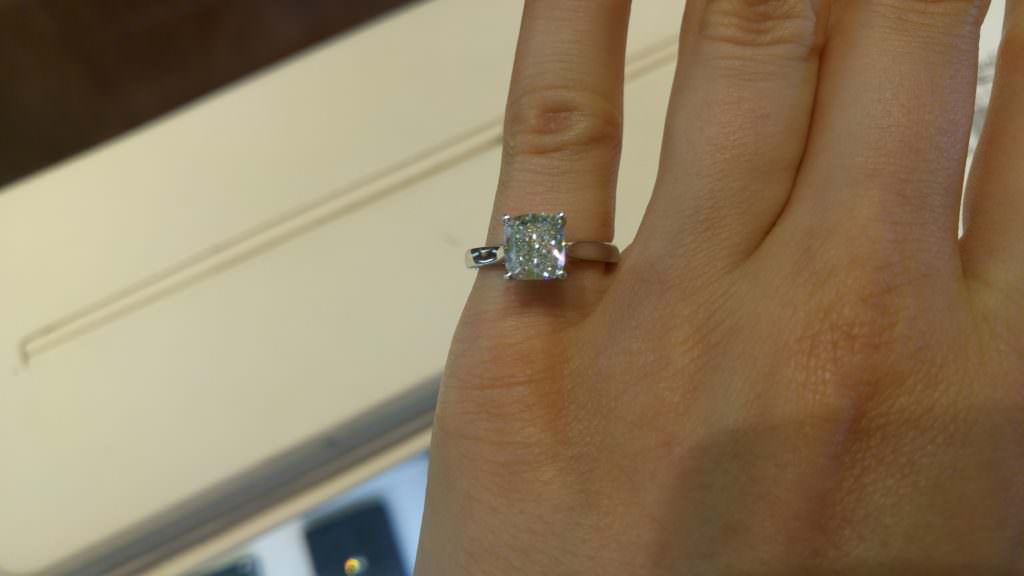 With help from Carlos, we settled on two great choices. The first one was a 2.01ct F color, SI1 clarity GIA certified cushion cut in a platinum solitaire setting for $27,850. No doubt about it, this diamond was a home run. The cut on the cushion was superb and it showed in the brilliance of the diamond. It was also very square, which seems to be the preferred shape for cushion cuts (personally, I love the look of a cushion cut with a 1.10 L:W ratio, but that's just me).
The second diamond we settled on was a 2.01ct J color, VS2 clarity excellent cut round diamond in a platinum setting for $18,850. This one had a GIA certificate as well. This diamond was not as nice as the first choice, but still pretty nice. While it is an excellent cut, I did not like the large table (61% really is the extreme edge for excellent cuts) and I felt that didn't help the color of the diamond. But overall it was a nice ring.
Comparing Fink's Jewelers Rings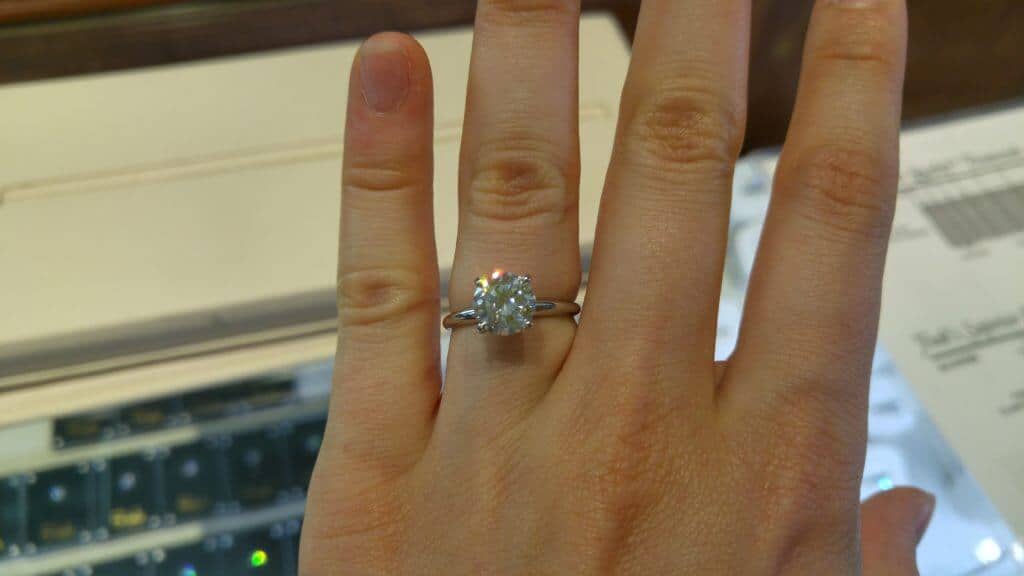 It's so nice when the jeweler actually offers nice diamonds. This way I can easily compare their offerings to diamonds I would recommend from online retailers and it's comparing apples to apples.
So let's find a cushion cut to compare to the Fink's stunner. Here is an equally stunning 2.02ct E color, SI1 clarity GIA certified cushion cut from James Alen for $18,560. If you add it to this solitaire setting, the total cost is $19,860. The ring will look virtually identical, yet the cost will be almost 30% less.
Moving on to the round diamond, let's take a look at something from Blue Nile. Here is a comparable 2.01ct J color, VS2 clarity excellent cut diamond from Blue Nile for $12,305. It's very similar, only the table is more in line with our recommendations. If you add this platinum solitaire setting, the price ends up being $12,935 for savings just over 30%.
Conclusion
The store had just the right feel of luxury without being overly stuffy. If Carlos is any indication of their staff at other locations, then you are in good hands walking into a Fink's Jewelers. The actual product selection was nice as well. There was a limited selection of rings, but the diamonds were fantastic.
Value is a tricky thing for me to pin down. As we have talked about at length, there is no way a physical store can compete with the online powerhouses like Blue Nile and James Allen when it comes to price and selection. But there can be added value from the in store experience. Based on feedback from our readers (and our own secret shopping), the customer service on live chat with James Allen and Blue Nile is top notch. But some people may want to be there in person, talking with someone like Carlos. How much is that service worth? Every person has a different number.
James Allen

James Allen is the leader in online diamond sales. Their imaging technology is the same as inspecting a diamond with a jeweler's loupe. They have the largest exclusive loose diamond inventory online and fantastic prices. They also have the nicest collection of lab created diamonds online. Now save 25% off settings AND 3% off Earth Diamonds during James Allen HUGE limited time sale!
What we love about them:
No questions asked returns within 30 days of shipment. James Allen will send you a paid shipping label to return the ring.
Lifetime Warranty
Free International Shipping
Free prong tightening, repolishing, rhodium plating and cleaning every 6 months
Provide insurance appraisals
One free resizing within 60 days of purchase
Free ring inscriptions
Best-in-class high quality imagery of all diamonds in stock
24/7 Customer Service
Best-in-class packaging

---
Blue Nile

Blue Nile is the largest and most well known internet jewelry seller. They have a very large exclusive online inventory. Their high quality images are catching up to James Allens' and their prices are amazing. Blue Nile have generously offered our readers an exclusive one-time use coupon.

(Click Here to save $100 off engagement ring settings)
What we love about them:
No questions asked returns within 30 days of shipment. Blue Nile will send you a paid shipping label to return the ring.
Lifetime Warranty
Free Shipping
Free prong tightening, repolishing, rhodium plating and cleaning every 6 months
Provide insurance appraisal
One free resizing within the first year of purchase
High quality images of about half of their diamonds
24/7 Customer Service
100% credit towards future upgrades (must be at least double in value)
Best in class fulfillment

---
Still afraid of getting ripped off?
Before you buy a diamond, get personal buying advice from industry veterans. We'll help you get the best diamond for the money.
Ask your diamond purchase question here
DISCLAIMER: We don't use your email for marketing. Period.