We are reader-supported. Buying through links on our site may earn us commissions. Learn More.
Deal Alert! Huge James Allen Sale- 3% off Earth Diamonds AND 25% off settings or

15% off at Blue Nile!



Should you Buy an Engagement Ring From Etsy?
Overall Score:

1.33

Price:

1.5

Selection:

2

Customer Service:

0.5

Pros

---

Cons

No quality standards
Inability to search or filter properly
Higher chance of vastly overpaying or receiving inferior quality

Other Recommended Retailers
Let's get one thing clear off the bat. I like Etsy in general, but they are a terrible choice when it comes to engagement rings in general and diamonds specifically. You are better off purchasing from a reputable online retailer that is focused on engagement rings like James Allen or Blue Nile.
In this article we will discuss the fundamental flaws with Etsy for these particular products. We are also going to show you that the retailers working on Etsy have substandard quality, overpriced products and misleading product descriptions. Just to give you a taste, I messaged the retailer selling this product and asked how much it would cost to have a diamond in there. 
They quoted me $19,580 for a simple yellow gold solitaire setting with a 1.50ct H SI1 oval cut diamond. This higher quality diamond from James Allen is only $9,360 and add it to this similar setting you are getting a better ring for 50% less than the ring on Etsy.
We will discuss this vendor and several others later in the article.
Etsy Diamond Ring Review
Etsy is a popular, and fast growing, e-commerce marketplace meant to connect consumers with smaller, artisanal craftspeople. It is an excellent platform that offers an alternative that helps small businesses and people looking for unique products. Started in 2005, Etsy has increased in popularity and saw an explosion in 2020, generating 5 billion dollars in sales. 
In theory, we wouldn't have any issues with a company like Etsy or the small businesses plying their products there. We feel very strongly that you are better off purchasing a diamond ring online rather than purchasing from a brick and mortar retailer (you can read about that in this article). I have personally purchased several items from Etsy and was ecstatic with the results.
Unfortunately, the lack of consistency and quality controls pose enormous issues for you the consumer. Using a website that isn't focused on the diamond industry means that you won't have the appropriate filters and controls that will help you find a beautiful diamond. And leaving each listing up to the individual sellers opens the door for gross mischaracterizations and unethical business practices. 
Below we will examine Etsy's engagement ring offerings in general and discuss the fundamental issues with buying from Etsy. We will also dig into specific items that are for sale and show how easy it is to get taken advantage of if you purchase a diamond ring from Etsy.
Etsy's Fundamental Flaws When Buying an Engagement Ring
1) Etsy's filters and search do not work properly and don't offer the options necessary to find a nice diamond
When purchasing an engagement ring, especially a diamond engagement ring, there are dozens of factors to consider. When looking at a diamond on James Allen for example, you are presented with 14 individual categories that you can choose to filter your specific choices for the diamond alone. They have more filtering options for the settings as well. 
Etsy has none. They only offer generic filters that are used for all their jewelry items. The specifications of the jewelry may not matter when you are purchasing a $70 piece of costume jewelry, but when you are dropping $5,000 on a diamond those specifications are crucial.
Making matters worse, the filters don't even work. Take a look at the image below. I put in a filter for diamond jewelry. In the first eight results, only two of the listings were actually diamonds. Any seller that wants to engage in disinformation will write a description that includes the word diamond even if there are no diamonds in the item (more about that later, when we dig into specific items.)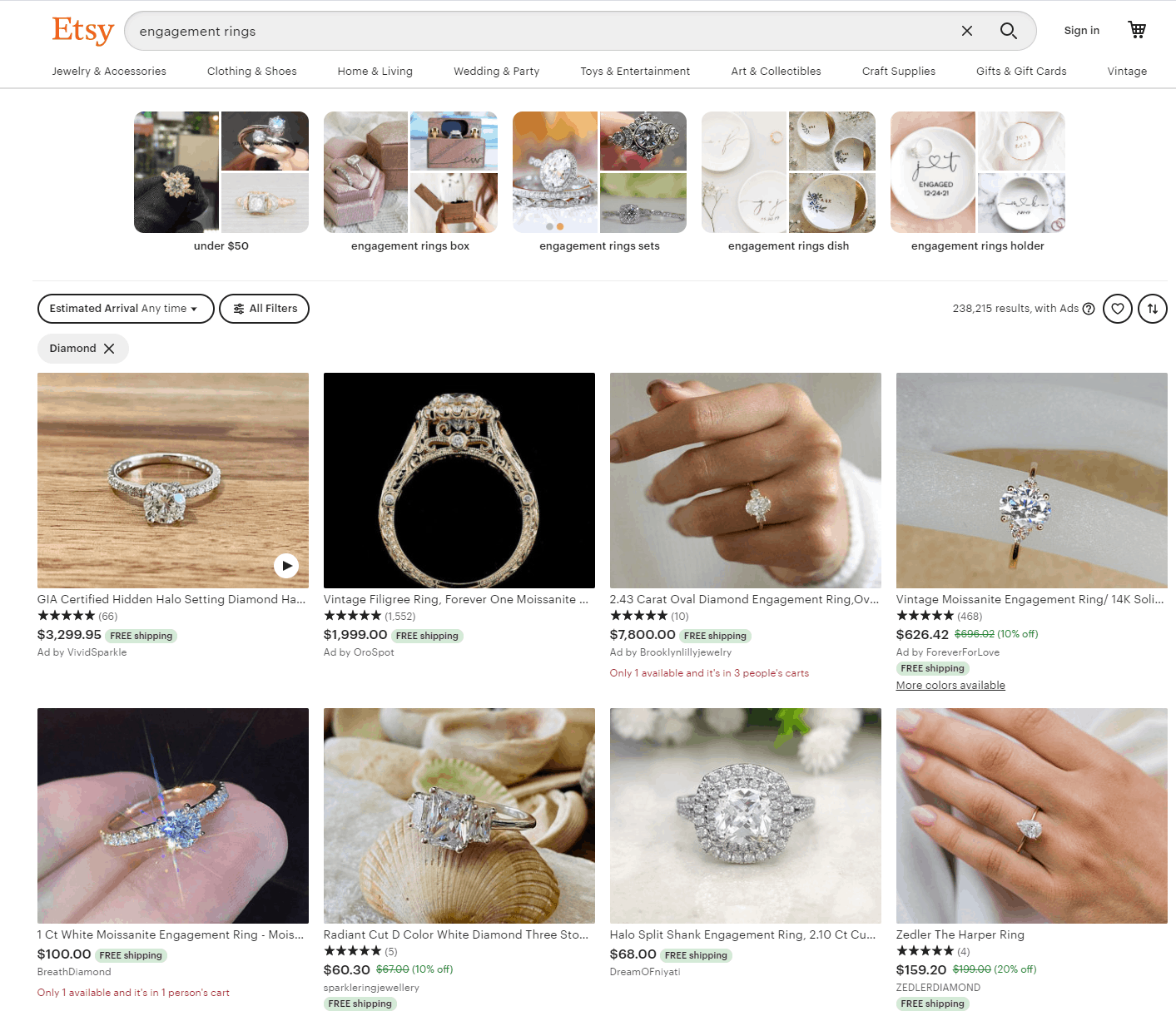 Why are Filters So Crucial?
I saw one seller that actually listed some of the parameters. They claimed it was a round diamond that was H color, SI1 clarity and GIA certified. But here's the thing; there is a wide array of diamonds that fall under this category. Here are two diamonds that fit all of those criteria, yet this beautiful one from James Allen costs $4,960 and this ugly one costs $3,570. If I were purchasing on Etsy, without them forcing the seller to display the details, the seller is going to use the cheaper one in order to make more profit. How are you, as the consumer, able to determine if you are getting a good deal or not?
There are dozens of parameters that you need to consider when purchasing a diamond.
2) Misleading Titles and Lack of Quality Control Within Etsy
Since Etsy is not the company who creates, imports or sends the actual product to you, there is no uniform quality control and no standards of what the titles and descriptions are. I guess the only requirement is to not commit outright fraud. You aren't purchasing a wrought iron wine rack, you are purchasing an expensive engagement ring. It's not so simple as having the picture match the product you receive.
There are thousands of ways that someone can deceive you and give you an inferior product without actually committing fraud. You can run the gamut of "misunderstanding" (that always seems to favor the seller, not the buyer) to "conveniently leaving out the details that explain why the diamond is so cheap". 
Etsy does a disservice to consumers by not forcing basic terminology that will remove obfuscation. If a product title lists a diamond, there must be an actual diamond in the product. Not a diamond simulant, not a moissanite. If the diamond is not natural, they should be required to write that it is lab grown. If a diamond has been artificially enhanced (which renders the diamond worthless and increases the chance of your diamond breaking), it must say that in the description. 
Take a look at this stunning diamond from James Allen for $2,000. Then look at this beauty for $6,000 also from James Allen. All of the specs are exactly the same. The only difference is the first one is Lab-Created and the second one is natural. James Allen is a company with strict and consistent filters. You know exactly what you are getting from them. You can only find that diamond if you specifically search for a Lab-Created diamond. Even then, they prominently display that in the title of the page as well. There is no ambiguity.
Looking at the Jewelers on Etsy
We looked at the first 30-40 options that popped up when we were searching. They all fell into four categories.
1. The Incredibly Overpriced
These vendors are preying on consumers who shy away from the major retailers because they like "supporting the little guys". I'm all for that in principle. But there is a difference between providing a unique experience and charging a premium and just ripping people off. 
Let's talk about the first ring we discussed above. This 1.50ct Oval cut in a yellow gold solitaire for example. Nevermind the fact that this showed up when searching for diamonds and they do not have actual diamonds listed. I reached out to them and they told me they can put a 1.50ct Oval cut that is GIA certified and is H color and SI1 clarity in the ring. The cost would be 19,580. 
There is nothing special about the standard solitaire setting and the price is insane. Here is a similar diamond (in fact, it's a clarity grade higher) for $9,360. The Etsy option is double the price. Personally I'd prefer to get this gorgeous 2 carat H VS2 oval cut from Blue Nile and still save a thousand dollars.
2. The Misleading
This is the most frustrating group in the lot. We created our site to help people avoid unethical business practices that many jewelers engage in. It infuriates me when we receive emails from readers saying they got a fantastic deal and then we see that they were royally screwed. 
Due to Etsy's lack of systemic control (as discussed above), it is so easy for these unethical practices to thrive on their platform. Take this listing for example. This jeweler throws a ton of different diamond details all of which show that the diamond is incredible. The problem is when something is too good to be true, it is too good to be true. Based on their description, this diamond ring should cost four times more than they are listing. There is simply no way it's legit. So I reached out to them.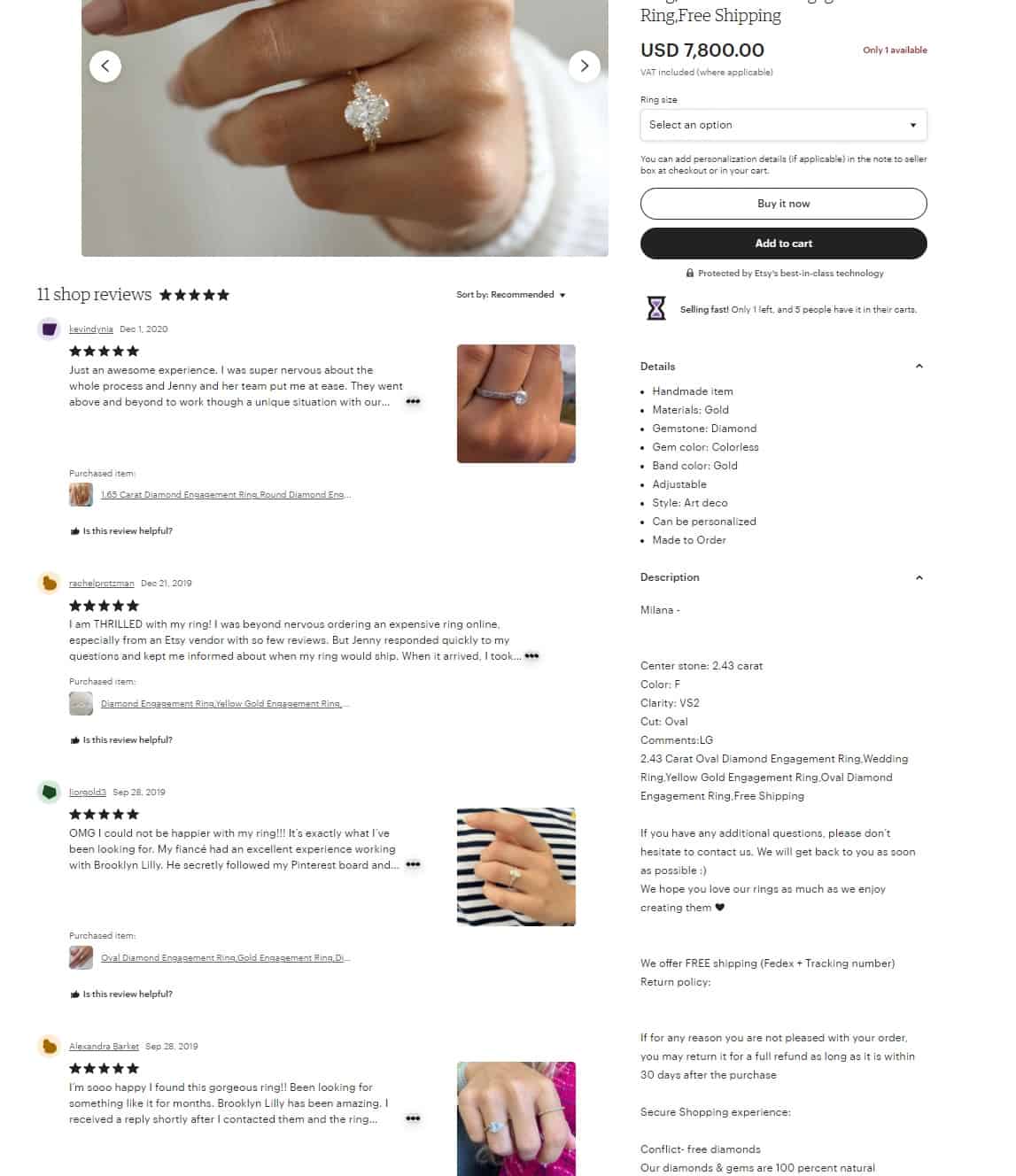 After asking for more information multiple times I asked them straight out why it's so cheap. They conveniently left out the fact that the diamond was artificially enhanced. This is a kiss of death for diamonds. Also no reputable certifying lab will touch them, so there is no way to know what the actual quality is. I wouldn't pay two cents for an artificially enhanced diamond. You are better off getting a lab-grown diamond than that. 
Let me be clear (people who like to use unethical business practices tend to like threatening lawsuits). They are not lying and did not commit fraud. They are preying on the fact that most engagement ring buyers are not diamond experts and they can't possibly catch every little detail. You walk away thinking you got something far superior to what you actually got, but they never lied about it (unless you count lying by omission, which Etsy clearly doesn't care about).
3. Simply Bad Purchases
This category is significantly better than the first two. They aren't unethical and they aren't price gouging. But there is a lot of grey area between getting ripped off and getting a great deal. Take this ring for example. While the title is a bit misleading (it should say 1.20 carat total weight, the current description implies there is a 1.20ct center diamond), I am giving this vendor the benefit of the doubt. They clearly write the details in the description and when I messaged them directly, they were clear and straightforward with everything. 
The ring is also not overpriced either. In fact, I would say it's fairly priced. What is the issue then? Well, we get back to Etsy's inability to provide adequate information. The jeweler promptly offered me a GIA certificate for the diamond. Kudos for using a GIA certified diamond. Unfortunately, the report revealed that the diamond is very poorly cut. If you read our cut article, this is one of the most important characteristics to focus on when buying a diamond.
Is the ring overpriced? No. Take a look at this diamond from Blue Nile and this setting. These are comparable (though there are fewer pavé diamonds on the Blue Nile setting) in style and quality. They are in the same price range. The issue is that I would never recommend buying that diamond. Just because something is fairly priced does not make it a good choice for you the consumer.
4. The Truly Unique Design
Etsy does have a collection of interesting artisans that can create a truly unique ring. Unfortunately, that doesn't preclude them from being part of the previous three categories as well. It is simply too easy to find a proper, reputable jeweler that offers all the tools to select a diamond and is fairly priced than to roll the dice on Etsy. For example, James Allen has a custom ring program that mates the best of both worlds.
Summary
Etsy may be a great site to find a cute jewelry box or a comfy linen apron, but they are not a good option when purchasing an engagement ring. You are better off working with a reputable online retailer like Blue Nile or James Allen.
James Allen

James Allen is the leader in online diamond sales. Their imaging technology is the same as inspecting a diamond with a jeweler's loupe. They have the largest exclusive loose diamond inventory online and fantastic prices. They also have the nicest collection of lab created diamonds online. Now save 25% off settings AND 3% off Earth Diamonds during James Allen HUGE limited time sale!
What we love about them:
No questions asked returns within 30 days of shipment. James Allen will send you a paid shipping label to return the ring.
Lifetime Warranty
Free International Shipping
Free prong tightening, repolishing, rhodium plating and cleaning every 6 months
Provide insurance appraisals
One free resizing within 60 days of purchase
Free ring inscriptions
Best-in-class high quality imagery of all diamonds in stock
24/7 Customer Service
Best-in-class packaging

---
Blue Nile

Blue Nile is the largest and most well known internet jewelry seller. They have a very large exclusive online inventory. Their high quality images are catching up to James Allens' and their prices are amazing. Blue Nile have generously offered our readers an exclusive one-time use coupon.

(Click Here to save $100 off engagement ring settings)
What we love about them:
No questions asked returns within 30 days of shipment. Blue Nile will send you a paid shipping label to return the ring.
Lifetime Warranty
Free Shipping
Free prong tightening, repolishing, rhodium plating and cleaning every 6 months
Provide insurance appraisal
One free resizing within the first year of purchase
High quality images of about half of their diamonds
24/7 Customer Service
100% credit towards future upgrades (must be at least double in value)
Best in class fulfillment

---
Still afraid of getting ripped off?
Before you buy a diamond, get personal buying advice from industry veterans. We'll help you get the best diamond for the money.
Ask your diamond purchase question here
DISCLAIMER: We don't use your email for marketing. Period.