We are reader-supported. Buying through links on our site may earn us commissions. Learn More.
Deal Alert! Huge James Allen Sale- 3% off Earth Diamonds AND 25% off settings or

15% off at Blue Nile!



Dunkin's Diamonds Review
Overall Score:

3.17

Price:

2.5

Selection:

3

Customer Service:

4

Pros

Great customer service
Decent selection

---

Cons

Inconsistent quality
Prices that are a tad high

Other Recommended Retailers
Look at the sacrifices we make for our readers. We had to leave our comfortable, cold, windy, snowy, hailing home to visit Florida in April and deal with 80 degree, sunny days. It was brutal, but anything for you guys.
Bottom Line Recommendation
Dunkin's Diamonds was not bad. I have had plenty of aweful experiences secret shopping and Dunkin's was the opposite of that. The store and people were very nice and there was a decent selection of diamonds. 
Unfortunately, the selection of diamonds was just a bit problematic and the prices seemed too high to me. I understand wanting to buy from a local jeweler. And if you go that route, you can definitely buy a nice diamond from Dunkin's Diamonds. I just felt that they were not offering enough for your money.
You are better off getting a diamond engagement ring from a reputable online retailer like James Allen or Blue Nile. 
The History
Dunkin's Diamonds history is all about the man. The Diamond Man as he is known. Stuart Dunkin started a jewelry company 60 years ago in Ohio which he successfully sold. Apparently he wasn't finished with the industry, opening another chain. It has now extended to ten locations in Ohio (around Columbus) and Florida (scattered around the Fort Myers region).
The Experience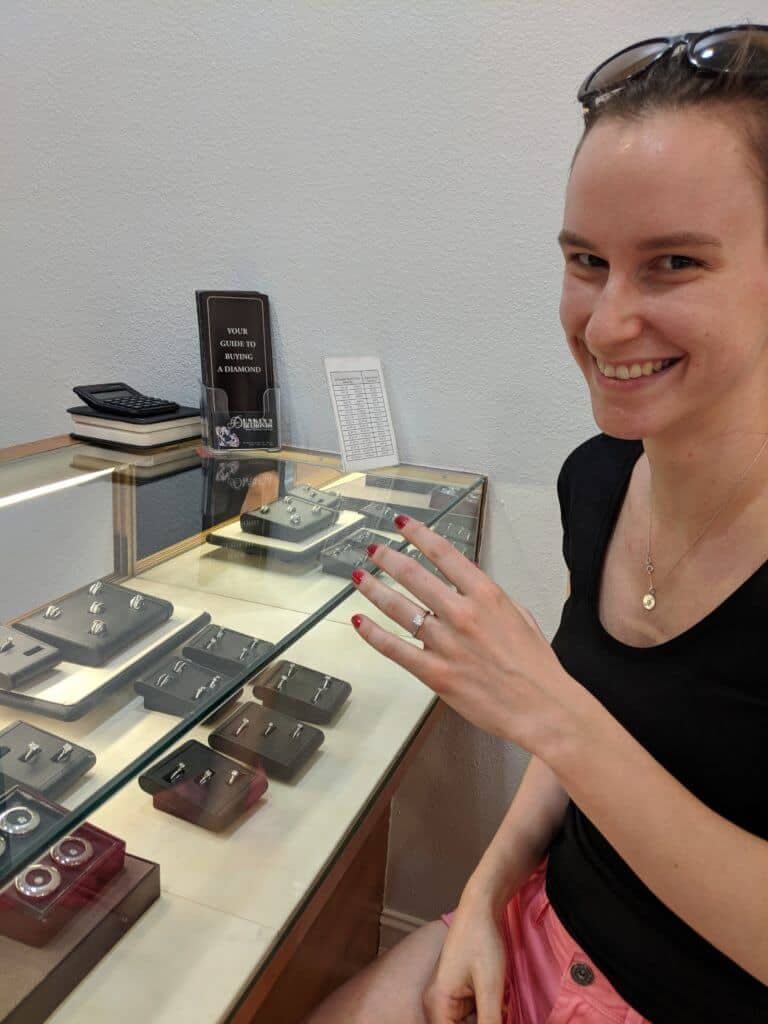 Annie and I made the difficult decision to secret shop Dunkin's at one of their Florida locations. We packed our summer gear and headed over to the Fort Myers area. Dunkin's Diamonds had a few locations in the area. We chose the location in the Gulf Coast Town Center.
Just heading into the store was a pleasant experience. It was a very nice location for a jewelry store and felt appropriate for a luxurious purchase. The store itself had the ambiance of a classic jewelry store. Well appointed, simple with the focus being on the display cases.
We made our way to the diamond and engagement ring section and started to browse. A salesperson promptly offered their assistance and was quite friendly and welcoming.
Interestingly enough, the showcases focused more on non-round diamonds. This may be because they had a large Hearts on Fire section which I was trying to ignore (we've already secret shopped those several times and were unimpressed, so I didn't see the need to focus on those here).
The Product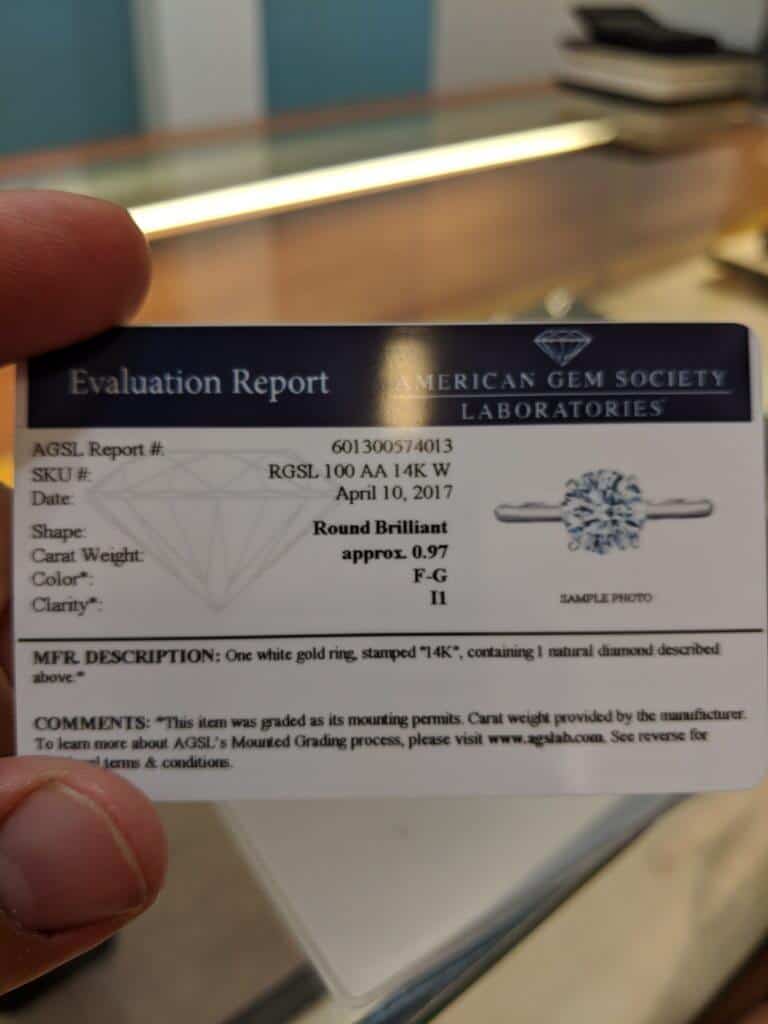 The first diamond we looked at was a round solitaire. This came with something I've never seen before. It was a ring appraisal from AGS laboratories. We like AGS as a lab, but we'd recommend going with a full diamond report so you can see the technical specs of the diamond.
The appraisal card said the diamond was approximately (they don't have exact specs for any of these qualities) 0.97ct, F-G, I1 quality. I would say that the grades were fairly accurate. It was a very white looking diamond. The diamond appeared clear but was incredibly cloudy (in my opinion) which sapped the brilliance from the diamond. The diamond was mounted in a 14kt white gold solitaire and the price was $4,499.
The second diamond we looked at was a loose princess cut. It was a GIA certified 0.74ct H color, VVS2 clarity diamond that was superbly cut. The diamond was stunning and the cost was $4,299.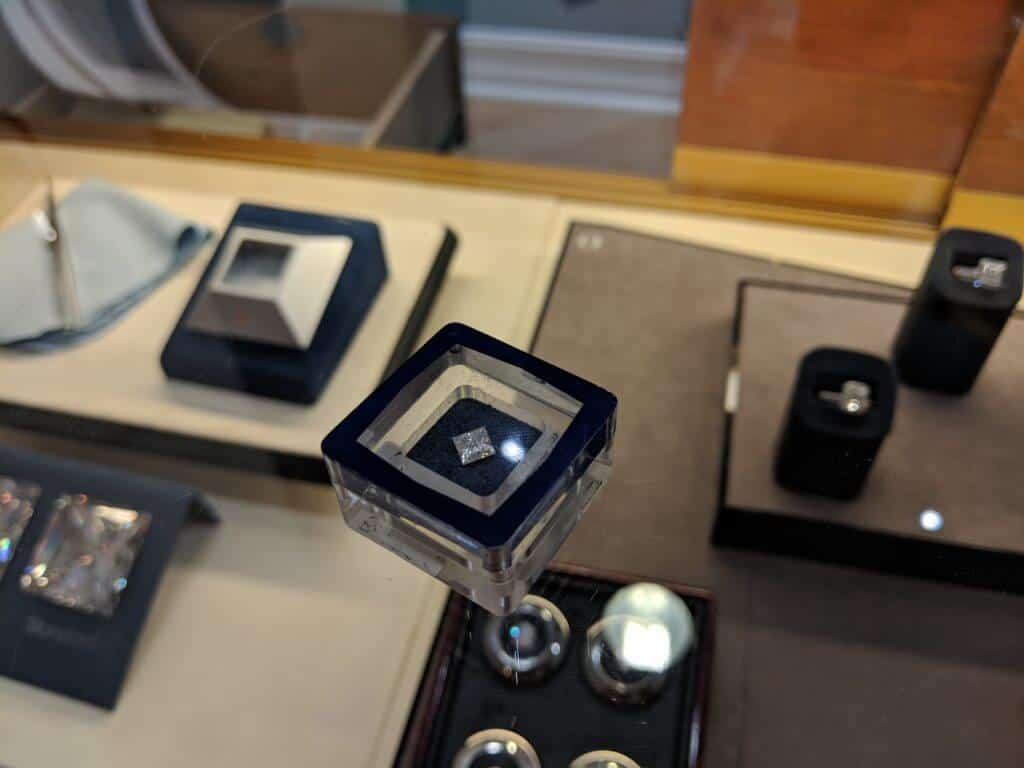 Both diamonds we saw were nice. The first diamond was too cloudy for my taste and I wouldn't recommend the diamond to a reader of ours, but its a nice diamond for someone looking for a really good value. The second diamond was absolutely stunning, albeit with a stunning price tag as well. So lets see how they stack up with the competition.
The Value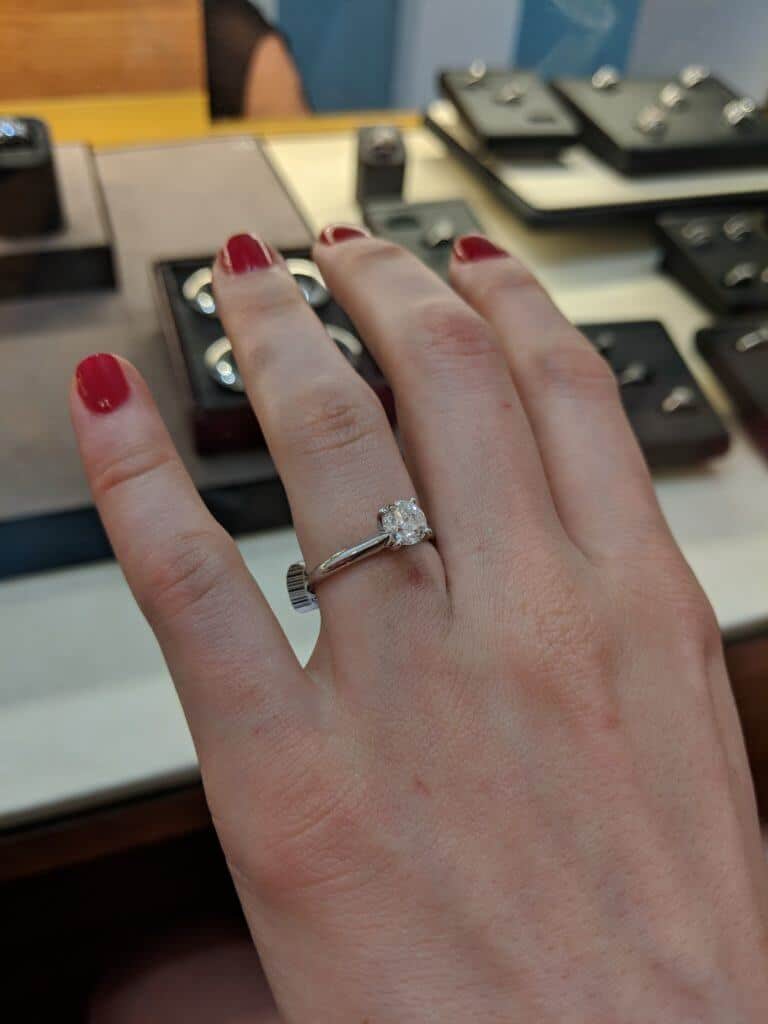 We will compare the first Dunkin's selection (the 0.97ct FG I1 in a 14kt solitaire) to this 1.00ct F color, I1 clarity diamond from James Allen. I would not recommend this diamond to my readers, but I wouldn't recommend the diamond from Dunkin's either. The price for the diamond is $3,070. If you pair it with this solitaire setting, the total price is $3,250. That would give you a virtually identical (if not better) diamond ring for roughly 30% less than what you would pay at Dunkin's.
Since the second diamond from Dunkin's (0.74ct H VVS2 princess cut) was so nice, we'll compare it to a diamond from Blue Nile's Astor collection. Here is a 0.71ct H VVS2 princess cut. It is absolutely stunning as well, for a cost of $2,579.  That is a whopping 40% savings off of the diamond from Dunkin's.
So while the location was nice, the service great, and the selection not bad, overall it's hard to justify the value. The best jewelry stores online offer tremendous selections and provide fantastic value.
James Allen

James Allen is the leader in online diamond sales. Their imaging technology is the same as inspecting a diamond with a jeweler's loupe. They have the largest exclusive loose diamond inventory online and fantastic prices. They also have the nicest collection of lab created diamonds online. Now save 25% off settings AND 3% off Earth Diamonds during James Allen HUGE limited time sale!
What we love about them:
No questions asked returns within 30 days of shipment. James Allen will send you a paid shipping label to return the ring.
Lifetime Warranty
Free International Shipping
Free prong tightening, repolishing, rhodium plating and cleaning every 6 months
Provide insurance appraisals
One free resizing within 60 days of purchase
Free ring inscriptions
Best-in-class high quality imagery of all diamonds in stock
24/7 Customer Service
Best-in-class packaging

---
Blue Nile

Blue Nile is the largest and most well known internet jewelry seller. They have a very large exclusive online inventory. Their high quality images are catching up to James Allens' and their prices are amazing. Blue Nile have generously offered our readers an exclusive one-time use coupon.

(Click Here to save $100 off engagement ring settings)
What we love about them:
No questions asked returns within 30 days of shipment. Blue Nile will send you a paid shipping label to return the ring.
Lifetime Warranty
Free Shipping
Free prong tightening, repolishing, rhodium plating and cleaning every 6 months
Provide insurance appraisal
One free resizing within the first year of purchase
High quality images of about half of their diamonds
24/7 Customer Service
100% credit towards future upgrades (must be at least double in value)
Best in class fulfillment

---
Still afraid of getting ripped off?
Before you buy a diamond, get personal buying advice from industry veterans. We'll help you get the best diamond for the money.
Ask your diamond purchase question here
DISCLAIMER: We don't use your email for marketing. Period.