Diamond Pro is reader-supported. When you buy through links on our site, we may earn an affiliate commission. Learn More.
Clean Origin Review by the Diamond Pro
Visit Site

Overall Score:

4

Price:

5

Selection:

3.5

Customer Service:

3.5

Pros

Great lab grown diamonds
Lab grown diamonds used in settings
Incredibly well priced

---

Cons

Not easy to find the diamond images
No international shipping
No option for natural diamonds

Other Recommended Retailers
Bottom Line Recommendation
Clean Origin is a fantastic choice for our readers that are considering lab-grown diamonds. James Allen is one of our favorite retailers to recommend overall and they have an amazing selection of lab-grown diamonds. But Clean Origin is the only exclusively lab-grown diamond retailer that we recommend.
You can read more below, but you can see below how this gorgeous 1.02 ct diamond stacked up against the competition and that we loved their stunning jewelry pieces. We loved this 3ctw tennis bracelet and they have a great selection of affordable stud earrings.
Who is Clean Origin?
Clean Origin, founded in 2017, is a relatively new option for consumers looking to buy an engagement ring. Clean Origin exclusively focuses on lab-grown diamonds, making them an attractive option for more budget minded consumers and those narrowing their search to lab-grown diamonds.
Should I Buy a Lab-Grown Diamond?
That is up to you to decide. We have a more in depth article here. Whether you decide to go with a lab-created diamond or a natural one, rest assured that a lab-grown diamond looks just like a natural one and is identical in physical properties.
Clean Origin Website Review
Clean Origin has a modern website that offers a clean user experience. Their diamond search is clear and simplified, offering a consumer all the tools necessary to find the perfect diamond to fit their needs. You can easily put in the filters you like and Clean Origin has clear imagery of every diamond on their site. The one downside is that the imagery is not on the page of the diamond. You need to click on the little 360 degree icon on the left to find the images.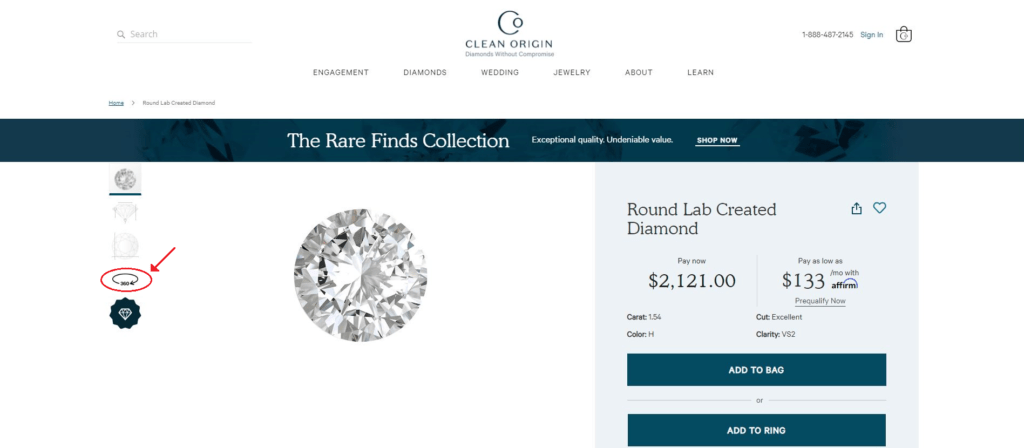 Their engagement ring collection covers all the popular styles that our readers have been looking for. While they don't have the largest collection we've seen, you are likely to find what you are looking for there.
Clean Origin also has a great selection of diamond jewelry. This is a great find as the lab-grown diamonds make larger carat weight items more affordable (more about that later). I would especially recommend Clean Origin for diamond stud earrings. 
Overall we found Clean Origin's website to be user friendly, easy to find what you want and offers more than enough variety to find the perfect diamond and engagement ring or other diamond jewelry.
Clean Origin Diamond Review
Clean Origin has a lot of lab-grown diamonds to choose from. When you are searching there, be sure to follow our general advice about the 4Cs. GIA has been the gold standard when it comes to natural diamond certification for decades. It's nice to see that they have entered the lab-grown diamond market as well. Clean Origin is one of the rare places that have GIA certified lab-grown diamonds available.
I would recommend sticking with IGI and GIA certified diamonds. IGI has been doing a great job with lab-created diamonds the last few years and I wouldn't hesitate to recommend them for this type of a purchase.
I picked out this stunning 1.50ct H color, VS2 clarity round diamond for this review. At the time of writing this review, the price was $2,121. That is a great price for a stunning diamond like this. It is perfectly eye-clean and the cut is superb on the diamond. It will look bright and brilliant.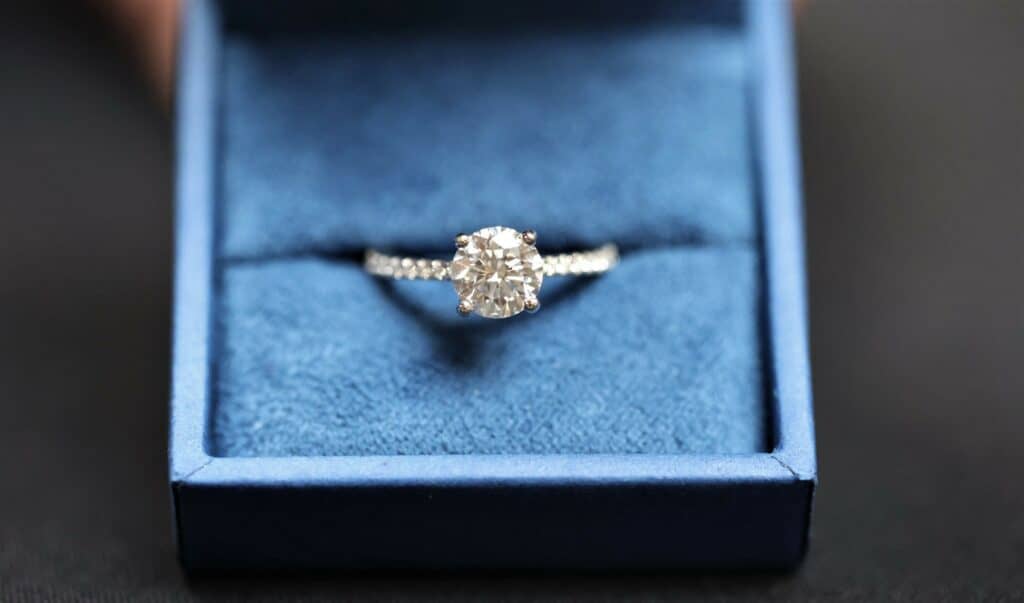 Clean Origin Engagement Ring Settings
Clean Origin has a collection of 125 setting styles. Add in the different metal types (rose gold, yellow gold, white gold and platinum) and that gives you a fantastic line-up of options to choose from. This number is dwarfed by some of the larger competitors (for example, James Allen has hundreds more to choose from), but you still have a dazzling array of settings that covers all the popular styles.
Clean Origin does have a unique advantage by using lab-grown diamonds for their settings. If you are choosing lab-grown diamonds for a reason other than just saving money, this should be a significant advantage for Clean Origin.
I had the 1.50ct diamond set in this elegant pavé setting in 14K white gold. This is a classic pairing that has been one of the most popular requests from our readers. The setting will add a nice touch of sparkle and sophistication while still letting the main diamond be the center of attention.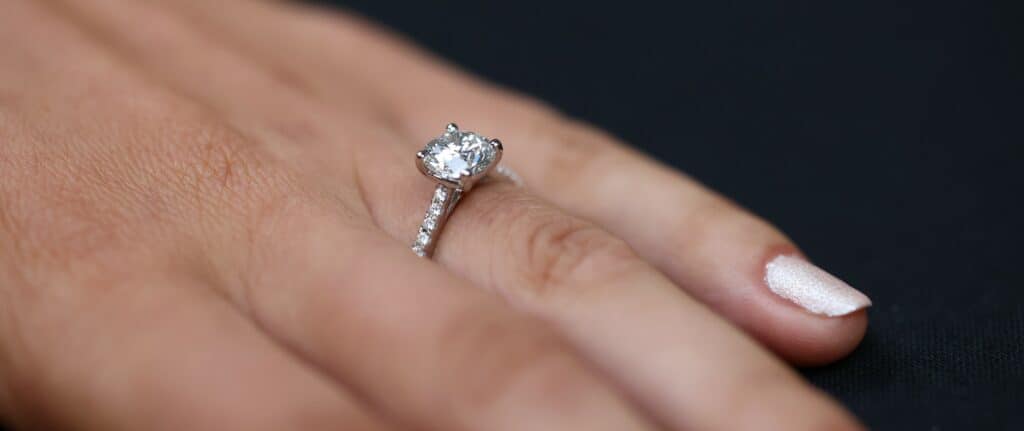 In all, the price of the ring was $3,385. You are getting a stunning, contemporary yet elegant, engagement ring for a phenomenal price.
Clean Origin Diamond Jewelry
This is another value option for someone on a budget. Clean Origin carries all the classic diamond jewelry styles made with lab-grown diamonds. This makes items like tennis bracelets or diamond studs far more affordable. You can get phenomenal bang for your buck and either save the extra money, or go with a size that wasn't attainable if you were going the natural diamond route. 
We ordered this stunning 3ctw tennis bracelet that was $1,500 cheaper than your comparable natural diamond tennis bracelet.

Clean Origin vs Brilliant Earth
Some of our readers have asked how Clean Origin stacks up against Brilliant Earth. As you can see in our BE review, we are not impressed with Brilliant Earth in general. Our issues with Brilliant Earth aside, let's focus on which of these two companies is the better choice to purchase a lab-created diamond from.
Brilliant Earth only offers GIA certified lab-grown diamonds. So for this comparison I tried to find similar diamonds with GIA certification from both companies. Brilliant Earth had a 1.04ct D color, VS1 clarity round diamond for $3,350. They called it "super ideal" but I don't know what that means. GIA does not give that grade out and Brilliant Earth decided to give 19 out of their 22 lab-grown diamonds that prestigious label, so I'm not going to get too caught up on the diamond. That being said, the cut was very nice.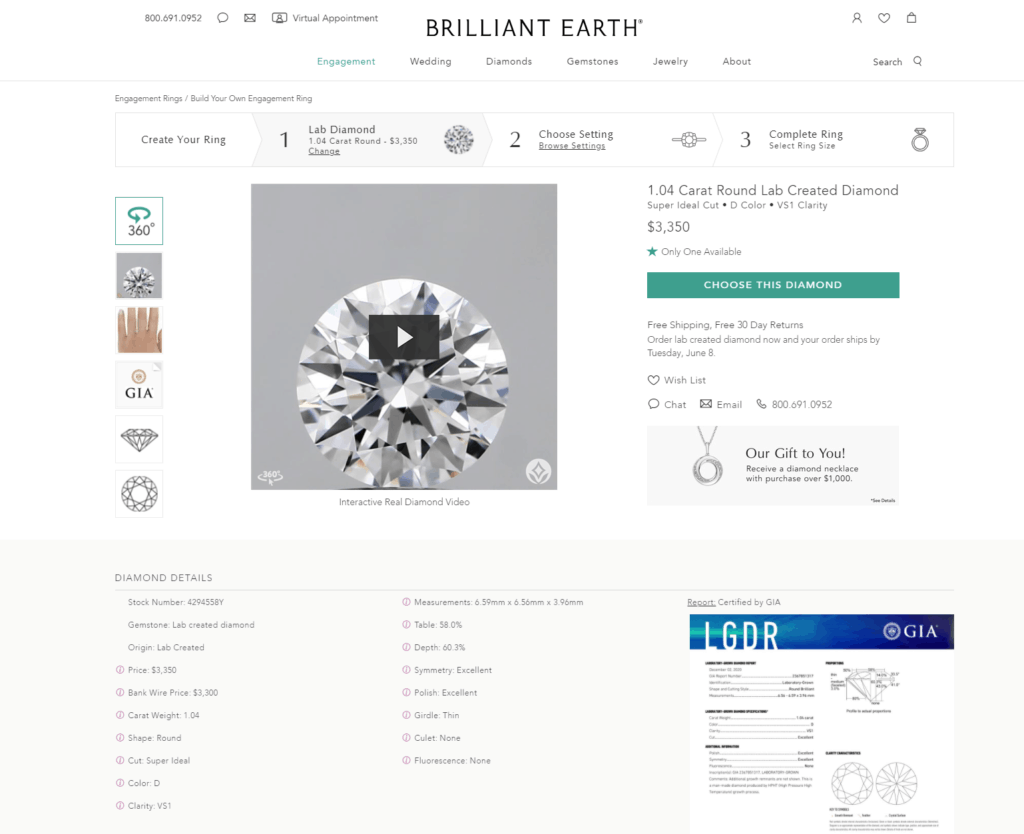 We found a virtually identical 1.02ct D color, VS1 clarity diamond. The cut is just as good as the brilliant earth diamond and every other grade is the same. Yet the Clean Origin diamond clocks in at $2,663. That makes it 20% cheaper than Brilliant Earth's similar diamond. I don't see any justification for Brilliant Earth charging that much money.
Frequently Asked Questions
Is Clean Origin legit?
Clean Origin is 100% legit. They are one of two companies we would recommend for lab-grown diamonds (James Allen being the other).
What is Clean Origin's Return Policy?
Clean Origin has the best return policy we've seen in the industry. They will give you a full refund if you return it within 100 days of purchasing the product. They will even pay for return shipping.
Does Clean Origin Ship Internationally?
Unfortunately, Clean Origin only ships to the United States at this time. We know that many of our readers are not in the United States and have urged Clean Origin to open up for international shipping.
Summary
Clean Origin is our favorite retailer that exclusively sells lab-grown diamonds. They have an excellent selection of GIA and IGI certified diamonds, a great selection of engagement ring settings and some gorgeous diamond jewelry pieces. Most importantly, Clean Origin is a fantastic option for someone that is more budget conscious as their lab-grown diamonds are competitively priced.
James Allen

James Allen is the leader in online diamond sales. Their imaging technology is the same as inspecting a diamond with a jeweler's loupe. They have the largest exclusive loose diamond inventory online and fantastic prices. They also have the nicest collection of lab created diamonds online. For a limited time Save 25% on settings and  Save 3% on Earth Diamonds and Save 10% off select Lab Grown Diamonds
What we love about them:
No questions asked returns within 30 days of shipment. James Allen will send you a paid shipping label to return the ring.
Lifetime Warranty
Free International Shipping
Free prong tightening, repolishing, rhodium plating and cleaning every 6 months
Provide insurance appraisals
One free resizing within 60 days of purchase
Free ring inscriptions
Best-in-class high quality imagery of all diamonds in stock
24/7 Customer Service
Best-in-class packaging

---
Blue Nile

Blue Nile is the largest and most well known internet jewelry seller. They have a very large exclusive online inventory. Their high quality images are catching up to James Allens' and their prices are amazing. Blue Nile have generously offered our readers an exclusive one-time use coupon.

(Click Here to save $100 off engagement ring settings)
What we love about them:
No questions asked returns within 30 days of shipment. Blue Nile will send you a paid shipping label to return the ring.
Lifetime Warranty
Free Shipping
Free prong tightening, repolishing, rhodium plating and cleaning every 6 months
Provide insurance appraisal
One free resizing within the first year of purchase
High quality images of about half of their diamonds
24/7 Customer Service
100% credit towards future upgrades (must be at least double in value)
Best in class fulfillment

---
Still afraid of getting ripped off?
Before you buy a diamond, get personal buying advice from industry veterans. We'll help you get the best diamond for the money.
Ask your diamond purchase question here
DISCLAIMER: We don't use your email for marketing. Period.