We are reader-supported. Buying through links on our site may earn us commissions. Learn More.
Deal Alert! Huge James Allen Sale- 3% off Earth Diamonds AND 25% off settings or

15% off at Blue Nile!



Bucherer Reviews: High Prices
Overall Score:

3

Price:

1

Selection:

3.5

Customer Service:

4.5

Pros

Elegant Store
Good Customer Service
High Quality Products

---

Cons

Prices are not competitive

Other Recommended Retailers
The History
In 1888, a businessman and entrepreneur by the name of Carl-Friedrich Bucherer and his wife Luise opened Lucerne's first watch and jewelry store and laid the cornerstone for a successful family company. The company grew in size, and stature, in the 1920s by entering into a partnership with Hans Wilsdorf, founder of Rolex.
The company continued to grow and opened branches in other Swiss cities and tourist destinations. The company expanded to Austria in the 1980s and,ten years later, to Germany. Today Bucherer is one of Europe's biggest watch and jewelry retail chains.
The Experience
We visited two Bucherer locations; one along the bank of Lake Lucerne in Switzerland and one in Munich. For our readers, we wanted to ensure that the service and prices were similar everywhere. Both locations were very similar. The service was slightly better in Lucerne, but that may just be luck of the draw with the sales reps.
Bucherer stores are fantastically elegant. Everything about them exudes class. Watches dominate the main floor upon entering, with the diamond boutique upstairs. I found the diamond boutique a bit imposing. In both locations, a salesperson didn't approach us and we were followed around by a stern security guard. We weren't the classiest dressed couple to walk in, but we were representable enough not to get that type of treatment (not that anyone should get that treatment in a store). Maybe this is the American in me, but I found that to be very rude and off-putting.
After asking to speak to a salesperson, we were finally presented with smiling and, more importantly, helpful faces. The salespeople did a good job of listening to what we want and trying to find the right ring for us. We were shown several rings, all of which were gorgeous. They really do have beautiful settings. I'll focus on two specific ones for this article.
The Product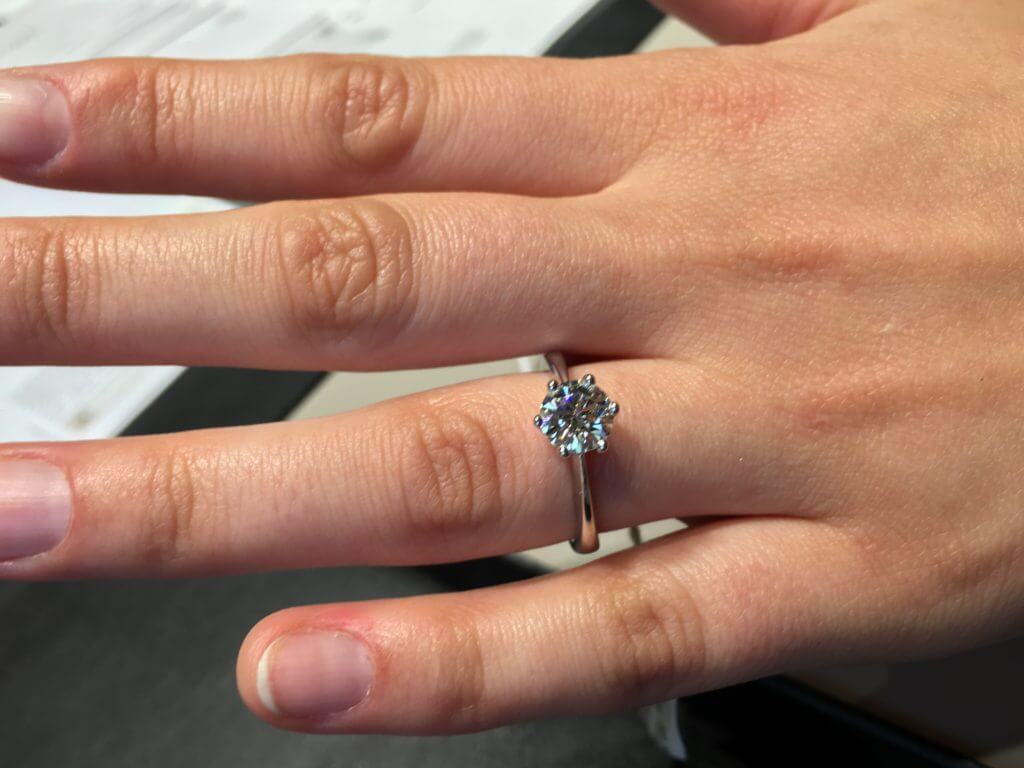 In Lucerne we were shown a 1.08 G VS2 Round diamond with a GIA Certificate for 15,900chf (14,700 euros give or take) in an 18kt white gold setting.
In Munich we were showed a 1.02 F VVS1 GIA Certified princess cut in an 18kt white gold setting 12,850 euros. Both of these diamonds were ok, but not spectacular. The round diamond specifically had an ugly black center inclusion that was very visible. The princess diamond was nice, but a bit deep (still within our recommended parameters, but not spectacular).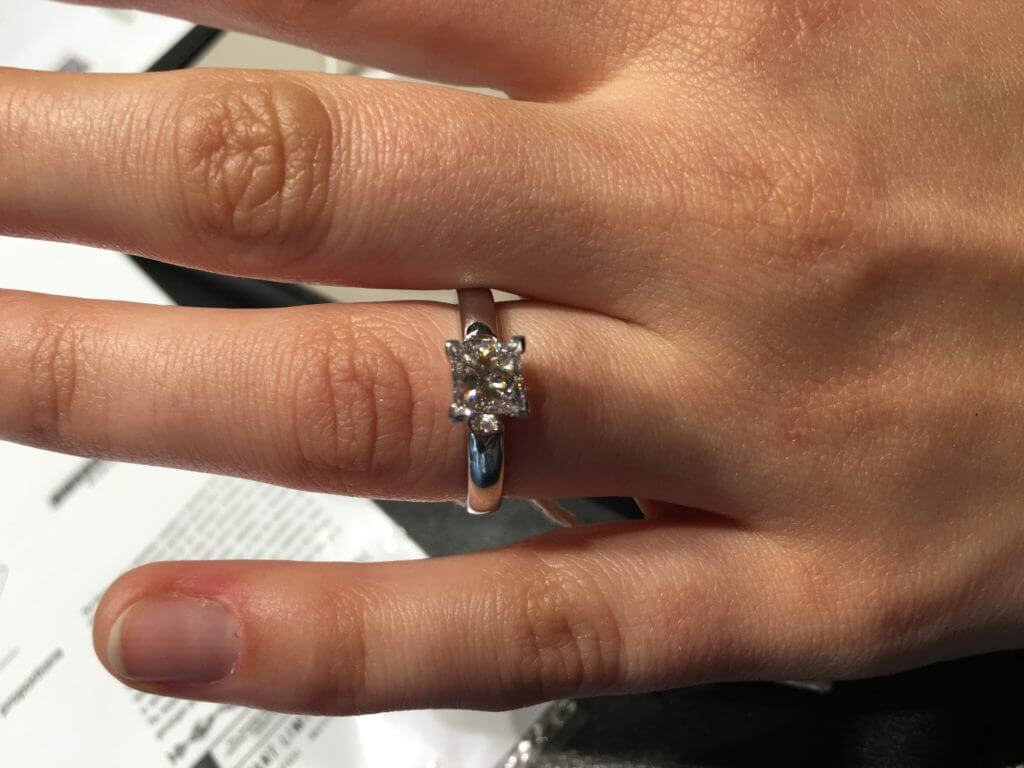 The Value
Here is where things get ugly. No amount fancy chairs to sit in at the store can justify the insane price they charge for average diamonds. These diamonds were not top of the line cuts and the round diamond had an ugly inclusion. To charge such insane premiums is offensive. Let's compare.
Starting with the round diamond, here is a comparable 1.09 G VS2 GIA certified diamond from Blue Nile for 6,405 chf (5,900 euros). Pair that with this solitaire setting and your grand total for the ring comes out to 6,775chf (6,230 euros). That means you can save almost 60% for an identical ring.
Moving on to the princess cut, here is a comparable 1.01 F VVS1 GIA certified diamond, again from Blue Nile, for 5,302 euro. Add it to this solitaire setting and your total is 5,944 euro. Here you get a savings of "only" 54%.
Bottom Line
The stores are very nice, and the service was ok, but the prices are obscene given that the product wasn't particularly spectacular. They do not, in any way, justify charging premiums of 125% for identical products you can buy from a company like Blue Nile.
James Allen

James Allen is the leader in online diamond sales. Their imaging technology is the same as inspecting a diamond with a jeweler's loupe. They have the largest exclusive loose diamond inventory online and fantastic prices. They also have the nicest collection of lab created diamonds online. Now save 25% off settings AND 3% off Earth Diamonds during James Allen HUGE limited time sale!
What we love about them:
No questions asked returns within 30 days of shipment. James Allen will send you a paid shipping label to return the ring.
Lifetime Warranty
Free International Shipping
Free prong tightening, repolishing, rhodium plating and cleaning every 6 months
Provide insurance appraisals
One free resizing within 60 days of purchase
Free ring inscriptions
Best-in-class high quality imagery of all diamonds in stock
24/7 Customer Service
Best-in-class packaging

---
Blue Nile

Blue Nile is the largest and most well known internet jewelry seller. They have a very large exclusive online inventory. Their high quality images are catching up to James Allens' and their prices are amazing. Blue Nile have generously offered our readers an exclusive one-time use coupon.

(Click Here to save $100 off engagement ring settings)
What we love about them:
No questions asked returns within 30 days of shipment. Blue Nile will send you a paid shipping label to return the ring.
Lifetime Warranty
Free Shipping
Free prong tightening, repolishing, rhodium plating and cleaning every 6 months
Provide insurance appraisal
One free resizing within the first year of purchase
High quality images of about half of their diamonds
24/7 Customer Service
100% credit towards future upgrades (must be at least double in value)
Best in class fulfillment

---
Still afraid of getting ripped off?
Before you buy a diamond, get personal buying advice from industry veterans. We'll help you get the best diamond for the money.
Ask your diamond purchase question here
DISCLAIMER: We don't use your email for marketing. Period.