We are reader-supported. Buying through links on our site may earn us commissions. Learn More.
Deal Alert! Huge James Allen Sale- 3% off Earth Diamonds AND 25% off settings or

15% off at Blue Nile!



Brownlee Jewelers Reviews: Poor Quality, High Prices, Bad Service
Overall Score:

1.17

Price:

1.5

Selection:

1

Customer Service:

1

Pros

---

Cons

Poor Quality
Overpriced
Terrible In-Store Experience

Other Recommended Retailers
Bottom Line Recommendation
I was very unimpressed with Brownlee Jewelers. The in store experience was very disappointing, the rings were poor quality and the prices were way too high. You are far better off buying a ring from a reputable online retailer like Blue Nile or James Allen. Read below our in-store experience and contact us if you're looking for a diamond at a better quality and price.
The History
Brownlee is one of the oldest jewelers in the United States. More than 80 years ago, back in 1936, Brownlee opened their first store in the Carolinas. They currently have eight stores scattered around North and South Carolina.
The Experience
Charlotte, North Carolina was our first stop as Annie and I made it to the East Coast on this trip. The first store we secret shopped was Brownlee Jewelers. It was a blistering hot summer day, with temperatures north of 100 degrees. That made the "Spring Sale! 40-60% Off!!!" sign when we first walked in seem like a cruel joke.
The store was nestled into a shopping center not far from the airport. We walked in and were underwhelmed by the ambiance of the store. Lots of signs and showcases, but it did not feel like a luxury store experience. When the average item you are looking at is in the thousands of dollars range, I would expect a better feel than a Payless Shoes.
The saleswoman was friendly, but cheer only takes you so far. There was very little information provided about the products and there was no helpful guidance there to narrow down our choices.

Brownlee Jewelers Diamonds
If the experience felt sub-par, the product was downright dreadful. The first diamond we looked at was a 1.30ct "EF I1" round diamond. I put those grades in quotation marks because they didn't use one of the more reputable certifying labs. They used EGL which is not known for its strict grading. Through the showcase glass, I could see a garish white inclusion running through the whole diamond. Back when I was working on the manufacturing side of the business, we would refer to diamonds like this as "frozen spit".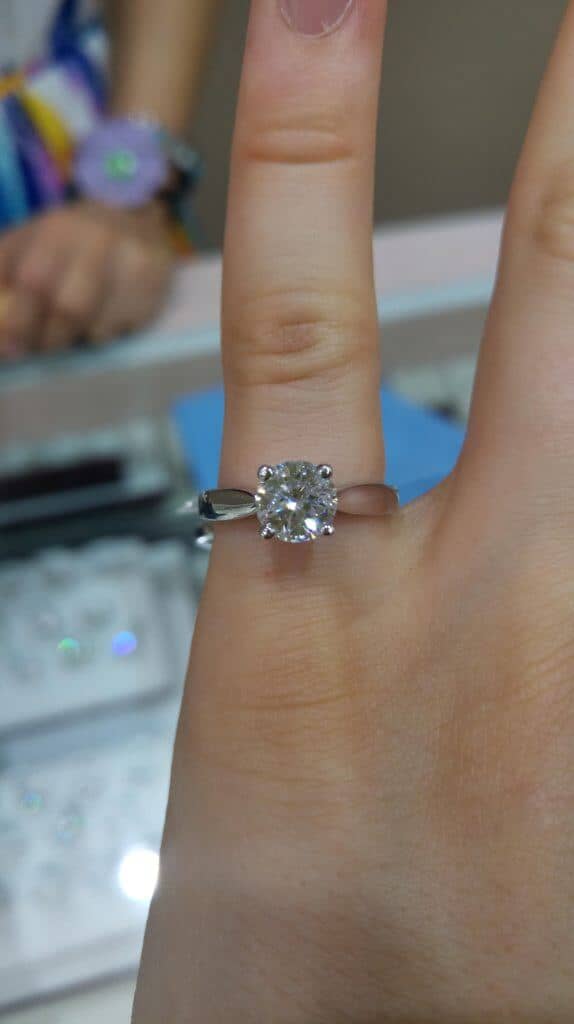 The second diamond was slightly better. It was pretty bad, but at least it was within striking distance of what we would consider acceptable quality. It was a 0.90ct "EF SI2" round diamond for $4,488. Again the diamond had a very noticeable inclusion (I would say a typical I1 quality), and the color wasn't to bad (I'd estimate a G color), but it was a far more pleasing diamond to look at.
The Ring Comparison
It's not even possible for us to compare the first choice we looked at. The quality was too far below anything a reputable website would offer. So we'll focus on the second diamond.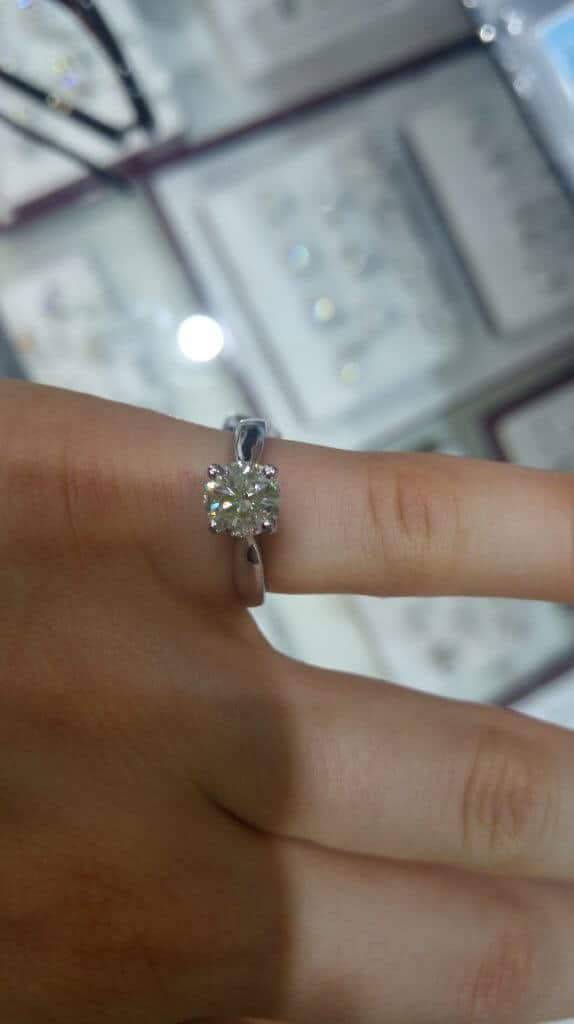 As we mentioned above, there is no way that diamond was actually an F SI2. It was more like a G color, I1 quality. Here is a 0.91ct G color, I1 clarity GIA certified diamond from James Allen for $2,760. If you look at the diamond, you'll see it's very bright, and the inclusion is pretty good for an I1. I personally wouldn't recommend the diamond, but I think it is superior to the one we saw at Brownlee. Adding this elegant setting to the diamond from James Allen and you have a similar (if not superior) ring for a total of $3,260. So the Brownlee Jewelers ring is almost 40% more expensive.
You can take another tack in comparing value. Even if you choose to ignore the major issues with their certification, here is a 0.90ct E color, SI2 clarity GIA certified excellent cut diamond from Blue Nile for $3,327. This diamond is superior in every way to the diamond offered by Brownlee. You can add this solitaire setting and the total cost would be $3,687 for the ring. You would be getting a far superior product and it would be almost 20% less out of your pocket.
James Allen

James Allen is the leader in online diamond sales. Their imaging technology is the same as inspecting a diamond with a jeweler's loupe. They have the largest exclusive loose diamond inventory online and fantastic prices. They also have the nicest collection of lab created diamonds online. Now save 25% off settings AND 3% off Earth Diamonds during James Allen HUGE limited time sale!
What we love about them:
No questions asked returns within 30 days of shipment. James Allen will send you a paid shipping label to return the ring.
Lifetime Warranty
Free International Shipping
Free prong tightening, repolishing, rhodium plating and cleaning every 6 months
Provide insurance appraisals
One free resizing within 60 days of purchase
Free ring inscriptions
Best-in-class high quality imagery of all diamonds in stock
24/7 Customer Service
Best-in-class packaging

---
Blue Nile

Blue Nile is the largest and most well known internet jewelry seller. They have a very large exclusive online inventory. Their high quality images are catching up to James Allens' and their prices are amazing. Blue Nile have generously offered our readers an exclusive one-time use coupon.

(Click Here to save $100 off engagement ring settings)
What we love about them:
No questions asked returns within 30 days of shipment. Blue Nile will send you a paid shipping label to return the ring.
Lifetime Warranty
Free Shipping
Free prong tightening, repolishing, rhodium plating and cleaning every 6 months
Provide insurance appraisal
One free resizing within the first year of purchase
High quality images of about half of their diamonds
24/7 Customer Service
100% credit towards future upgrades (must be at least double in value)
Best in class fulfillment

---
Still afraid of getting ripped off?
Before you buy a diamond, get personal buying advice from industry veterans. We'll help you get the best diamond for the money.
Ask your diamond purchase question here
DISCLAIMER: We don't use your email for marketing. Period.