Q&A: Wants a High Color (D or E) 1 Carat Cushion Cut Diamond. Skeptical about Buying Online. Ends up Extremely Satisfied.
The following is a real email conversation between The Diamond Pro and a reader just like you who contacted us. Personal information is always removed. Learn from these posts, or contact us yourself to get free personalized help.
Ira- I feel so lucky to have come across your website, the wealth of information here is almost unbelievable. Thank you so much for providing it all. My question is relatively simple – in your experience and opinion, is it better to purchase online or from a local jeweler? I think there are some price advantages to purchasing online but you get to see the diamond in person when speaking to a jeweler. Additionally, when purchasing online, you don't need to worry about jewelers pushing sub-par rings on you for higher prices. But, you also lose the expertise and familiarity with the diamond that so often comes with in-person jewelers. What are your thoughts on this? As for what I'm looking for: At least a very good cushion cut, ratio not greater than a 1.1 (more square-ish). High color grade (D or an E) with Clarity in the VS1 to SI1 range. Size of the ring around 1 – 1.1 carats. And, of course, I'm trying to do this for around 5,000 (mission impossible). I also wanted to add I've found your discussion on the clarity differences particularly enlightening; specifically that you need to see the stone to determine where and how noticeable a flaw is. This seems to be another advantage for shopping with an in-person jeweler. Thanks for your time.
Thanks for writing and thanks for the kind words about the site.
Without question, it is better to buy online.  Using the "virtual loupe" on JamesAllen.com you can inspect the diamonds as if you were in a store to see if the inclusions are nice or not.
Mission impossible???  Mission Accomplished!!
Take a look at those four suggestions and let me know what you think!
Thank you for your quick response.
The stones you attached are stunning.
I guess my concerns about buying online is two fold:
1) You don't get to see, in person, the diamonds. I know with the picture you can see the flaws and the stone itself, up close. But you don't get to really get a visual sense of it.
2) I was sort of raised to believe the old adage "If it's too good to be true. . . " Looking at these stones it's hard to believe that the quality of these stones are available at these prices. Looking at stones at various jewelers I see significant drop off in color and quality by comparison. I'm just surprised, I suppose.
Finally, for a square cushion cut stone, what do you think (or believe) the best proportions are as to table, depth, etc. Any advice you could provide on this last point would be greatly appreciated.
Thank you so much for the time.
No time now to respond fully, but in the meantime, go read the article on my site entitled, "Truth about James Allen & Blue Nile" to understand why buying online is that much cheaper than buying in a store.
…….
OK, now I have a bit more time. Do read that article I recommended. It will explain your concern about the prices being that much better than what you've found in the stores.
As far as you being concerned about not being able to see the diamond in person – James Allen has a very good 30 day return policy, so consider the payment a security deposit, and you'll get to view the diamond in the privacy of your own home. If you're not satisfied, just return it and you'll get all your money back (except for the return postage).
As opposed to rounds, there is no tight defined set of ideal parameters for a cushion cut. As a very general rule, depth should be between 60 and 68 or so percent. Lower being better as long as the stone still looks nice. Tables should also be about 67% or lower. I prefer smaller tables on cushion cuts, but it's really a matter of taste.
I did indeed read the article and it made a lot of sense logistically and did a good job of explaining why there would be such a price differential.
Thank you also for your advice about the dimensions of the cushion cut stone. You've been very helpful.
My pleasure.  If you have any more questions, or would like some more suggestions of stones, then please don't be shy!
Thank you very much. If you don't mind, I'd like to take you up on that offer. I've narrowed it down to a few stones that I have some questions or concerns about. If it's not too much to ask, I'd like your feedback on the stones. I, of course, understand if you do not have the time to do so.
1)https://www.jamesallen.com/diamonds/D-SI2-Ideal-Cut-Cushion-Diamond-1280464.asp?a_aid=dmnd1357 – I can live with the slight blemish on this stone, the only concern I really have is the cut – polish VG, symmetry G. I'm nervous that perhaps it won't shimmer as much as other diamonds I'm looking at. Otherwise I really like it. (Polish and symmetry don't determine a stone's beauty. Have a look at my articles about Polish and Symmetry.  That being said, the blemish will not be visible to the naked eye.  My reservation with this stone, though, is that it has an "extremely thick" girdle.)
2)https://www.jamesallen.com/diamonds/E-SI2-Ideal-Cut-Cushion-Diamond-1281436.asp?a_aid=dmnd1357 – This I think is a nice stone, i looked at it first under the loupe and didn't really see much. Then I looked at the GIA report and it seems like it has a lot of flaws. Given that they seem not that noticeable (even under the loop, though, obviously when I knew where to look I saw them) – should I be that concerned? Would it affect the brilliance or fire? It does have great polish and symmetry (There is one noticeable inclusion at the very top of the table at the 12 o'clock position.  I'm afraid this might actually be black, and look white because the light of the flash from the camera reflected off it.  I'd stay away from this one.  But, in general, clarity doesn't affect a stone's brilliance unless you're talking about a SEVERELY included stone, which this doesn't even come close to being.)
3) https://www.jamesallen.com/diamonds/E-VS1-Ideal-Cut-Cushion-Diamond-1271797.asp?a_aid=dmnd1357 – I really just thought that this was a beautiful stone and didn't have many reservations about it aside from the fact than it was smaller than the others. (You speak the truth!)
4) https://www.jamesallen.com/diamonds/D-VS2-Ideal-Cut-Cushion-Diamond-1281379.asp?a_aid=dmnd1357 –  I thought the cut of this stone was stunning. My concern was that it seemed like a "heavy" stone. The depth percentage is off and a lot of the carats seem like they are in the bottom part of the stone given the dimensions. (Not a heavy stone.  In fact, it's less deep than the preceding stone.  I really like this one.  In fact, this stone has more square millimeters on its face (LxW) than the precedeing stone.)
My pleasure.  See my comments above (for purposes of this Q&A, I copied my comments above in red):
Thanks again Ira. I'm going to sleep on it for a day and come back to it.
…….
I'm curious what the concern is with an extremely thick girdle.
Thanks again for the feedback
The concern is that it's a very very strong sign that the stone was cut for weight and not for beauty.  The heaviest part of the diamond is the girdle.  So the thicker the girdle, the heavier the stone.  but a heavy girdle adds nothing to the beauty (or spread) of the diamond.  In fact, a heavy girdle detracts from the brilliance of a stone.  So when you see, for example, a 1.00ct stone with an extremely thick girdle, it means the stone should have finished as a nicely cut 0.90ct stone, but for economic reasons, the cutter decided to finish the stone an uglier 1.00ct.
Thanks so much Ira.
I guess there isn't much more to do except order one of these and take a look at them!
I will let you know how it goes!
Sounds great.  I very much look forward to your report when the stone arrives.
Just to let you know, I went with the first one that I sent you (1.21 D-Si2). At least initially. I know you had reservations about the extremely thick girdle and it made a lot of sense. I called up James Allen and spoke to them online and was twice told it was very beautiful and brilliant (I guess that is not too surprising, given that they are trying to sell it). They said it was spready, but it actually helped the diamond to look a bit bigger. I figured I'd give it a shot because I can always return it (I spoke to them a lot about the return policy as well). It also just seemed like really good bang for my buck.
The next one I was going to look at if I did not like this diamond was going to be the third one I sent you, but evidently someone else had their eye on it  as well and it's no longer available.
The fourth one I think is just a bit out of my price range.
My plan is to hopefully have another one picked out by the time the diamond comes here tomorrow so that if I don't want it I can exchange rather than wait the time to get a refund.
My question to you now is this – what should I be looking for when examining it on my own? Obviously I will try and see if the flaw is visible with the naked eye (I seriously doubt it will be). How can I gauge if it is as brilliant as it should be? I've been to a couple of local dealers and have been able to see brilliance, but it always seems relative (that is, they put three diamonds next to each other and you can obviously see which one sparkles the most). Do you have any advice? For example, what kind of lighting I should look at it under?
Thanks again for all of your help – I know I say it in all of my emails, but you really have been an objective voice of reason in all of this exciting madness.
I think you'll be very happy with this stone.  It's true the girdle is extremely thick, but the depth% on the stone is lower than most cushion cuts, so the two almost balance each other out.
Did you order it with a ring?
As far as examining the diamond is concerned, there's not much I can tell you that isn't obvious.  Study it closely to see if you can make out any inclusions.   Look at it both indoors and outdoors. In direct sunlight, and in the shade.  Move it around and see how it sparkles.  Like you said, it's hard to make any sense out of it if you have nothing to compare it to directly, but I guess just ask yourself if you'd be happy seeing this diamond on your girlfriend's hand.
I look forward to hearing your report!
I think this is the stone!
It came this morning (by the way James Allen does a beautiful job packaging it). I was a bit nervous as I got it but I opened it up and the diamond is just  gorgeous. I love the cut and the color. It catches the light nicely and the color dispersion is excellent. I actually cannot stop looking at it.
It is by far nicer than any of the stones I've seen at the jewelers I've been going to. In addition I love the dimensions. I showed it to my friend who could not believe it was only (yeah right – only!) 1.21 carats because it has such a big face. The inclusion is barely visible. I can only see it when I look for it and look for it very hard.
I'm really happy with it. I kept waiting to be inspired by the stones I was looking at with different jewelers. None of them did. This one does. I bought it thinking I would send it back. Now I think I'm pretty much set. I just need to tell the jewelers I've visited to call off the hunt – an uncomfortable call to make.
And no I did not get a setting with it. I'm going to have to take it to a jeweler (probably one of the ones I didn't buy a diamond from) and have them set it. Alternatively I suppose I could send it back and have James Allen do it. I'm not sure though – it seems like with setting it might make sense to explain what I'm looking for in person.
In any event Ira, thank you so much for all of your help. I was relieved to find on your website that you get some kind of commission from my purchase because you've more than earned it. My next stop after this email is to go to ivouch to  write up a recommendation for you. You really helped me out this last week. And the information on your website no man who plans on proposing should be without. As soon as my brother finds a girlfriend he plans on proposing to, I'm going to point him to your site first!
I'm very happy for you that everything worked out!  And thanks so much for the very kind words.  I'm very happy I was able to help. And thank you again for the very kind offer to write an ivouch review.  Wow, I just realized you already did it.  That's amazing!  Thank you VERY much!  (You can see his ivouch review posted here)
I wish you and your fiance-to-be a long life together filled with health, happiness, and love.
Blue Nile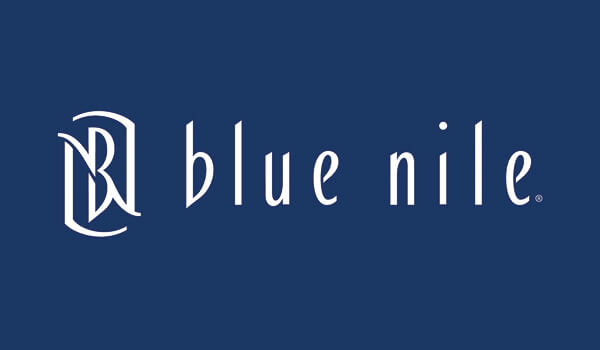 Blue Nile is the largest and most well known internet jewelry seller. They have a very large exclusive online inventory. Their high quality images are catching up to James Allens' and their prices are amazing.

Use our exclusive Promo Code DMNPROSETTINGS15 at checkout and save 15% off your setting!
What we love about them:
No questions asked returns within 30 days of shipment. Blue Nile will send you a paid shipping label to return the ring.
Lifetime Warranty
Free Shipping
Free prong tightening, repolishing, rhodium plating and cleaning every 6 months
Provide insurance appraisal
One free resizing within the first year of purchase
High quality images of about half of their diamonds
24/7 Customer Service
100% credit towards future upgrades (must be at least double in value)
Best in class fulfillment

---
James Allen

James Allen is the leader in online diamond sales. Their imaging technology is the same as inspecting a diamond with a jeweler's loupe. They have the largest exclusive loose diamond inventory online and fantastic prices. They also have the nicest collection of lab created diamonds online.
What we love about them:
No questions asked returns within 30 days of shipment. James Allen will send you a paid shipping label to return the ring.
Lifetime Warranty
Free International Shipping
Free prong tightening, repolishing, rhodium plating and cleaning every 6 months
Provide insurance appraisals
One free resizing within 60 days of purchase
Free ring inscriptions
Best-in-class high quality imagery of all diamonds in stock
24/7 Customer Service
Best-in-class packaging

---
Still afraid of getting ripped off?
Before you buy a diamond, get personal buying advice from industry veterans. We'll help you get the best diamond for the money.
Ask your diamond purchase question here
DISCLAIMER: We don't use your email for marketing. Period.