Q&A: Round Cut Diamond to Fit $7-8,000 Budget
The following is a real email conversation between The Diamond Pro and a reader just like you who contacted us. Personal information is always removed. Learn from these posts, or contact us yourself to get free personalized help.
First off and I know you get it a lot but your website is one of the most informative sites on this or any topic that I have seen! As an engineer I love the scientific aspect of diamond shopping. Your site was great in educating me and allowing me to search for the best stones out there. As well as sifting through the BS at the brick and mortar stores!
I am looking for the largest round diamond without sacrificing cut for a budget of 7-8000. I have found this stone on James Allen and thought it was a great deal. What do you think?
https://www.jamesallen.com/diamonds/I-SI1-Ideal-Cut-Round-Diamond-1284518.asp?a_aid=dmnd1357
I found this stone to be slightly lower then the average price of similar sized stones. Is it because of the I color? Based off of my limited knowledge from your website and looking at a ton of stones on JA I think this is a good bang vs buck stone and should be eye clean? Does the road rash (lack of a better term) near the center concern you? Do you have any alternate suggestions?
Once again I cant complement you enough on putting together such a comprehensive website and I appreciate any feedback you can give me.
Thanks.
Thanks for the quick reply. The diamond you suggested does look nice and looks like I get more bang for my buck. Back to the diamond I originally looked up. The certificate was from almost a year ago. Any reason why it hasn't sold in a while? Any added benefit for the HA to be inscribed on it? I assume it means Hearts & Arrows.
If I am looking towards the top end of my budget, what do you think of this diamond?
https://www.jamesallen.com/diamonds/I-SI2-Ideal-Cut-Round-Diamond-1310939.asp?a_aid=dmnd1357
Thanks.
Why is the cert old? There are a lot of possible reasons to explain it that aren't "it's an ugly stone that nobody wants to buy." So I always tell people concerned about old certs that if there's nothing else that looks askew, then you shouldn't let an old cert dissuade you.
As for the inscription — ignore it. Anybody who orders the inscription service from GIA can request ANYTHING to be inscribed. H&A is not something GIA grades. It's just something the stone's owner requested GIA to inscribe on the stone. They could have requested GIA inscribe "Superman" on the stone as well. The stone might actually be Hearts & arrows, but JA isn't selling it as such, so I'm skeptical that it really is.
Thanks again, what do you think of the 1.5ct diamond I linked in my last email?
Sorry I missed that! That stone looks fantastic. The only issue is that it's only about 0.20mm larger than the 1.35 I suggested, so I'm not sure it's worth the big jump in price.
Yeah I see what you're saying its over a grand more for .2mm which is relatively small. Do you have any other suggestions in addition to what you originally recommended? Id like to look at some stones to compare with (in ranges around your suggestion and higher), not that I don't like the one you suggested. Theres something I like about that stone I selected but without the experience that someone like you has I don't want to be too quick in pulling the trigger without doing some comparisons.
Thanks again.
……….
Hate to keep emailing you but it looks like someone pulled the trigger on the diamond I originally linked because I just looked and its unavailable! I did see this newer one listed and looks good to me. Whats your opinion?
https://www.jamesallen.com/diamonds/J-VS1-Ideal-Cut-Round-Diamond-1326654.asp?a_aid=dmnd1357
Thanks.
That's also a very very nice looking stone. The J color will be slightly "warmer" than the I color, but it will still look white.
Ira, thanks for the advice. I went and put that diamond on hold so I can continue looking over night and not lose out on any good stones. I just searched again and it looks like my original 1.29-I-SI1 is available again. In your opinion, which stone looks better?
I really liked this tension setting and was leaning towards it. Does this setting influence your opinion in any way?
https://www.jamesallen.com/engagement-rings/contemporary-rings/ring/item_500-7619.asp?a_aid=dmnd1357
Hopefully you are not busy tonight or tomorrow morning so that I can make a purchase before the stones reserve goes off.
Thanks again!
I would go with the I SI1. Eye clean is eye clean, but there is a real difference between colors even if they're extremely hard to perceive.
Thanks for all of the help and opinions. I went with the I-SI1 and cant wait to get it! It will be a while before I receive it since the tension setting takes longer to make but Ill keep you updated.
Great news! Please let me know what you think when it arrives!
Congrats!
Thanks again Ira, throughout all my research on the topic of diamonds I came across the Holloway Cut Advisor. I was wondering what your take on it and its output is.
I actually just answered someone else about this, so I'll just copy what I wrote him:
"Hi Dhiraj. I personally don't think the HCA is particularly accurate. Even the creator of the HCA says himself that it's only a rejection tool. Meaning, it should only be used to reject stones that receive a high number. It should not be used to select from a group of stones that receive a low number by choosing the lowest number."
But I would really go one step farther. The GIA invested 10 years of research examining real-world performance of every possible combination of measurements. Their cut grade reflects this research. I tend to side with them over Mr. Holloway when they disagree.
I just received the ring today and its absolutely stunning. Better than what I had expected! Its clear, white, bright, and sparkly! i am so glad that I ran across your website to educate myself with and I am so grateful for the advice you provided for me.
I did have one last question for you though. James Allen included an appraisal with the order (which was just icing on the cake when I saw the number!) how much credence do you put to this appraisal? Do you usually recommend getting it independently appraised for insurance purposes?
Thanks again.
Great news! Thanks so much for writing to let me know!
As far as the appraisal goes, I don't give credence to ANY appraisal. They're only good for what they're used for – getting insurance. For insurance purposes, you need the replacement value – what you could expect to pay walking into any retail store. So naturally, that's going to be more than what you paid.
……….
Oh! one more thing! Do you think you might be able to write me a short ivouch review? If you could, I would be very grateful! here's a direct link if you have the time:
[LINK REMOVED]
Thanks!
i just left you a positive review on ivouch. Once again I must thank you for all the information and advice you have shared with me. I popped the question on Sunday and it was amazing! Thanks to you my fiancée has everyone jealous of the gorgeous rock and I dont have a black hole for a bank account!!! I will make sure to steer anyone in the market to your site so they to can get an education!
Blue Nile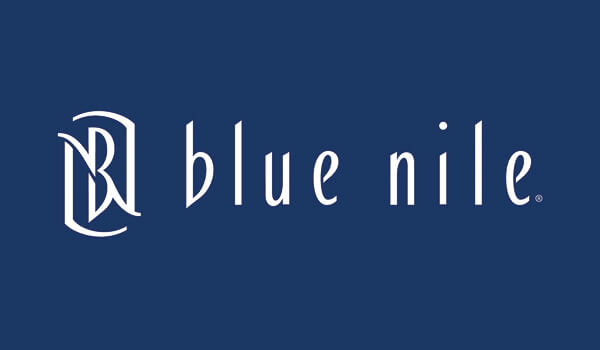 Blue Nile is the largest and most well known internet jewelry seller. They have a very large exclusive online inventory. Their high quality images are catching up to James Allens' and their prices are amazing.

Use our exclusive Promo Code DMNPROSETTINGS15 at checkout and save 15% off your setting!
What we love about them:
No questions asked returns within 30 days of shipment. Blue Nile will send you a paid shipping label to return the ring.
Lifetime Warranty
Free Shipping
Free prong tightening, repolishing, rhodium plating and cleaning every 6 months
Provide insurance appraisal
One free resizing within the first year of purchase
High quality images of about half of their diamonds
24/7 Customer Service
100% credit towards future upgrades (must be at least double in value)
Best in class fulfillment

---
James Allen

James Allen is the leader in online diamond sales. Their imaging technology is the same as inspecting a diamond with a jeweler's loupe. They have the largest exclusive loose diamond inventory online and fantastic prices. They also have the nicest collection of lab created diamonds online.
What we love about them:
No questions asked returns within 30 days of shipment. James Allen will send you a paid shipping label to return the ring.
Lifetime Warranty
Free International Shipping
Free prong tightening, repolishing, rhodium plating and cleaning every 6 months
Provide insurance appraisals
One free resizing within 60 days of purchase
Free ring inscriptions
Best-in-class high quality imagery of all diamonds in stock
24/7 Customer Service
Best-in-class packaging

---
Still afraid of getting ripped off?
Before you buy a diamond, get personal buying advice from industry veterans. We'll help you get the best diamond for the money.
Ask your diamond purchase question here
DISCLAIMER: We don't use your email for marketing. Period.