Q&A: Help Finding a Round Diamond for a Platinum Pave Setting for Under $15k In Total
The following is a real email conversation between The Diamond Pro and a reader just like you who contacted us.
Personal information is always removed. Learn from these posts, or contact us yourself to get free personalized help.
Hello! Thank you so much for the information you have provided on your website. I have found it extremely helpful in understanding how someone goes about buying an engagement ring and down to earth, something a common reader can easily understand.
I've just started looking around for an engagement ring for my girlfriend for a couple weeks now. Many of my friends (and my soon to be brother in law) used Blue Nile, but I've found your reviews on various online vendors very eye opening.
I've already decided on the ring setting (petite pave french crown size 6) but I'm having trouble choosing a diamond given all the parameters you can choose from. I'd like to stick to a budget of $10,000 to $15,000 with the following Cs:
1.50 carat size
Round Ideal Cut
H Color
Clarity: Sl1 or higher
Minimal or no blue fluorescence
I was originally going to buy a Blue Nile diamond but I'm paranoid without being able to see the diamond, I'd have to get a VS1 at least (though that doesn't even guarantee an eye clean diamond. I've looked through a number of James Allen diamonds but I can't tell which ones would be truly eye clean since I can always detect some sort of blemish (even so zoomed in and all!).
I'd prefer to purchase from James Allen but would really appreciate it if you could provide some recommendations.
Thanks!
Just to make sure we are on the same page here, is your setting going to be in white gold? In this case, even I color is perfectly fine and the diamond will look fantastic.
Here is and option I found for you and your peace of mind:
www.jamesallen.com/loose-diamonds/round-cut/1.60-carat-i-color-vs1-clarity-excellent-cut-sku-1020382?a_aid=dmnd1357
This diamond is well cut, eye-clean and bright. There is still some room in your budget if you'd want to get a larger carat. There is a crystal on its table. It doesn't seem significant, but to be sure of that, contact JA directly and ask them to have it inspected by their gemologists.
What do you think?
No I didn't purchase either of the two IGI diamonds I mentioned in my last email but that was quick though! I do like the second diamond you've listed but it is really at the top end of my budget.
Would you mind if I asked you if you think there would be a notable difference in cut brilliance if I were to purchase a Brian Gavin H&A round diamond at all? Would it be worth it from just looking at the diamond (i.e. don't need magnification to appreciate the difference) and does the diamond sparkle that much more in your experience?
Thanks!
I wouldn't mind at all. Brian Gavin is an excellent choice. He is known as one of the worlds experts when it comes to perfectly cut diamonds. BGD's Signature diamonds are all incredibly brilliant and we love to recommend them. We don't think any other vendor comes near the cut quality that BGD offers. The best thing about their diamonds is that you can easily drop one grade in color and it'll still look fantastic.
Here is one that should fit the bill:
www.briangavindiamonds.com/diamonds/diamond-details/1.335-j-vs1-round-diamond-ags-104084595012&a_aid=y
This one will be perfect for either setting you are considering. It's is superbly cut and extremely brilliant.
What do you think?
That is a beautiful diamond and a really good value – I think that's the one!
I've already been in contact with representatives from Brian Gavin to see if they can replicate the ring setting I showed you before from Blue Nile.
……
In the 4th photo (red) on the BG diamond, there appears to be some sort of purple shape near the perimeter of the diamond.
Would you happen to know if there was anything to worry about there? Also, would the J colour look relatively colourless still?
Thanks again! 🙂
We don't put much stock into these pictures. The real photo of the diamond shows its eye-cleanliness and because of the BG's cut, you have nothing to worry about.
The same applies to the color. J is absolutely fine here. The added brilliance allows for that.
My pleasure, I'm glad things have been working out so well for you!
I took a look at the diamond and it's beautiful. The cut is outstanding, it's perfectly eye-clean and will make a stunning ring. If you can let me know how it looks in person, I'd appreciate it.
And there it is! It just arrived today!
Difficult to focus with my phone camera (probably cause of the diamonds).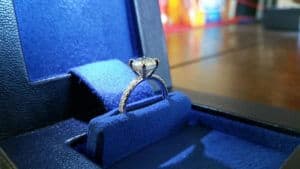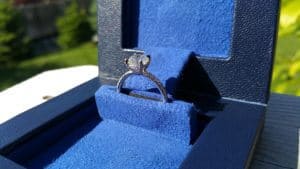 The pictures are great and the ring is fantastic! I'm glad you like it.
I wish you and your partner a life of happiness and fulfillment.
Blue Nile

Blue Nile is the largest and most well known internet jewelry seller. They have a very large exclusive online inventory. Their high quality images are catching up to James Allens' and their prices are amazing. Blue Nile is currently running a limited time sale offering 15% on settings site-wide. Click here to browse some great settings.
What we love about them:
No questions asked returns within 30 days of shipment. Blue Nile will send you a paid shipping label to return the ring.
Lifetime Warranty
Free Shipping
Free prong tightening, repolishing, rhodium plating and cleaning every 6 months
Provide insurance appraisal
One free resizing within the first year of purchase
High quality images of about half of their diamonds
24/7 Customer Service
100% credit towards future upgrades (must be at least double in value)
Best in class fulfillment

---
James Allen

James Allen is the leader in online diamond sales. Their imaging technology is the same as inspecting a diamond with a jeweler's loupe. They have the largest exclusive loose diamond inventory online and fantastic prices. They also have the nicest collection of lab created diamonds online.
What we love about them:
No questions asked returns within 30 days of shipment. James Allen will send you a paid shipping label to return the ring.
Lifetime Warranty
Free International Shipping
Free prong tightening, repolishing, rhodium plating and cleaning every 6 months
Provide insurance appraisals
One free resizing within 60 days of purchase
Free ring inscriptions
Best-in-class high quality imagery of all diamonds in stock
24/7 Customer Service
Best-in-class packaging

---
Still afraid of getting ripped off?
Before you buy a diamond, get personal buying advice from industry veterans. We'll help you get the best diamond for the money.
Ask your diamond purchase question here
DISCLAIMER: We don't use your email for marketing. Period.