Q&A: Experience Shopping for a Stunning Halo Ring on a $4,5k Budget
The following is a real email conversation between The Diamond Pro and a reader just like you who contacted us.
Personal information is always removed. Learn from these posts, or contact us yourself to get free personalized help.
Hi,
I'm looking for an engagement ring and would appreciate your advice.
First on the ring. My girlfriend likes white gold or platinum, halo, and pave rings. She also wants the band to be on the thinner side. Based on this I've chosen this ring from James Allen:
14K WHITE GOLD PETITE DIAMOND HALO ENGAGEMENT RING
I'm interested in your advice on diamond options to go with it. I don't have any specific requests except for it to be a white diamond and of good quality (but without overpaying for features that aren't necessary or won't even be seen).
I'm willing to spend up to $4,500 including the ring linked above (but if the right combo comes in under that number then all better!).
Let me know what you suggest and if you have any questions.
Also, thank you for the informative website and help in making this decision! A good friend of mine purchased his wife's ring from you and was very satisfied with the end result.
The diamond you sent over is beautiful and checks all the most important aspects as outlined in the diamond education. I'm leaning heavily to getting this one but today my girlfriend had her ring size checked (on your site's advance that pave setting can be more difficult to resize) and I hear from her best friend she wants platinum over white gold. I won't be changing anything else but will be going with this one instead.
This does push me over the budget I outlined but only slightly. So my request is can you show me one more option that gets me back in line with the budget and then I pick from the two?
Thank you again for assisting in this process! I plan to buy in the next few days and your advice is helping me get over the finish line.
Thank you for sending these options.
I've looked them over and considered them in comparison with the first one you sent and I'm going to go with the first one. It is just such a brilliant and wonderful choice. I'm going to call to place the order this afternoon.
Btw, I spoke with a James Allen rep. on each of the choices and he complimented the options. I felt I would pass along the compliment on having a keen eye.
Thank you again for taking the time and providing some direction for me.
hat's great news! It's been a pleasure helping you.
Let me know how it looks when it arrives.
Likewise and will do once I get it. Thank you again for your help!
…
I wanted to follow up and let you know that the ring is absolutely beautiful. I proposed this past weekend – she said yes – and she loves it. It's exactly what she wanted, incredibly brilliant when reflecting light, and everyone has commented on how great it looks. So thank you again for your help. You made the process much easier than I ever imagined it to be.
I'm incredibly happy to hear that! It's great that she's happy with her new ring 🙂
If it's not too much to ask, do you think you can do us a quick favor and write a small review on www.ivouch.com? If you could, I would be extremely grateful. Here is the link:
[LINK TO REVIEW ON IVOUCH]
Also, can you send me a pic of your new diamond? We'd love to inspire other readers with photos in our gallery.
I wish you and your partner a life of happiness and fulfillment.
Following up to let you know I finally posted that review today. Also, attached to this email is a pic of the ring. Thank you again for your help!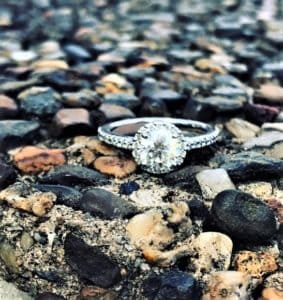 Thank you very much for the nice words and for the picture. It's stunning!
Blue Nile

Blue Nile is the largest and most well known internet jewelry seller. They have a very large exclusive online inventory. Their high quality images are catching up to James Allens' and their prices are amazing. The Blue Nile Cyber Monday sale is now live! Click here to browse gifts at 50% off!
What we love about them:
No questions asked returns within 30 days of shipment. Blue Nile will send you a paid shipping label to return the ring.
Lifetime Warranty
Free Shipping
Free prong tightening, repolishing, rhodium plating and cleaning every 6 months
Provide insurance appraisal
One free resizing within the first year of purchase
High quality images of about half of their diamonds
24/7 Customer Service
100% credit towards future upgrades (must be at least double in value)
Best in class fulfillment

---
James Allen

James Allen is the leader in online diamond sales. Their imaging technology is the same as inspecting a diamond with a jeweler's loupe. They have the largest exclusive loose diamond inventory online and fantastic prices. They also have the nicest collection of lab created diamonds online. The James Allen Cyber Monday Sale is live! This is a great opportunity to save 25%. Click here to browse Engagement Rings on sale.
What we love about them:
No questions asked returns within 30 days of shipment. James Allen will send you a paid shipping label to return the ring.
Lifetime Warranty
Free International Shipping
Free prong tightening, repolishing, rhodium plating and cleaning every 6 months
Provide insurance appraisals
One free resizing within 60 days of purchase
Free ring inscriptions
Best-in-class high quality imagery of all diamonds in stock
24/7 Customer Service
Best-in-class packaging

---
Still afraid of getting ripped off?
Before you buy a diamond, get personal buying advice from industry veterans. We'll help you get the best diamond for the money.
Ask your diamond purchase question here
DISCLAIMER: We don't use your email for marketing. Period.