Q&A: Choosing a Fancy Yellow Cushion Cut Diamond for a Halo Setting With Around $4k Budget
The following is a real email conversation between The Diamond Pro and a reader just like you who contacted us.
Personal information is always removed. Learn from these posts, or contact us yourself to get free personalized help.
Yes, generally speaking, you can get better value online.
You can read what we say about Hatton Gardon here: www.diamonds.pro/buying-diamonds-uk-hatton-garden/
You'd pay extra for the diamond rings just being De Beers. Do I understand it correctly that you like solitaire style of setting with a round diamond and halo style with cushion?
We don't know the company in Dubai. If you want to search for a diamond in a store, look for stones with either GIA or AGS cert (these are legitimate laboratories). Then you can send me the number and I can comment on the stone.
At the same time, I suggest purchasing from Blue Nile. They have offices in Dublin so everything will be easier for you in terms of shipping, returns and repairs. This way I'm also able to help you with the search. Generally speaking, buying a diamond in Dubai in person is riskier. Especially when you don't have the diamond knowledge, the jewelers there can easily rip you off.
Thanks for your reply.
Yes that is correct, I would be looking at either a solitaire style of setting with a round diamond and a halo style with cushion. Would you be able to help with some recommendations on Blue Nile?
Thanks.
Thank you for the information.
Have a look at these diamonds:
Blue Nile LD08110894
I suggest an I color round shape into a solitaire style. There's no need to pay extra for the color grade in the case.
https://www.diamonds.pro/education/color/
Both stones are very well cut and going to look colorless. I've chosen an H color cushion cut for a halo setting.
Let me know what you think and which of the shapes is your favorite.
Also, Blue Nile loves our education and wanted to offer a coupon for our readers. Here is a unique coupon code for $50 off: [contact us for your own unique coupon code]
Hi, apologies for not replying earlier but I was traveling. It looks like those 2 diamonds are not available any longer.
I did look at them before going away on business trip and I had a couple of questions:
Cushion Cut: I see the diamond cut is very good. would it make much of a difference compared to an Ideal or Signature Ideal? Also the item suggested only had a sample photo and not an HD video which I read from one of your reviews that is the only way to check if a cushion cut is of good quality or not. Also on the GIA certificate there is no reference to the quality of cut. Why is that?
Would you suggest another provider like James Allen?
What is your opinion on a yellow diamond (same specification as the cushion cut in halo setting).
Thanks for your help!
GIA report grades cut of round shapes only. We have our own rules for searching for other shapes. We look for cushion cuts with depth up to 69% and table up to 70%. Retailers give their own cut grade of other shapes but we don't really pay attention to it.
As for the clarity grade, since the diamond is VS1 and the only inclusion is a cloud, there's no need to worry about eye-cleanliness. That's why I chose this diamond without a real image. There are other shapes you need to see (oval, pear) but this cushion cut is perfect.
Which of the shapes do you prefer? Then I'll be happy to send you another suggestion.
And if you wish for a yellow cushion shape stone, I'll be happy to send you one.
Hi, cushion cut for a halo setting is my first choice right now. would love to see both clear and yellow stone if possible.
Thanks!
Hi,
thanks again for your help! I really like the white diamond you suggested.
Yes, I had the yellow diamond put on hold for now. It is priced at $2,730. Do you think it is a good price? It is Fancy Intense, SI2 (not VS1 like yours), with faint fluorescence.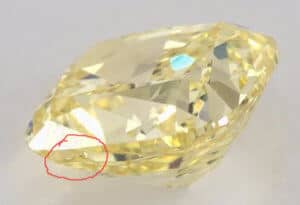 This is the only major defect I can see.
Thanks!
Ask JA directly about that feather. It's possible that it's an issue because it's on the girdle. However, with fancy color diamonds, it's more about the color than inclusions. Just make sure it won't affect the integrity.
Blue Nile

Blue Nile is the largest and most well known internet jewelry seller. They have a very large exclusive online inventory. Their high quality images are catching up to James Allens' and their prices are amazing. Blue Nile is currently running a limited time sale offering 15% on settings site-wide. Click here to browse some great settings.
What we love about them:
No questions asked returns within 30 days of shipment. Blue Nile will send you a paid shipping label to return the ring.
Lifetime Warranty
Free Shipping
Free prong tightening, repolishing, rhodium plating and cleaning every 6 months
Provide insurance appraisal
One free resizing within the first year of purchase
High quality images of about half of their diamonds
24/7 Customer Service
100% credit towards future upgrades (must be at least double in value)
Best in class fulfillment

---
James Allen

James Allen is the leader in online diamond sales. Their imaging technology is the same as inspecting a diamond with a jeweler's loupe. They have the largest exclusive loose diamond inventory online and fantastic prices. They also have the nicest collection of lab created diamonds online.
What we love about them:
No questions asked returns within 30 days of shipment. James Allen will send you a paid shipping label to return the ring.
Lifetime Warranty
Free International Shipping
Free prong tightening, repolishing, rhodium plating and cleaning every 6 months
Provide insurance appraisals
One free resizing within 60 days of purchase
Free ring inscriptions
Best-in-class high quality imagery of all diamonds in stock
24/7 Customer Service
Best-in-class packaging

---
Still afraid of getting ripped off?
Before you buy a diamond, get personal buying advice from industry veterans. We'll help you get the best diamond for the money.
Ask your diamond purchase question here
DISCLAIMER: We don't use your email for marketing. Period.