Q&A: Buying Emerald Cut Diamond in the UK
The following is a real email conversation between The Diamond Pro and a reader just like you who contacted us. Personal information is always removed. Learn from these posts, or contact us yourself to get free personalized help.
Your website has provided me with some valuable advice, I really knew nothing before visiting it. I'm looking to purchase a ring, I'm UK based and have a £1,500 ring budget.
I've seen this diamond:
which seems to be a good balance of price/carat/cut/colour/clarity. What do you think?
Many thanks
Thanks for your swift response.
That stone looks lovely, the only issue is that being UK based, buying from the US adds around 20-25% to the price in the form of VAT and Duty, which unfortunately pushes the stone outside of my price range. I don't believe James Allen have a UK operation, which is why I've been using Blue Nile. This is a shame though as the Virtual Loupe is a killer feature on the JA website.
Do you know of any similar organisations with UK-specific websites?
Don't be fooled by BN UK – you're going to have to pay the same VAT & duty from them as well. Their diamonds are not local, they're all being imported.
Huge thanks for this, I genuinely hadn't noticed.
Reading the UK tax website has told me that the only difference between the prices now will be a c5% import & customs duty, on James Allen (although Blue Nile's price doesn't include VAT, the fact that it is a UK registered business means a ring purchase from them won't count as personal import). 5% isn't a huge amount though, and to me a price worth paying for the benefit of the virtual loupe which takes a good deal of the risk out of the purchase.
Buying a ring from the US will be a nice touch actually, my partner has a huge affinity for the US and has a lot of friends in Chicago.
To further complicate matters, I thought I would get in touch with one of my partner's friends who is convinced that she would prefer an Emerald Cut to a Princess Cut. Apparently there was a lovely emerald cut ring in Sex And The City a few years ago which she loved.
I'll go back to James Allen and see what I can find!
Thanks again.
………..
I have found this emerald cut stone:
https://www.jamesallen.com/diamonds/H-VVS2-Ideal-Cut-Emerald-Diamond-1315607.asp?a_aid=dmnd1357
What do you think?
Regarding my budget I'm going to up it a little bit. I'm aiming for stone and setting for $2,500, this will mean that the fully landed cost (shipping, VAT, Duty, etc.) to me in the UK is £2,000. I'd love to spend more, but my partner isn't currently working and is expecting our first child. James Allen does operate an upgrade service though, so if funds become available further down the line…
Regards
Send me an email on Sunday, and I'll gladly help you find an Emerald. It's a Jewish holiday tonight and tomorrow, so I don't have any time now.
Btw, do you have any friends/family flying in from the US in the next few weeks? You could always try to smuggle it in yourself. It's very easy – someone just needs to wear it.
You actually did a great job with these! This stone:
https://www.jamesallen.com/diamonds/D-VVS2-Good-Cut-Emerald-Diamond-1306167.asp?a_aid=dmnd1357
is the clear winner to me. It's rated "good" because the table is a little large (75%). But large tables on emeralds aren't really such a problem. The good thing with this stone is that it is shallow, which means its weight is distributed more in its LxW versus its depth. It's weight that you can see and appreciate. So even though the stone is 0.58ct, it's larger in LxW than most 3/4ct stones. Also, I personally like EMs with L/W ratios of 1.50 like this one. Shallow stones brilliant shapes usually translate into a less brilliant diamond, but with a step cut like an Emerald or an Asscher, it doesn't really matter.
Best Wishes.
That's the diamond I've gone for! I've put it on a simple Platinum comfort fit band (my partner likes simple ring bands, and I think it will accentuate the stone better), total cost (including shipping and including your discount code) was $2,329, so within my budget. I can't believe my budget has stretched to a platinum ring with a diamond of that size and clarity. Thank you so much for your help, it has been such a learning experience, and I'm sure that without your advice I'd have spent more money for a lesser ring.
Regards
My pleasure!  Please stay in touch and let me know what you think when the ring arrives!
Just thought I would send you a quick update.
The ring arrived very promptly from James Allen, excellent customer service throughout, I can see why you recommend them.
To say I was pleased with the ring would be an understatement, it is absolutely beautiful. The diamond was a superb recommendation, it looks so 'pure' and catches the light superbly.
Most importantly, my partner loves it too. She didn't have a clue I was going to propose, and thankfully she accepted! She was very impressed that I had not only got a ring, but one that she liked so much. I did admit to having had some outside help, so Liz sends her thanks too!
Many thanks once more Ira, your advice was invaluable, and it was reassuring to know that there are some genuinely nice people about in these increasingly cynical times.
Regards
That's such wonderful news! I really appreciate you taking time out of your schedule to write me this update. I love when I get emails like these. They really brighten my day.
Blue Nile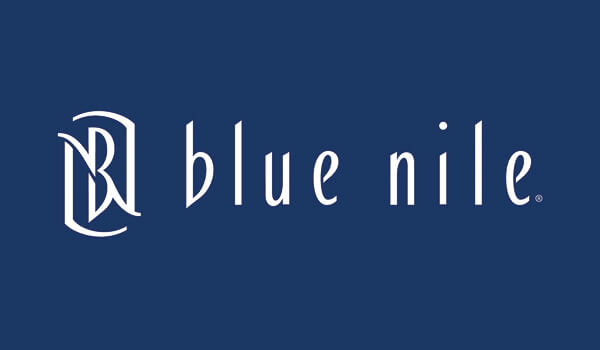 Blue Nile is the largest and most well known internet jewelry seller. They have a very large exclusive online inventory. Their high quality images are catching up to James Allens' and their prices are amazing.

Use our exclusive Promo Code DMNPROSETTINGS15 at checkout and save 15% off your setting!
What we love about them:
No questions asked returns within 30 days of shipment. Blue Nile will send you a paid shipping label to return the ring.
Lifetime Warranty
Free Shipping
Free prong tightening, repolishing, rhodium plating and cleaning every 6 months
Provide insurance appraisal
One free resizing within the first year of purchase
High quality images of about half of their diamonds
24/7 Customer Service
100% credit towards future upgrades (must be at least double in value)
Best in class fulfillment

---
James Allen

James Allen is the leader in online diamond sales. Their imaging technology is the same as inspecting a diamond with a jeweler's loupe. They have the largest exclusive loose diamond inventory online and fantastic prices. They also have the nicest collection of lab created diamonds online.
What we love about them:
No questions asked returns within 30 days of shipment. James Allen will send you a paid shipping label to return the ring.
Lifetime Warranty
Free International Shipping
Free prong tightening, repolishing, rhodium plating and cleaning every 6 months
Provide insurance appraisals
One free resizing within 60 days of purchase
Free ring inscriptions
Best-in-class high quality imagery of all diamonds in stock
24/7 Customer Service
Best-in-class packaging

---
Still afraid of getting ripped off?
Before you buy a diamond, get personal buying advice from industry veterans. We'll help you get the best diamond for the money.
Ask your diamond purchase question here
DISCLAIMER: We don't use your email for marketing. Period.