Philadelphia Proposal
When Dave came to The Heart Bandits seeking the perfect proposal idea, he wanted to know how to propose in a way that would be sentimental and special without a huge production. He lives in Philadelphia so doing something outdoors in the winter wouldn't have worked well so he needed something indoors.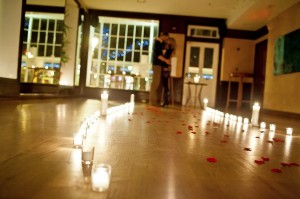 The idea that we helped Dave with incorporated all that he wanted and made it especially sentimental for his girlfriend Jessica. On a Saturday night, he told Jessica that he wanted to take her out on a date. It was a surprise date and it was a night of tango lessons and dancing. It was perfect for her because she loves dancing. As they showed up at the dance studio, there was a photographer there taking pictures under the ruse that it was for the dance studio's website. The photographer (Jensen Photography) was actually there to capture the entire proposal of Dave and Jessica. They took some wonderful pictures of them two and Dave looked so excited because he knew what was in store.
After the dance lesson, Dave and Jessica were given a tour of the studio because Dave explained that he purchased a package and they would be coming back. They were lead around the studio and the last stop was a room that was beautifully decorated with rose pedals and over 70 candles in a pathway. At the end of the pathway there was an easel with a picture of Dave and Jessica. Next to the easel was a table with a special candle that Dave provided which had meaning to the couple. He took her along the path and told her how much he loved her. The then removed the picture of them two to reveal a board with a sign reading "Jessica, Will You Marry Me?". She of course said Yes and was completely floored as to how great her proposal was. Congrats to Dave and Jessica for a wonderful proposal and best of luck in your future together.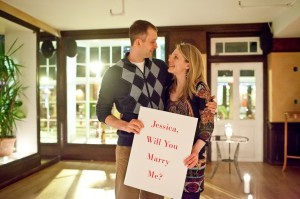 The Heart Bandits are Proposal Planners who help people all over the world propose marriage.   They are Proposal Experts and have been featured in the New York Times, Fox News, Houston Chronicle, Orange County Register, Brides Magazine and many more. Contact The Heart Bandits to have them plan your marriage proposal and ensure that your big moment stands out from the rest. For more information about The Heart Bandits, visit www.theheartbandits.com.
James Allen

James Allen is the leader in online diamond sales. Their imaging technology is the same as inspecting a diamond with a jeweler's loupe. They have the largest exclusive loose diamond inventory online and fantastic prices. They also have the nicest collection of lab created diamonds online. James Allen is currently running a 25% sale on all engagement rings! This a great chance to save on Valentine's Day purchases.
What we love about them:
No questions asked returns within 30 days of shipment. James Allen will send you a paid shipping label to return the ring.
Lifetime Warranty
Free International Shipping
Free prong tightening, repolishing, rhodium plating and cleaning every 6 months
Provide insurance appraisals
One free resizing within 60 days of purchase
Free ring inscriptions
Best-in-class high quality imagery of all diamonds in stock
24/7 Customer Service
Best-in-class packaging

---
Blue Nile

Blue Nile is the largest and most well known internet jewelry seller. They have a very large exclusive online inventory. Their high quality images are catching up to James Allens' and their prices are amazing. Blue Nile have generously offered our readers an exclusive one-time use coupon.

(Click Here to save $100 off orders of $1000 or more)
What we love about them:
No questions asked returns within 30 days of shipment. Blue Nile will send you a paid shipping label to return the ring.
Lifetime Warranty
Free Shipping
Free prong tightening, repolishing, rhodium plating and cleaning every 6 months
Provide insurance appraisal
One free resizing within the first year of purchase
High quality images of about half of their diamonds
24/7 Customer Service
100% credit towards future upgrades (must be at least double in value)
Best in class fulfillment