Diamond Pro is reader-supported. When you buy through links on our site, we may earn an affiliate commission. Learn More.
Deal Alert! 25% off James Allen settings
and
15% off Blue Nile settings!
Mixed Metal Engagement Rings: Unique & Eye-Catching Options
Mixed metal engagement rings are increasingly popular as more couples want to express their unique style and step away from traditional rings. Choosing an engagement ring that matches your personality is a trend that's here to stay.
With a mixed metal ring, you can stand out from the crowd and design something specific to you. If you prefer a modern design or a non-standard look, a mixed metal engagement ring might be the right choice. Two-tone rings also offer versatility and pair well with other jewelry. For example, if you have a rose gold and white gold ring like this example from Blue Nile, it coordinates well with other rose gold and white gold pieces.
Your wedding and engagement rings don't have to be the same metal color either. Some people choose to pair their engagement ring with a wedding band of a different color. For instance, they might have a white gold engagement ring and a yellow wedding band. Traditionally, more people match their wedding ring and engagement ring metals, but that's not the case anymore. Your rings should match your personal preference above all else.
There are several styles of mixed metal engagement rings to choose from, ranging from vintage to modern designs. You can also find two-tone rings for every shape, whether you're looking for a round brilliant or a pear shape diamond. Many ring designers offer two-tone options, such as Verragio and Jeff Cooper. The rings might feature a shank, halo, or prongs that are a different color than the rest of the ring. Mixing white gold with rose gold is particularly popular, such as in this double halo engagement ring from Blue Nile. As you choose a ring, consider the color of your gemstone and how it impacts the overall tone.
Looking for inspiration? Check out these mixed metal engagement rings — ranging from halos and solitaires to colored gemstone designs.
1. East-West Sidestone and Pavé Diamond Engagement Ring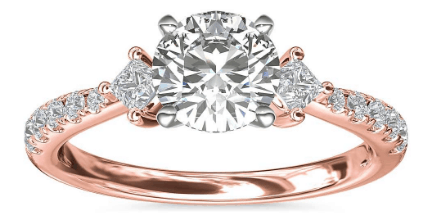 Designed primarily with 14K rose gold, this diamond engagement ring also features a hint of white gold. The princess cut side stones are angled to offer extra character.
2. Petite Cathedral Diamond Engagement Ring
This cathedral ring in yellow gold is accented with white gold prongs and a stunning pavé band.
3. Two-Tone Three Row Cushion Halo Diamond Engagement Ring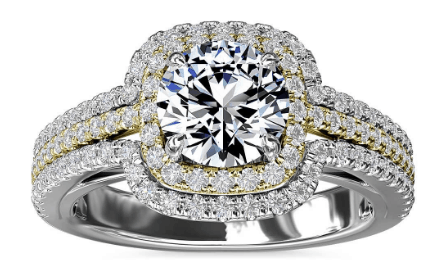 With a glamorous double cushion-shaped halo, the two-tone ring also features three rows of diamonds lining the band.
4. Rose Gold and White Gold Twist Ring with Marquise Side Stones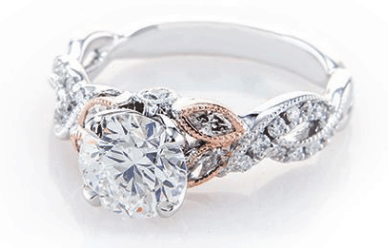 The marquise accent diamonds wrapped in rose gold offer depth to this white gold ring. The twisted band provides even more depth to the unique design.
5. Two-Tone Floral Halo Diamond Engagement Ring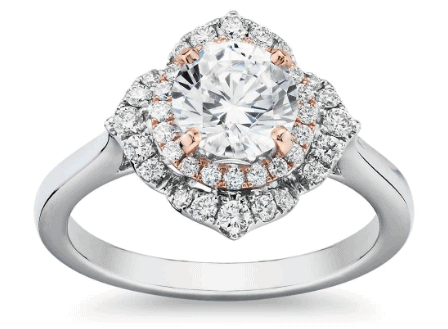 This eye-catching ring made of 14K white and rose gold mirrors a flower. With the halo and pavé band, the design features 40 round diamonds.
6. Matte Two-Tone Solitaire Diamond Engagement Ring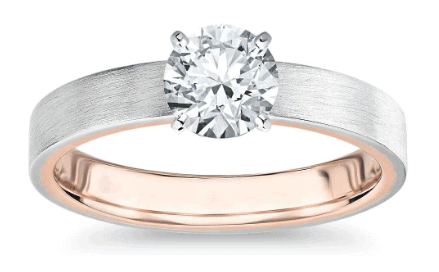 This modern matte solitaire ring features a wider band with a 14K rose gold interior and a 14K white gold exterior.
7. Vintage Two-Tone Floral Shield Halo Engagement Ring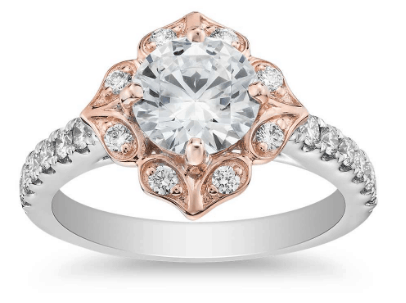 A floral motif halo set in rose gold offers contrast against the 14K white gold pavé band. Consider this design for a unique antique engagement ring.
8. Pavé Rope Mixed Metal Diamond Engagement Ring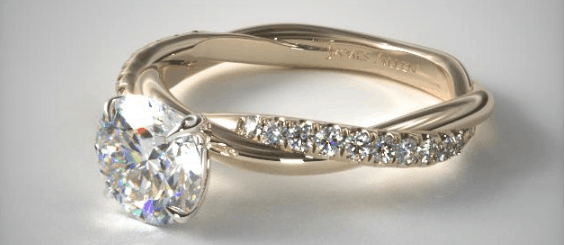 A classic ring with a bit of flair, this yellow gold rope engagement ring offers extra character with four white gold prongs.
9. Two-Tone Intertwined Double Halo Diamond Engagement Ring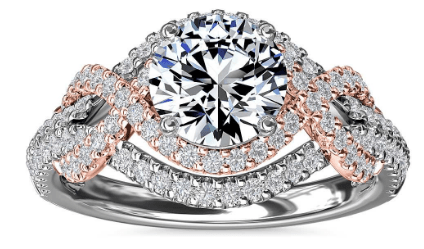 With an intertwined double halo, this mixed metal engagement ring is luxurious yet timeless.
10. Fancy Intense Purplish Pink Round Diamond Engagement Ring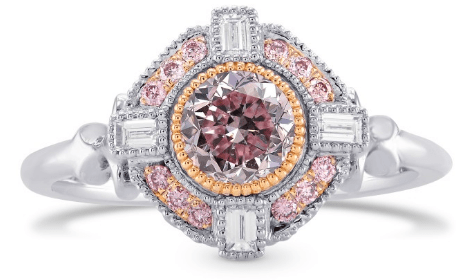 Going for something extra unique? This 18K white and rose gold ring made with intricate detailing showcases fancy colored diamonds.
11. Floating Halo Diamond Mixed Metal Engagement Ring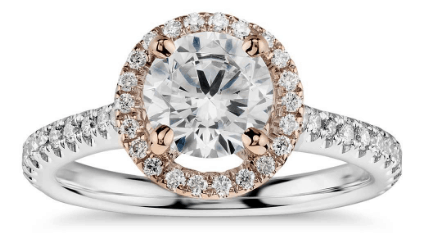 More classic in nature, this engagement ring highlights a floating halo and is made of 14K rose gold and white gold. The pavé band offers more brilliance bringing the ring's total to 42 diamonds.
12. Classic Three-Stone Pavé Diamond Engagement Ring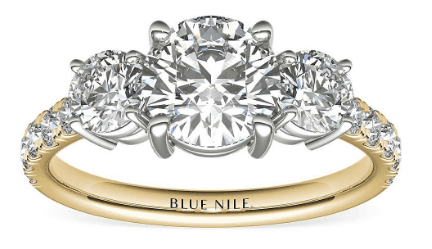 With two large side diamonds and a pavé band, this mixed metal engagement ring made of 18K yellow gold and white gold is both sturdy and stunning.
13. Two-Tone Petite Double Halo Engagement Ring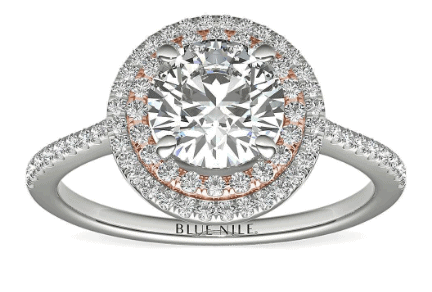 Two halos surround the center diamond in this mixed metal engagement ring made of 14K rose and white gold. With a modern flair, this ring offers character and color.
14. Two-Tone Comfort-Fit Modern Twisted Solitaire Engagement Ring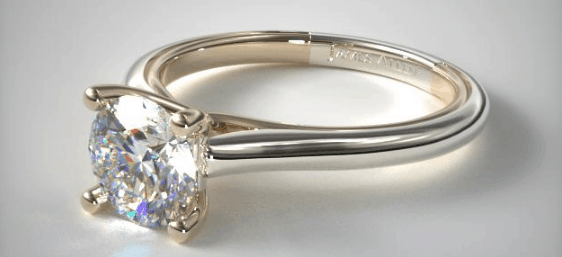 Looking for a mixed metal solitaire engagement ring? This simple design features 14K yellow gold and white gold with a twist.
15. Comfort-Fit Infinity Pattern Solitaire Engagement Ring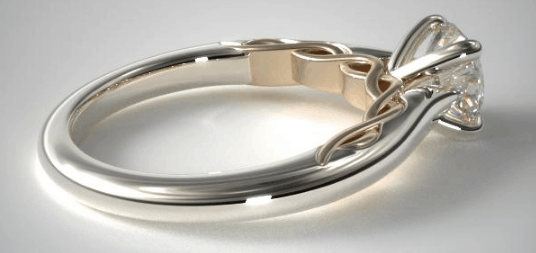 A hidden detail of infinity design transfroms a classic four-prong engagement ring into a unique option for everybody who loves special rings with a little secret.
James Allen

James Allen is the leader in online diamond sales. Their imaging technology is the same as inspecting a diamond with a jeweler's loupe. They have the largest exclusive loose diamond inventory online and fantastic prices. They also have the nicest collection of lab created diamonds online. Save 10% off select Lab Grown Diamonds and 25% on setttings!
What we love about them:
No questions asked returns within 30 days of shipment. James Allen will send you a paid shipping label to return the ring.
Lifetime Warranty
Free International Shipping
Free prong tightening, repolishing, rhodium plating and cleaning every 6 months
Provide insurance appraisals
One free resizing within 60 days of purchase
Free ring inscriptions
Best-in-class high quality imagery of all diamonds in stock
24/7 Customer Service
Best-in-class packaging

---
Blue Nile

Blue Nile is the largest and most well known internet jewelry seller. They have a very large exclusive online inventory. Their high quality images are catching up to James Allens' and their prices are amazing. Blue Nile have generously offered our readers an exclusive one-time use coupon.

(Click Here to save $100 off engagement ring settings)
What we love about them:
No questions asked returns within 30 days of shipment. Blue Nile will send you a paid shipping label to return the ring.
Lifetime Warranty
Free Shipping
Free prong tightening, repolishing, rhodium plating and cleaning every 6 months
Provide insurance appraisal
One free resizing within the first year of purchase
High quality images of about half of their diamonds
24/7 Customer Service
100% credit towards future upgrades (must be at least double in value)
Best in class fulfillment

---
Still afraid of getting ripped off?
Before you buy a diamond, get personal buying advice from industry veterans. We'll help you get the best diamond for the money.
Ask your diamond purchase question here
DISCLAIMER: We don't use your email for marketing. Period.