We are reader-supported. Buying through links on our site may earn us commissions. Learn More.
Deal Alert! Huge James Allen Sale- 3% off Earth Diamonds AND 25% off settings or

15% off at Blue Nile!



Buying a Diamond Engagement Ring at the Right Price amidst a Pandemic
Bottom Line Recommendation
The reality is that, with caveats, there is a fantastic opportunity to find excellent value while shopping for an engagement ring during this time of turmoil. It's important not to extend oneself during an economic downturn, but there are opportunities. 
The reality is that online retailers such as Blue Nile and James Allen allow you to take advantage of the recent drop in prices on the wholesale level (which physical retailers are not able to change their prices so quickly).
---
As the world faces unprecedented turmoil due to the COVID-19 virus and the subsequent economic crisis, people and companies are struggling to navigate this precarious time. The diamond market and people looking to get engaged are no different.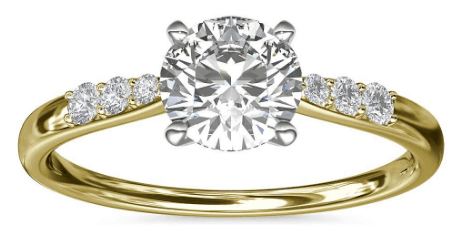 Like many retailers, most jewelers have been forced to close many of their locations. There have also been disruptions in the diamond industry (sounds familiar), but things are starting to creak back to life. In this article, we'll discuss whether now is a good time to buy an engagement ring, what diamond prices are like right now and where is the best place to buy your diamonds.
Is it a good idea to buy a diamond during the pandemic?
Let's start by getting some obvious, yet important, information out of the way. We never recommend going into debt in order to purchase an engagement ring. Sure, if you have a great credit card and want to use it to earn points etc. go for it. But we do not think diamonds are a great investment, so going into debt at a time that you are about to spend a lot more money seems like a bad idea. Doing so during a time of economic turmoil is an even worse idea.
With that out of the way, life is going on and people are planning on getting engaged. While it may be difficult to plan your classic proposals (putting the ring in a glass of champagne at a romantic restaurant), there have been some very creative proposals that people will be looking back on fondly for years to come. 
Yes, physical retailers are only now getting back to business. Even with them being open, social distancing and changes in shopping habits have people avoiding going to retail locations to begin with. Even without that, we have written extensively on how you are better off purchasing online, irrespective of the current situation. The current climate enhances our position even more that buying online is a much better option for the consumer. 
The Diamond Industry in 2020
Let's get the obvious out of the way, on the industry level, diamond prices have dropped due to the current pandemic. So how are prices looking for you, the consumer? Pretty good, depending on where you are shopping. There has been some news about how prices on the manufacturing side have temporarily dropped quite a bit. How is that affecting prices on the retail level? That will depend on what type of retailer you are visiting. 
If you are shopping at a physical store, they've had that inventory sitting in their stores for some time. Regardless of how much the current wholesale market is, they don't want to sell their diamonds for a loss. It will take time for them to move their inventory that they currently own at a higher price. They are hoping they can maintain those prices until the market corrects itself and their prices are back in line with the wholesale pricing.  
Retailers that do business strictly online do not have that problem. See Blue Nile and James Allen (for example) don't own their own inventory. They are listing their diamonds, virtually, directly from the manufacturers and wholesalers. This allows them to be far more nimble on pricing. In fact, they don't actually price their diamonds strictly speaking. They set their percentage markup and the prices are adjusted immediately whenever the manufacturer or wholesaler adjusts their prices.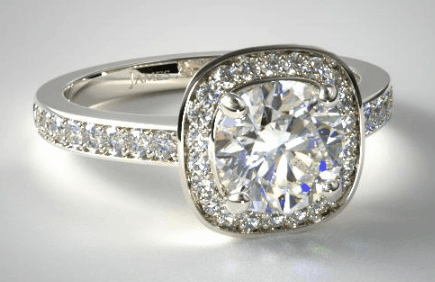 Currently, manufacturers are pushing to move inventory as quickly as possible. Due to the nature of the diamond industry, unlike retailers, manufacturers are already committed to purchasing more diamonds from the mining companies. Retailers are not forced to purchase more inventory so they may hold out on lowering their prices. Manufacturers don't have that luxury.
Normally, online retailers are able to sell diamonds at lower prices than physical stores. But with their distinct business model, they are at a far more advantageous position to capitalize on the lower prices from manufacturers. The current situation has made online retailers even more attractive than usual.
For example, we made a comparison between a Helzberg Masterpiece diamond and a comparable ring from an online retailer. In that review, purchasing the ring online was 38% cheaper than the one from Helzberg. Here is a ½ carat solitaire engagement ring listed on Helzberg today at $3,399. Here is a stunning half-carat diamond from Blue Nile. Not only is it every bit as brilliant as the Helzberg Masterpiece, it is actually a higher quality (SI1 vs. SI2 clarity). If you add it to this comparable setting, the total price is $1,776. 
The ring online is 48% cheaper than the comparable ring from Helzberg. It is quite apparent that the current situation has made shopping online extremely favorable. 
Best Places to Buy a Ring During the Pandemic
Online diamond shopping and Blue Nile have been synonymous for years. They literally built the market. They were the first company to develop the concept of removing all middle-men and virtually listing diamonds directly from the manufacturers.
As you can see above, they have gorgeous engagement rings and are able to get you the best bang for your buck in this trying time.
James Allen may be an online retailer, but they are one of the fastest-growing diamond retailers in the United States. They have a phenomenal inventory of diamonds and jewelry and are doing an excellent job servicing their customers despite radical changes in their current working environment. James Allen is currently offering some great deals.
Both James Allen and Blue Nile have effectively put measures in place in their operations to protect their employees working in their fulfillment centers. Fortunately, since they are online retailers, they don't have to worry about physical interactions with consumers.
James Allen

James Allen is the leader in online diamond sales. Their imaging technology is the same as inspecting a diamond with a jeweler's loupe. They have the largest exclusive loose diamond inventory online and fantastic prices. They also have the nicest collection of lab created diamonds online. Now save 25% off settings AND 3% off Earth Diamonds during James Allen HUGE limited time sale!
What we love about them:
No questions asked returns within 30 days of shipment. James Allen will send you a paid shipping label to return the ring.
Lifetime Warranty
Free International Shipping
Free prong tightening, repolishing, rhodium plating and cleaning every 6 months
Provide insurance appraisals
One free resizing within 60 days of purchase
Free ring inscriptions
Best-in-class high quality imagery of all diamonds in stock
24/7 Customer Service
Best-in-class packaging

---
Blue Nile

Blue Nile is the largest and most well known internet jewelry seller. They have a very large exclusive online inventory. Their high quality images are catching up to James Allens' and their prices are amazing. Blue Nile have generously offered our readers an exclusive one-time use coupon.

(Click Here to save $100 off engagement ring settings)
What we love about them:
No questions asked returns within 30 days of shipment. Blue Nile will send you a paid shipping label to return the ring.
Lifetime Warranty
Free Shipping
Free prong tightening, repolishing, rhodium plating and cleaning every 6 months
Provide insurance appraisal
One free resizing within the first year of purchase
High quality images of about half of their diamonds
24/7 Customer Service
100% credit towards future upgrades (must be at least double in value)
Best in class fulfillment

---
Still afraid of getting ripped off?
Before you buy a diamond, get personal buying advice from industry veterans. We'll help you get the best diamond for the money.
Ask your diamond purchase question here
DISCLAIMER: We don't use your email for marketing. Period.