We are reader-supported. Buying through links on our site may earn us commissions. Learn More.
Deal Alert! Huge James Allen Sale- 3% off Earth Diamonds AND 25% off settings or

15% off at Blue Nile!



Holloway Cut Adviser Review
Bottom Line
The Holloway Cut Adviser calculator (HCA for the rest of this article) is a well developed tool in judging cut quality. That said, we are not big fans of it. It's not that it's inaccurate (I may have minor disagreements with that), but that it is poorly used.
For the majority of our readers, just follow our basic cut guidelines as laid out in our cut article. If you prefer to focus on spectacular cut diamonds, we recommend Brian Gavin's Signature or Black diamonds.
Better still, contact us directly and we'll make the choices for you. We have ample experience juggling all the variables in diamond characteristics to ensure you get the best bang for your buck.
The History
Garry Holloway left a career in geology and in 1976 established Melbourne diamond design award winning jeweler, Precious Metals. In 1984 he studied the Fire Scope while undertaking the Gemological Association of Australia's Diamond Diploma. This led to a long and passionate interest in diamond cut.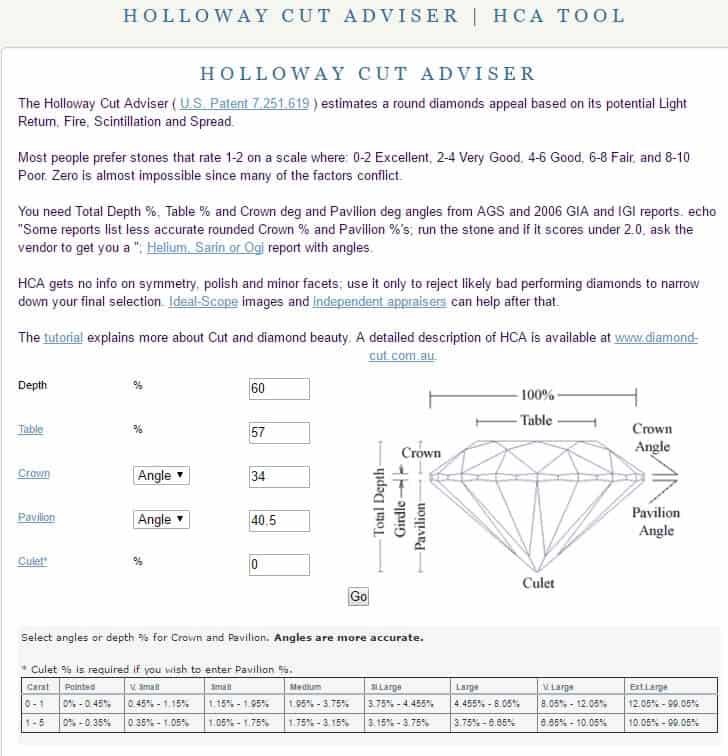 Garry developed the Holloway Cut Adviser (HCA) system in 2000, and released a portable Ideal-Scope in 2001. Holloway's HCA patent was granted on 31 July 2007.
Using the Holloway Cut Adviser
So what is the point of the HCA calculator? After all, we already have GIA and AGS cut grades. The truth is, those cut grades are bit too expansive. Looking online, it seems like roughly 55% of all GIA round diamonds available  at the top stores receive an excellent cut grade. So while that is technically the highest cut grade, there is obviously a wide range of "excellent" cuts. When we select diamonds for our readers, we filter out diamonds whose depth or tables are too large.
The HCA takes this a step further and focuses more on the angles. This further eliminates diamonds with poor light performance. The problem is that we are getting into the law of diminishing returns. It's a fantastic calculator. I can nitpick and argue that I think it's too harsh on pavilion angles and not harsh enough on 61% tables, but that is a matter of opinion (and I'm willing to concede that Gary Holloway's knowledge of cut exceeds my own).
Let's say you would give a diamond a point system. Out of a hundred, this is how I would weight it.
1) Diamond's general cut (a decently cut diamond following our basic cut filters) – 25pts
2) Diamond Size – 25pts
3) Eye cleanliness- 25pts
4) Color – 13 pts
5) Fluorescence, girdle, polish, symmetry, etc – 7pts
6) Detailed cut (what the HCA  would be useful for) – 5pts
So the HCA can help you figure out how to differentiate between diamonds that are equal on the first 95pts and select a winner from those.
Real World Application
I decided to see how "useful" the HCA was and compared it to our recommendations. I took a sampling of diamonds from three categories. First I took 12 diamonds from Blue Nile and James Allen, only filtering for Excellent/Ideal cuts. I then took 12 diamonds from the same sites using the filters we use when choosing diamonds for our readers. Finally, I took 12 diamonds from the Brian Gavin's Signature and Black lines (these are the diamonds we recommend for someone focusing on cut). We knocked out the best and worst performing diamond from each group, and then averaged them out.
| | | |
| --- | --- | --- |
| Brian Gavin Signature/Black | Diamond Pro Selection | Excellent/Ideal Cut |
| 1.23 | 1.85 | 3.66 |
Not surprisingly, the Brian Gavin choices performed the best and the Diamond Pro selection was fairly close (and well within the range of what the HCA considers to be a good cut). Perhaps the only surprise was how poorly GIA excellent cuts did on average (I would have guessed it would be somewhere under 3.00.
This BGD diamond is a great example of diamond cutting at its best. There is no doubt this diamond will sparkle at every opportunity from any angle. The HCA score was 0.90 (confirming my point). This is an example of a James Allen diamond we would heartily recommend that came it at 1.4 on the HCA. Here is a Blue Nile diamond that I think is fantastic, but the HCA is not on board with it (giving it a 2.6).
So while the HCA tool is accurate, it seems to be superfluous. If you are looking for a nice diamond, just follow our cut guideline. If you really want to focus on brilliance, look for a diamond on Brian Gavin to ensure you are getting the most brilliant diamond out there.
The Problem
So why don't we like the HCA? The problem we have with it is that it's poorly utilized. Buying a diamond is incredibly difficult and there are lots of different factors that need to be balanced. Some of them are straightforward (most people want a bigger diamond), but some are more confusing (what does eye-clean mean or how bad is fluorescence).
The HCA tool only helps you with a very minor aspect of the diamond. But it's a cute little tool that produces nice, neat numbers. It is so much easier to look at a spreadsheet and pick the lowest number on the HCA score than to pick an eye-clean diamond is not so easy. Numbers are easy to grasp, so people tend to gravitate towards them.
I have soured on the HCA over the course of time after receiving countless emails from readers that were using the HCA the wrong way. All too often I would receive lists of diamonds that someone prepared with low HCA scores. The list was littered with terrible choices (e.g. the majority of the list would be SI clarity diamonds without photos/videos). I would come back with an alternative that was far superior to anything on the list and the person's response would be "well I filtered for 1.5 on the HCA and this one is 1.6."
This is precisely what you don't want to see. Would you rather have a diamond that meets all the criteria in the first 95% yet misses out on the HCA score by a hair, or would you prefer a diamond that has some sort of major flaw yet is infinitesimally more brilliant?
Brian Gavin Diamonds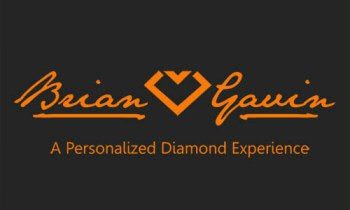 Brian Gavin is one of the leading experts in the world when it comes to diamond cut quality. His Signature diamonds are as close to perfection as you can come. Their brilliance is unparalleled.
What we love about them:
Unsurpassed brilliance
Offer custom cut diamonds
Impressive collection of designer engagement rings
Excellent personalized customer service
Fifth generation diamond cutter

---
Still afraid of getting ripped off?
Before you buy a diamond, get personal buying advice from industry veterans. We'll help you get the best diamond for the money.
Ask your diamond purchase question here
DISCLAIMER: We don't use your email for marketing. Period.