Conflict Free Diamonds: What Are They And Where to Get Them
Scared of getting ripped off? Don't want to waste your money? Confused by all the choices? Contact us. For a limited time only, take advantage of James Allen's Valentine's Day sale and get 25% OFF!
We get commissions for purchases made from our affiliates through links in this article. Learn More.
Bottom Line Recommendation: Choosing a conflict free diamond certified by the Kimberley Process ensures that the stone isn't connected with rebel groups. We recommend going a step further, though, to ensure your diamond is mined and shipped in the most ethical way. That's why we encourage our readers to consider ethically sourced diamonds from Blue Nile and James Allen and recycled diamonds. You can find a stunning diamond that comes with the peace of mind in knowing that you're making a socially and environmentally-friendly purchase.

For help in finding a beautiful conflict free diamond at an excellent price, reach out to our experts.
Depending on where and how a diamond is mined, various environmental, social and human rights issues are at play. Many consumers are now aware of these issues and seek out conflict free diamonds. Luckily, there are several diamond vendors who offer ethical, conflict free diamonds and engagement rings.

What is a Conflict Free Diamond?
A conflict free diamond is a diamond that's mined and shipped without connection to rebel or terror groups. Procedures and agreements like The Kimberley Process are in place to guarantee that diamonds are mined and shipped according to certain ethical standards.

Diamonds that don't abide by these practices are referred to as blood diamonds or conflict diamonds. Blood diamonds often originate in war-torn areas and are illegally traded. These diamonds gained attention during the Sierra Leone civil war in the 1990s, which was depicted in the 2006 movie Blood Diamond—showing how rebel groups engaged in brutal tactics to smuggle and sell diamonds.
What is The Kimberley Process?
After the Sierra Leone war and continued conflict in Africa, the diamond industry partnered with the United Nations to implement the Kimberley Process Certification Scheme. The Kimberley Process developed requirements and regulations to ensure diamonds are mined and shipped humanely—and that criminal activity is not further supported.

Participating countries, including the United States and over 70 others, now closely monitor incoming diamonds from mining and cutting to the final purchase. Each diamond receives a Kimberley Process certificate—verifying that the diamond is conflict-free. With the widespread adoption of The Kimberley Process, the number of conflict diamonds and associated crimes have dropped considerably worldwide.
Conflict Free vs. Ethical Diamonds
By choosing a conflict free engagement ring, like this beautiful 1 Carat Cushion Cut ring, you're supporting ethical diamond mining practices. Most jewelers offer conflict free diamonds, because many countries, including the United States, make it illegal to sell and trade conflict diamonds. Certain jewelers, however, take their efforts further to ensure that a diamond is mined and shipped ethically.

What do we mean by this?

While The Kimberley Process has significantly reduced the number and viability of conflict diamonds, consumers should still be aware that such diamonds don't always meet the highest ethical standards. Artisanal miners in Africa, for example, are generally very poor and utilize simple equipment. Because these small-scale miners often operate outside of legal standards, the working environments can be unsafe and the processes cause significant environmental degradation. In some cases, child labor may even be used.

That's why it's important to be careful about where you shop for diamonds and engagement rings. By choosing a reputable vendor who's known for ethically sourced diamonds, you can have peace of mind knowing your diamond is conflict free and ethically sourced.

Conflict-Free Engagement Rings
From online collections of new diamonds to vintage recycled stones, there are several excellent options for finding conflict-free, ethically sourced engagement rings. Browse these options to find the right fit for you.
Highly Reputable Online Vendors
Throughout our extensive experience in the diamond industry, we've become well-attuned with which companies you can trust and which ones you should steer clear of. This goes for conflict free and ethical diamonds as well. We recommend two online vendors, Blue Nile and James Allen, because they're highly committed to choosing ethically sourced diamonds—and offer high-quality diamonds at competitive prices.

Blue Nile Conflict Free Diamonds
Blue Nile maintains a zero-tolerance policy toward conflict diamonds. They abide by The Kimberley Process and only work with suppliers who also adhere to those standards. Blue Nile goes a step further to ensure responsible mining for all of their diamonds, which come from Canada, Russia, Australia and Africa. They also ensure that their precious metals and gold are obtained from respected suppliers who meet high social, environmental and human rights criteria.

Beautiful conflict free engagement rings from Blue Nile:
James Allen Conflict Free Diamonds
Not only does James Allen strictly adhere to The Kimberley Process for all of their diamonds, but also the Patriot Act and the United Nations resolutions. Their internal guidelines exceed these government requirements, too. James Allen has binding contracts with their suppliers to guarantee all diamonds comply with all applicable laws and are certified conflict-free. They only purchase polished diamonds from sources which are members of the professional diamond trade. James Allen is also the exclusive online vendor of Canadamark diamonds, giving consumers an excellent avenue for purchasing ethically sourced and earth-friendly diamonds.

Beautiful conflict free engagement rings from James Allen:
Recycled Diamonds
In addition to newly mined diamonds, you may also wish to consider recycled diamonds for your engagement ring.

Recycled diamonds are previously owned and put back into the diamond supply chain. Because they're repurposed and not newly mined, there's nearly zero environmental and social impact. Recycled diamonds are, therefore, eco-friendly and ethically sourced.
Some recycled diamonds are antique cuts—offering a vintage or European appearance. Other recycled diamonds are stunning modern cut diamonds that have been recut and repolished.
Most importantly, we recommend purchasing your recycled diamond from a highly reputable and trustworthy vendor. Abe Mor has provided many of our readers with beautiful recycled diamonds at excellent prices. You can contact them directly to start a search for a stunning recycled diamond engagement ring within your budget.
Lab-Created Diamonds
When looking for non-conflict diamonds, some people might consider a lab-created diamond. Lab-created diamonds, also known as artificial diamonds, resemble diamonds in their chemical and visual characteristics but are not real or natural. We don't recommend lab-created diamonds for many reasons, including their plummeting resale value. Read our full article on lab-created diamonds here.

Gemstone Alternatives
While many desire a diamond engagement ring, some people are drawn to the more colorful, unique nature of gemstones, such as sapphires and emeralds. In general, colored gemstones pass through fewer hands than diamonds, but they still can be produced in unsafe working conditions. That's why we recommend purchasing a gemstone from a reputable vendor like Blue Nile, James Allen or Leibish & Co.

Conflict free gemstone engagement rings:
Want help in finding a beautiful conflict free diamond at an excellent price? Reach out to our experts today.

James Allen

James Allen is the leader in online diamond sales. Their imaging technology is at the point where it's almost the same as inspecting a diamond with a jeweler's loupe. Their customer experience is best in class, and they have recently upgraded their non-engagement jewelry inventory as well. They have the largest exclusive loose diamond inventory online and fantastic prices. They also have the nicest collection of lab created diamonds online. For a limited time only, take advantage of James Allen's Valentine's Day sale and get 25% OFF!
What we love about them:
No questions asked returns within 30 days of shipment. James Allen will send you a paid shipping label to return the ring.
Lifetime Warranty
Free International Shipping
Free prong tightening, repolishing, rhodium plating and cleaning every 6 months
Provide insurance appraisals
One free resizing within 60 days of purchase
Free ring inscriptions
Best-in-class high quality imagery of all diamonds in stock
24/7 Customer Service
Best-in-class packaging

---
Blue Nile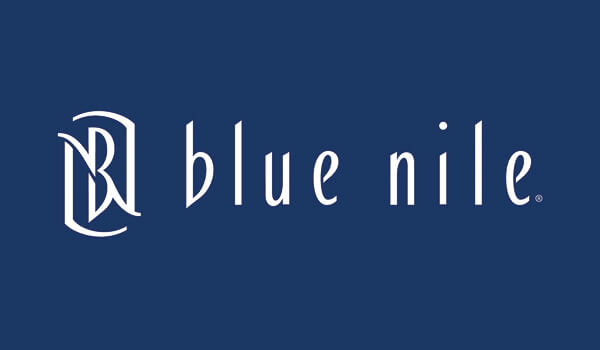 Blue Nile is the largest and most well known internet jewelry seller. They have a very large exclusive online inventory. Their high quality images are catching up to James Allens' and their prices are amazing.

(Pick Up a Blue Nile Coupon Here for $50 off)
What we love about them:
No questions asked returns within 30 days of shipment. Blue Nile will send you a paid shipping label to return the ring.
Lifetime Warranty
Free Shipping
Free prong tightening, repolishing, rhodium plating and cleaning every 6 months
Provide insurance appraisal
One free resizing within the first year of purchase
High quality images of about half of their diamonds
24/7 Customer Service
100% credit towards future upgrades (must be at least double in value)
Best in class fulfillment

---
Still afraid of getting ripped off?
Before you buy a diamond, get personal buying advice from industry veterans. We'll help you get the best diamond for the money.
Ask your diamond purchase question here
DISCLAIMER: We don't use your email for marketing. Period.