We are reader-supported. Buying through links on our site may earn us commissions. Learn More.
Deal Alert! Huge James Allen Sale- 3% off Earth Diamonds AND 25% off settings or

15% off at Blue Nile!



12 Easy Hacks to Save Money on an Engagement Ring
Bottom Line Recommendation:
There are many factors to consider when buying a diamond ring. Some qualities are more crucial than others—and it's important to know the difference.
Learn what to look for when it comes to Cut, Color and Clarity. Rather than guessing at which grade to choose for each quality, review our expert tips in this guide. You'll save money on your engagement ring by ensuring you don't overpay for a feature that will go unnoticed.  
Most importantly, we recommend buying your diamond from a highly reputable vendor. To get the best value and beauty for your budget, choose Blue Nile, James Allen or Brian Gavin Diamonds. For gemstone jewelry, opt for Leibish & Co. 
How to Save for an Engagement Ring
We all know saving money isn't easy. But it is possible, and for something as important as an engagement ring, it's worth some small sacrifices.
First, have a budget in mind. Once you know the goal, saving to meet that goal will be much easier. Then, it just takes some smart decisions and financial discipline. Instead of trying to save a huge sum at once, put away small amounts here and there. Make regular deposits to your savings from your paycheck, and make regular, budget conscious choices that save a few dollars. The savings will stack up surprisingly quick.
A few smart moves and forward planning to save up prior to purchasing a ring will benefit you greatly long-term, as you'll be able to avoid high-interest credit cards and financing.
The good news is you don't need to save an exorbitant amount of money for an engagement ring. By following some prudent tips, setting a budget and sticking to it, you can get your loved one a gorgeous ring that doesn't cost the world.
Top Ways to Save Money on an Engagement Ring
From general budgeting advice, to picking out the best value ring or diamond, here are the best ways to save money when shopping for an engagement ring.
Set Your Limit

Watch Out for High Interest Rates

Know the Return Policy

Get Your Ring Insured

Shop With a Reputable Vendor

Stick to Certified Diamonds (GIA or AGS)

Focus on Quality (Specifically Cut)

Evaluate Your Diamond in Relation to its Setting

Opt for 14K or 18K Gold Instead of Platinum

Go With Fractions

Think About a Halo Setting

Consider a Colored Gemstone Alternative
When buying an engagement ring, it can be hard to know when you're getting a good deal and when you're getting ripped off. Luckily, with a few expert tips, you'll have the keys to saving money on diamond rings without sacrificing on quality. Your money will be put toward the aspects that most greatly impact beauty—giving you the maximum value for your budget.
1. Set Your Limit
The easiest way to spend too much on an engagement ring is not having a strict budget. This makes it far too easy to walk in and fall in love with a specific stone or ring, and ignore things that will keep the price down.
Have a number in mind when you're shopping for a ring that represents the maximum price you're willing to pay. Do a little research before you start searching, to know what you can realistically expect within your price range, and you'll be less likely to be suckered into spending more than you want.
2. Watch Out for High Interest Rates
A good way to end up spending much more than your budget is to be sucked in by financing options that seem too good to be true. While it might seem like a great deal at the time to get a ring with no money down, or to put it on the credit card, it can result in the final cost of your ring blowing up far more than you expect.
Make sure you know all the fine print of any credit deals you sign up for, and don't buy a ring you can't realistically afford.
3. Know the Return Policy
To avoid any extra costs or wasted money in the future, you should know exactly when, how and under what circumstances you can return the ring in the future. Take these details into account when deciding when to propose, just in case anything comes up that requires you to return or exchange the ring.
Perhaps your fiance doesn't like something about the ring, or worse yet, she says no. Most rings aren't cheap, and you don't want to be stuck with one and unable to return it.
4. Get Your Ring Insured
Better safe than sorry. Make sure you have insurance for your ring. That way, you'll be covered if anything should happen. Something as valuable as a diamond ring should always be insured. Otherwise the dreadful moment that damage or loss occurs will hit so much harder.
Check with your existing insurance policy. You may be able to include the ring and get coverage for little added cost.
5. Shop with a Reputable Vendor
Many diamond vendors and jewelry stores exist online and in brick and mortar locations. But they're far from being equal. In fact, the price you can pay for similar jewelry differs significantly. And so does the quality and beauty you receive.
That's why we emphasize being selective in the vendor you choose for your engagement ring or any other fine jewelry. If you're already considering a particular vendor, be sure to read our review of the company first.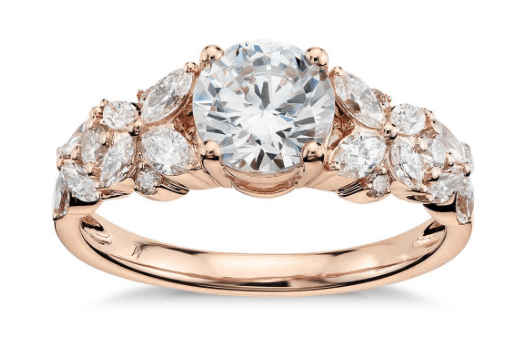 Throughout our 30+ years of combined experience, we've vetted several vendors. We've learned which diamond dealers you can trust and which ones you should avoid. To get the best value for diamonds and settings without overpaying, opt for one of the vendors below. You can also design your own engagement ring with them which allows you to pay only as much as you want to. Different shapes can be more affordable than others. The same applies to settings.
Nervous about shopping for jewelry online? Companies like Blue Nile and James Allen offer hassle-free returns.
Offers a wide selection of settings and styles
Provides incredible imagery for all diamonds
Emphasizes customer service
Offers a superb selection of diamonds and high-quality settings
Maintains the largest online diamond inventory
Focuses on excellent prices
Leibish & Co. (Gemstones and Colored Diamonds)
6. Stick to Certified Diamonds (GIA or AGS)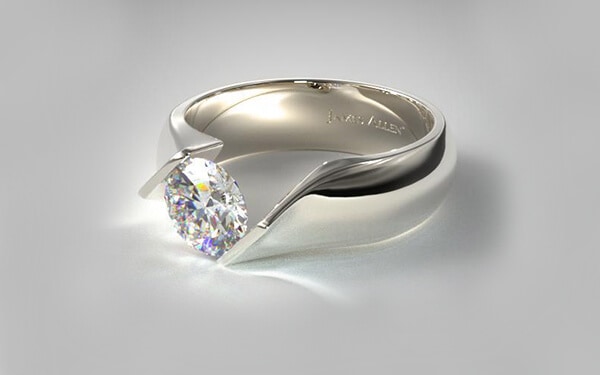 The best way to ensure you aren't overpaying for your diamond, is to check its certification.
A diamond certification is a document from an independent lab that describes a diamond and all of its characteristics, like Cut and Clarity. The most common labs are GIA, AGS, IGI, EGL, GSI and HRD.
Each lab entity grades slightly differently, and some labs are significantly more reliable than others. The reliability of a lab primarily comes down to their consistency. Some labs, like GIA and AGS, are highly regulated and consistent. They produce similar results time and time again.
You may notice that the price of a diamond can differ based on a lab's grading. For instance, an EGL H color diamond might be cheaper than a GIA H Color diamond. The price difference exists because the EGL diamond would rank lower (likely an I or J) on the GIA scale. So instead of snagging a great deal, you actually end up overpaying.
Therefore, we highly recommend only choosing diamonds that come with an AGS or GIA certificate. This will ensure you're getting what you pay for. Even when going with a GIA or AGS certificate, you'll want to review the diamond closely with your own eyes. As discussed above, be sure to choose eye-clean when it comes to Clarity, and a diamond that appears white in relation to its setting.
If you're unsure if a diamond is priced too high, be sure to have a diamond expert review it before purchasing.
7. Focus on Quality (Specifically Cut Quality)
From the 4 C's of diamonds, the cut quality is generally the C that makes the biggest difference to how your diamond looks. The other C's (Color, Clarity and Carat) can be sacrificed somewhat without much effect on the diamond's appearance.
When it comes to terms like Clarity, it can be hard to know what to look for. It's quite common to overpay for diamonds with the highest grade on the Clarity scale, when one with a slightly lower grade won't have much noticeable difference.
You should look for a diamond that's eye clean. It matters less which specific grade you choose, and more how the diamond appears to the naked eye. When you look at the stone yourself, whether online or in-person, look for blemishes and inclusions. Choose a diamond that appears clean, meaning you aren't able to notice any blemishes or inclusions, like in this SI1 0.81 Carat Round Diamond from Blue Nile.
In general, VS1 and VS2 diamonds will be eye clean. You'll have a beautiful diamond that appears the same as a flawless or VVS graded diamond, but you'll pay far less. With smaller diamonds, don't be afraid to look at SI1 – SI2 diamonds as well. 
In comparison, an ideal or excellent cut can make a diamond appear larger than its carat weight indicates, and accentuate the beautiful points of the diamond.
8. Evaluate Your Diamond in Relation to Its Setting
As with Clarity, you can overpay on Color without gaining any noticeable beauty. In general, diamonds in the G to I color range appear just as white as those in the D to F range. For instance, this I-colored diamond from Blue Nile appears white, and so does this G-colored diamond from Blue Nile. The cost difference is 18%. While a jeweler might try to convince you that a D-colored diamond is the best way to go, you're basically spending your money on something that won't be noticed.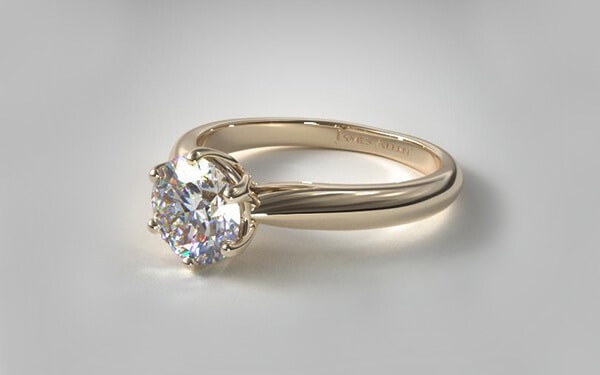 To ensure your diamond looks white, place it next to your setting color.
If choosing a platinum or white gold setting, you'll likely want to stick with a G to I colored diamond. If you choose a yellow gold setting, however, like this Round Cut engagement ring from James Allen, you can probably select an I, J or even a K colored diamond, as it will still look white next to the setting. Again, the goal is to not overpay for a feature that will go unnoticed.
9. Opt for 14K or 18K Gold Instead of Platinum
The primary difference between platinum and white gold is the price. Platinum is much more expensive, without looking any different than white gold. Although similar in price per gram, more platinum is required to make a ring because it's denser.
For example, this beautiful halo setting costs $1,290 from Blue Nile in white gold. The platinum version of the ring costs $500 more. So, rather than spend your money on a specific type of metal, opt for gold, as it's less expensive but still looks stunning.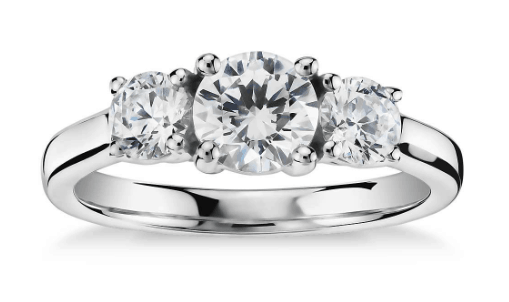 Wondering what the difference is between 18K and 14K gold? 18 Karat and 14 Karat gold are both made primarily of gold along with a mix of durable metals like nickel, zinc, copper and a rhodium plating (gold by itself is relatively soft).
18 Karat is 75% gold, while 14 Karat is 58.3% gold. Both gold materials are durable and beautiful, but the price difference can be significant. For example, this elegant 14kt white gold setting from Blue Nile costs $230 (for the setting only), while the same setting in 18k gold from Blue Nile is $400.
To save the most money on your ring setting, select 14K gold, or choose 18K gold over platinum.
10. Go With Fractions
It's easy to get hooked on the idea of a 1 carat diamond, 2 carat diamond ring or 3 Carat diamond ring. And while Carat weight can impact how large a diamond appears, it's not the best indicator of beauty or even value. For example, this Very Good cut 2 Carat diamond stone from James Allen (costing $17,260) will look dull compared to a stunning, Excellent cut 1.2 Carat diamond from James Allen (which costs $7,700).
So rather than sticking to a specific carat weight, be flexible in what you're looking for. Achieving a certain Carat weight can make your ring more expensive, but not necessarily more beautiful or eye-catching.
Also, round numbered weights tend to come with a higher price tag. People like to brag about carat figures and the result is a big difference in price for very little visible difference.
This is especially true for diamonds over or under certain numbers. For example, a diamond weighing 1.50 carats will be significantly more expensive than a 1.47 carat diamond. Yet to the eye, it will appear almost exactly the same. Similarly for a 1.02 carat diamond versus a 0.92 carat.
You can easily save 15-20% on diamonds by purchasing an unrounded number, or buying a slightly lower weight. You can put these savings into buying a diamond with a higher quality cut, which will be much more noticeable than carat weight.
11. Think About a Halo Setting
When shopping for a ring on a budget, you'll want to find a diamond that appears bigger or better than its grade. Realistically, the value of the ring is in the appearance and reaction it gets on a daily basis, not from what the numbers say.
A halo setting can often make a smaller carat diamond appear bigger, due to the circle of diamonds surrounding the center stone. This allows you to save on the diamond, but still get your significant other an attention-grabbing ring. 
12. Consider a Colored Gemstone Alternative
If you prefer a unique, vibrant style, consider a gemstone ring instead of a diamond one. By choosing a gemstone, like a sapphire or ruby, you can save significant money. This emerald ring from Leibish & Co., for example, for a total of 1.57 carat costs $6,335. This 4.04 carat weight purple tanzanite ring from Leibish & Co. costs $3,950. While it's hard to make a direct comparison between diamonds and other gemstones, you can find stunning rings for an excellent price. This advice goes for other types of rings like promise rings and anniversary rings as well.
When going the gemstone route, we highly recommend shopping with Leibish & Co. They're known for their exceptionally beautiful stones, high-quality settings and competitive prices. You'll end up with a stunning ring that's personalized for the one you love.
Have more questions about getting the best ring for your budget? Email our experts.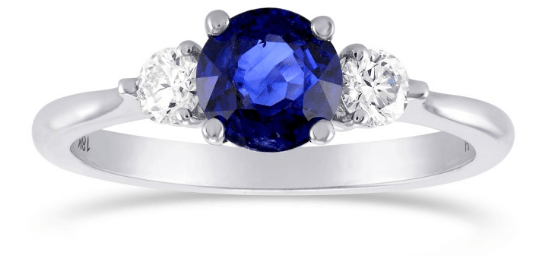 James Allen

James Allen is the leader in online diamond sales. Their imaging technology is the same as inspecting a diamond with a jeweler's loupe. They have the largest exclusive loose diamond inventory online and fantastic prices. They also have the nicest collection of lab created diamonds online. Now save 25% off settings AND 3% off Earth Diamonds during James Allen HUGE limited time sale!
What we love about them:
No questions asked returns within 30 days of shipment. James Allen will send you a paid shipping label to return the ring.
Lifetime Warranty
Free International Shipping
Free prong tightening, repolishing, rhodium plating and cleaning every 6 months
Provide insurance appraisals
One free resizing within 60 days of purchase
Free ring inscriptions
Best-in-class high quality imagery of all diamonds in stock
24/7 Customer Service
Best-in-class packaging

---
Blue Nile

Blue Nile is the largest and most well known internet jewelry seller. They have a very large exclusive online inventory. Their high quality images are catching up to James Allens' and their prices are amazing. Blue Nile have generously offered our readers an exclusive one-time use coupon.

(Click Here to save $100 off engagement ring settings)
What we love about them:
No questions asked returns within 30 days of shipment. Blue Nile will send you a paid shipping label to return the ring.
Lifetime Warranty
Free Shipping
Free prong tightening, repolishing, rhodium plating and cleaning every 6 months
Provide insurance appraisal
One free resizing within the first year of purchase
High quality images of about half of their diamonds
24/7 Customer Service
100% credit towards future upgrades (must be at least double in value)
Best in class fulfillment

---
Still afraid of getting ripped off?
Before you buy a diamond, get personal buying advice from industry veterans. We'll help you get the best diamond for the money.
Ask your diamond purchase question here
DISCLAIMER: We don't use your email for marketing. Period.