We are reader-supported. Buying through links on our site may earn us commissions. Learn More.
Deal Alert! Huge James Allen Sale- 3% off Earth Diamonds AND 25% off settings or

15% off at Blue Nile!



How Do Top Celebrity Engagement Rings Match Up?
Celebrity engagements are a voyeuristic indulgence for pretty much everyone with a pulse. The drama of their relationships is incomparable and rings are almost unbearably expensive.
But have you ever wondered how the expense of the ring compares to other details like net worth, duration of relationship, profession of the fiancee'd or even relative bra cup size?
Of course you have — you're just as obsessed as we are.
By studying 82 of the most expensive celeb engagement rings and compounding certain metrics of relationships, a few unexpected patterns come to light about the ever pondered question:
Can money actually buy you love?
CELEBRITY BLING TRENDS
$750k for an engagement ring? That's only a C+ when it comes to celebrity bling. The highest priced was the ill-fated $10 million one that crooner Mariah Carey received from James Packer (outshining the $2.5 million ring she was given by estranged husband, comedian Nick Cannon).
Hopefully, all that ice keeps her warm at night after her new year's eve debacle — because Packer doesn't. Despite the huge up front cost, the couple never even made it to the altar and split after a year-long engagement in 2016. Smart lady, Mimi kept the ring, a 35 carat behemoth.
Our study runs the gamut from that luxurious rock, all the way to the much more down to earth $15k ring given to Welsh singing star Katherine Jenkins.
Classic cuts dominated the research with most popular being the emerald cut (including Mariah's doozy), followed by oval and round cuts.
Wonder what line of work will procure the best ring in return? Looking to the research, singing for your ring will get a diamond that is a girl's very best friend. Musicians averaged rings that were around $1m — $200k more than models and about $700k more than actresses.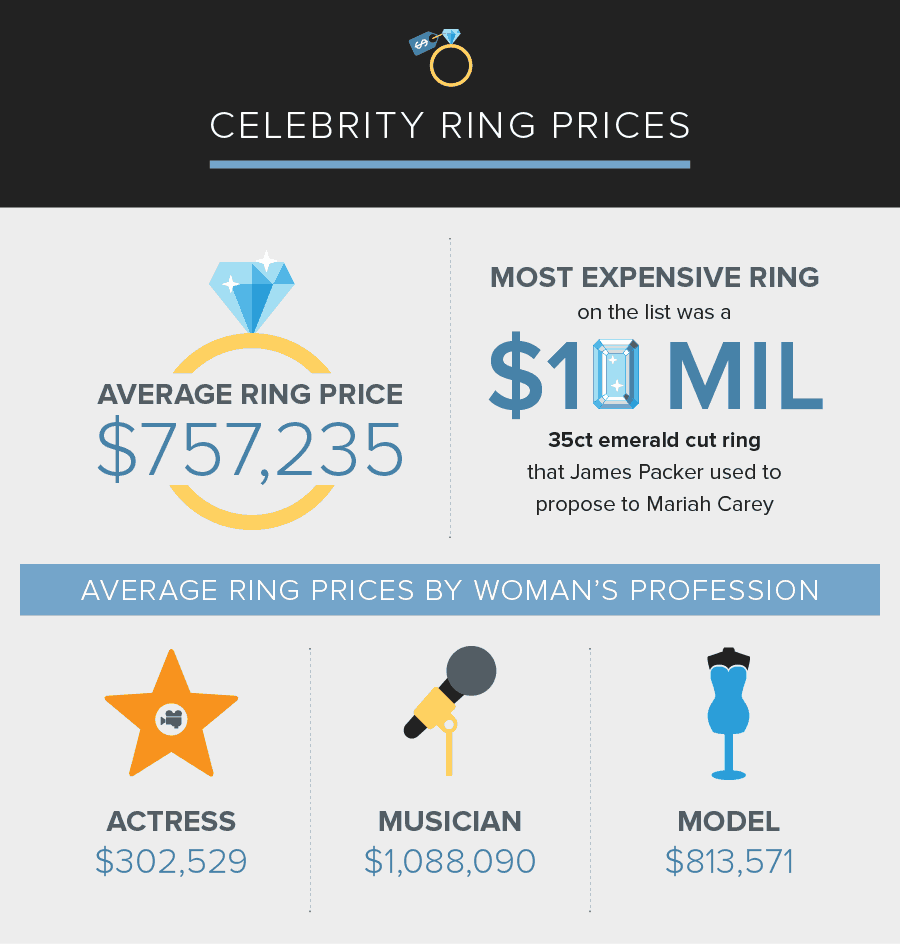 BIG RING. BIGGER MISTAKE.
Overcompensation on a ring is a classic mistake to which celebrities are in no way immune — a great big rock can only cover up relationship problems for so long.
The study points out that some of the shortest relationship (lasting less than six months) had the highest priced hardware, averaging over $2 million. This is in comparison to celebrity couples whose average rings cost $60k. These more moderately priced rings resulted in relationships that spanned an average of 2-3 years (which in "celebrity time" is like a golden anniversary).
So the lesson seems to be if you want to have something that lasts, definitely cheap out on the ring. For example, David Beckham's comparatively thrifty $100k ring for his wife Victoria has them living 'forever after' with almost 20 years under their belts and still going strong.
The $4.7 million Paris Hilton escapade hinted at earlier cost her fiancee, Paris Latsis, close to $50k a day ($4.7m/99 days of pre-marital bliss). But don't fear for the sad losses of Paris & Paris, (or as I am sure they called themselves in a cute combo name, The Paris'). The almost $5 million ring was less than .06% of Latsis' estimated net worth of over $3.9 billion (with a "B"). That… is hot.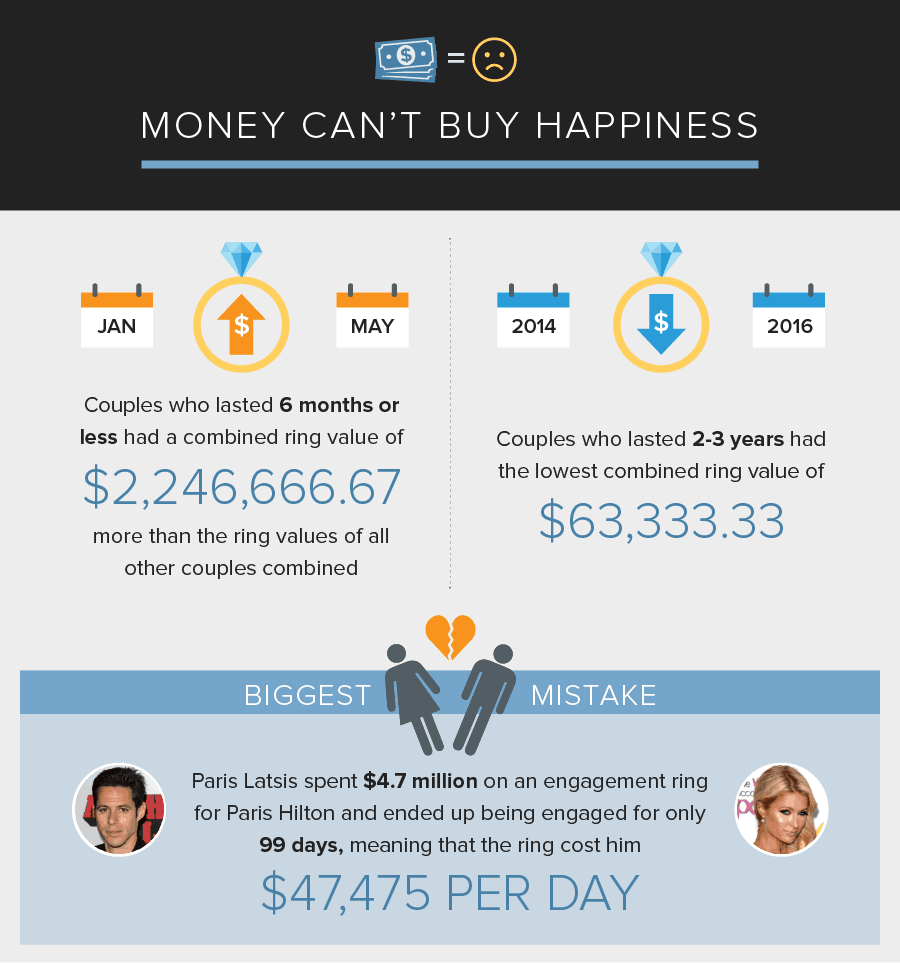 KEY RING PERFORMANCE INDICATORS
Studies show that larger physical assets lead to larger financial ones. Celebrity brides-to-be that maxed out at at a D-cup or more averaged promissory rings of over $1.8 million (significantly grander than average) — though whether those particular attributes began at their current size or were artificially augmented for the desired effect will require some additional research.
There is also evidence that, in the ring game, experience pays off. Younger husbands seem to want to impress their older fiancees with glitter — when wives were 3 years older than their husbands (or more) the big ticket price rocketed to over $1 million on average.
As for how much each ring sets a husband back percentage-wise, the traditional 1-2 month salary adage does not generally seem to hold true for celebs. Take for example the most expensive ring in our study, Mariah's $10 million emerald cut treasure. She could drop it down a sewer grate — it only cost .26% of Packer's net worth of $3.9 Billion. No wonder he just let her keep it when they split. Plenty more where that came from.
When considering net worth, it seems that the richer the man, the less invested they are in the trappings of marital bliss — and their relationship length often reflects that.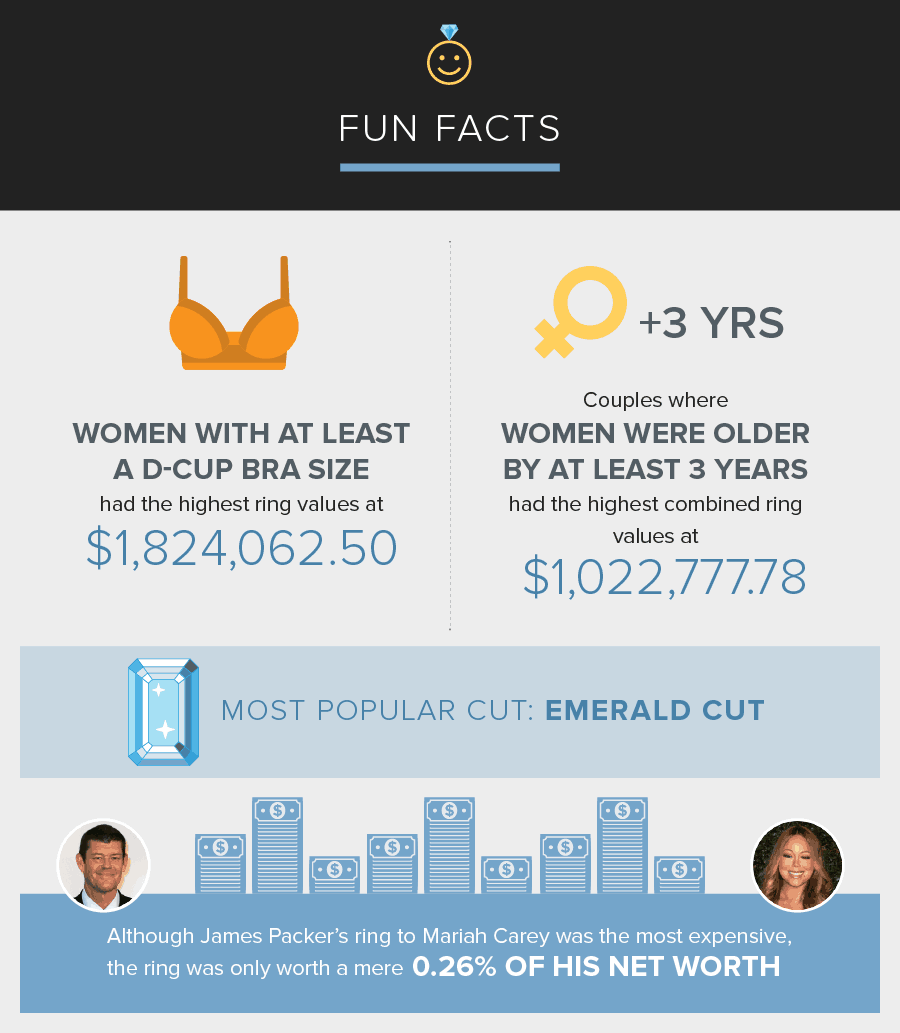 NET WORTH VS. RING PRICE: THE NUMBERS
Many of the highest worth suitors appear not particularly financially invested in their relationships. We studied the engagement rings of the top 36 most wealthy "would-be" husbands, whose total assets average at over $200 million, and found that the average ring is only three-quarters of a million — so you do the math.
Those super wealthy, with over $10 million in the bank invested markedly less when on one knee at only about 1.5% of their total worth. That's in direct comparison to those with thinner wallets who cashed 35% into the dream of marriage to their soul mate.
Can you love someone with only .02% of your heart — or of your assets at least? Prince Albert of Monaco's engagement ring to olympic swimmer Charlene Wittstock cost only $100k, which is nothing in comparison to his $450 million net worth. In comparison, the average income in the U.S. is $51k — if spending .02% — I'm not sure a ring costing $10.20 will cut it for most brides-to-be.
Which is not to say that romance is dead, particularly in France of course, where restaurateur Jean Bernard Fernandez-Versini spent 420% of his net worth on a ring for his wife Cheryl. Though that grand gesture proved not to be enough to save the relationship — they split in December of 2016. Ah well.. that's France. FYI, Prince Albert is still happily married. Take from that what you will.
If you are looking for a comparative metric for your own impending nuptials, the average net worth spent on an engagement ring for celebrities was 15%. Going back to the average U.S. salary that's a pretty hefty $7k.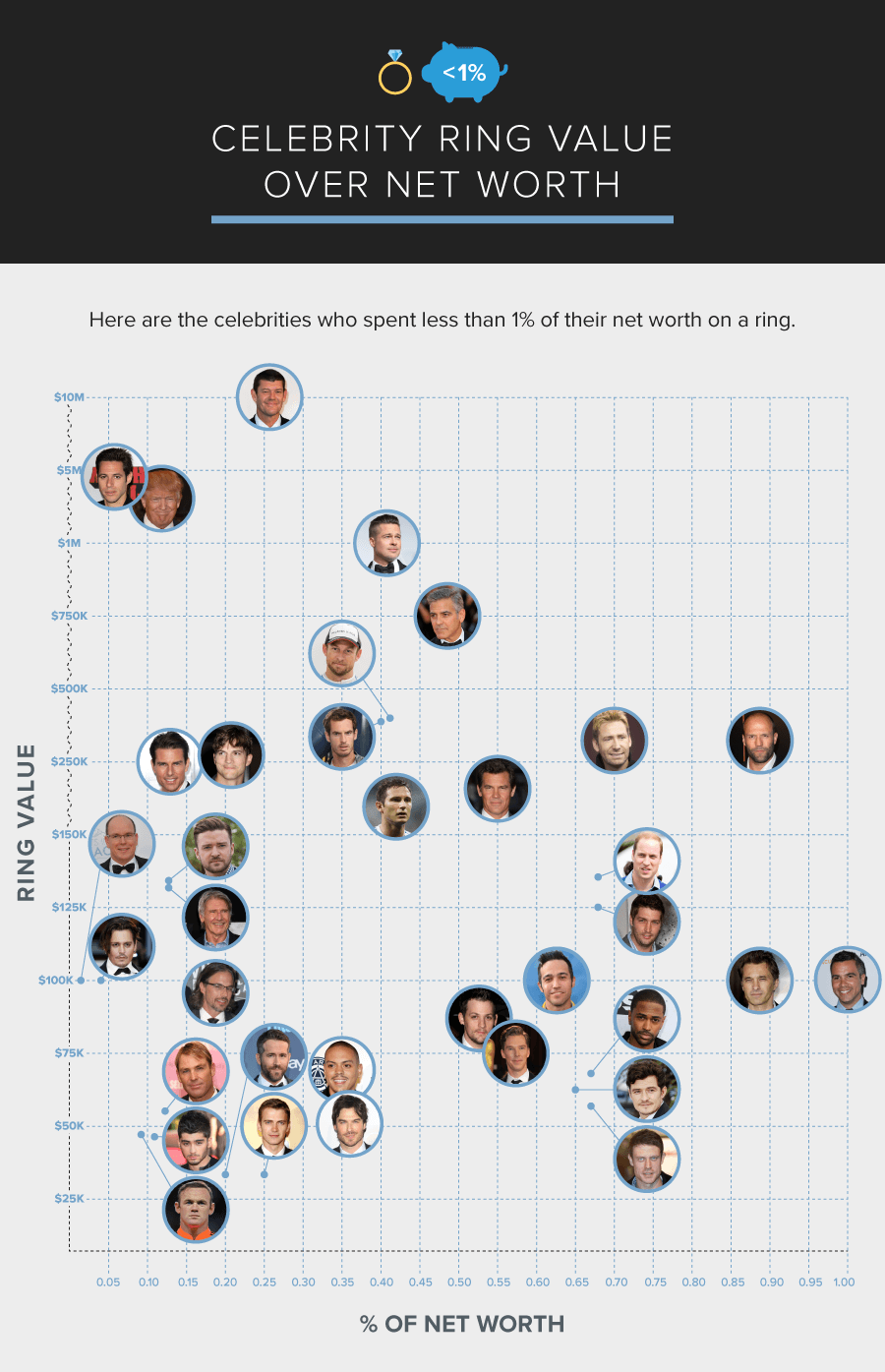 They say the rich get richer, but as our study shows, that doesn't seem to equate to marital bliss. And while the super wealthy may seem they are dedicated to their betrothed with financial as well as emotional investment, the wealthier the prospect, the less (seemingly) the need to truly commit. In the end, the Beatles were right — money and love cannot be equated, and as the philosopher The Notorious B.I.G. would like to remind us "Mo Money, Mo Problems".
James Allen

James Allen is the leader in online diamond sales. Their imaging technology is the same as inspecting a diamond with a jeweler's loupe. They have the largest exclusive loose diamond inventory online and fantastic prices. They also have the nicest collection of lab created diamonds online. Now save 25% off settings AND 3% off Earth Diamonds during James Allen HUGE limited time sale!
What we love about them:
No questions asked returns within 30 days of shipment. James Allen will send you a paid shipping label to return the ring.
Lifetime Warranty
Free International Shipping
Free prong tightening, repolishing, rhodium plating and cleaning every 6 months
Provide insurance appraisals
One free resizing within 60 days of purchase
Free ring inscriptions
Best-in-class high quality imagery of all diamonds in stock
24/7 Customer Service
Best-in-class packaging

---
Blue Nile

Blue Nile is the largest and most well known internet jewelry seller. They have a very large exclusive online inventory. Their high quality images are catching up to James Allens' and their prices are amazing. Blue Nile have generously offered our readers an exclusive one-time use coupon.

(Click Here to save $100 off engagement ring settings)
What we love about them:
No questions asked returns within 30 days of shipment. Blue Nile will send you a paid shipping label to return the ring.
Lifetime Warranty
Free Shipping
Free prong tightening, repolishing, rhodium plating and cleaning every 6 months
Provide insurance appraisal
One free resizing within the first year of purchase
High quality images of about half of their diamonds
24/7 Customer Service
100% credit towards future upgrades (must be at least double in value)
Best in class fulfillment

---
Still afraid of getting ripped off?
Before you buy a diamond, get personal buying advice from industry veterans. We'll help you get the best diamond for the money.
Ask your diamond purchase question here
DISCLAIMER: We don't use your email for marketing. Period.