The unique, tapered design of a pear shape diamond offers its signature appeal. With a fancy pear shape diamond, choose a ring setting that secures the diamond's tip but also complements the shape. Solitaire and halo settings often work best for pear shape engagement rings.
Pear shape engagement rings range from classic to modern. Because of the unique shape of the diamond, let the center stone be the main attraction. You can still include embellishments, like a pave band, but aim to keep the attention on the center stone.
With a pear shape, pay particular attention to Cut quality. Review the diamond closely yourself, as the GIA doesn't give out cut grades for pear shapes. We recommend a length to width ratio between 1.55 and 1.75, so the diamond isn't too slender or too wide. You'll also want to keep the depth and table percentages under 66%.
Different than the Round Cut—where well-cut stones are abundant—it's hard to find a high-quality pear shape diamond. That's why we suggest asking for help from an expert if you're looking to buy a pear shape diamond engagement ring.
James Allen

James Allen is the leader in online diamond sales. Their imaging technology is at the point where it's almost the same as inspecting a diamond with a jeweler's loupe. Their customer experience is best in class, and they have recently upgraded their non-engagement jewelry inventory as well. They have the largest exclusive loose diamond inventory online and fantastic prices. They also have the nicest collection of lab created diamonds online. For a limited time only, take advantage of James Allen's Valentine's Day sale and get 25% OFF!
What we love about them:
No questions asked returns within 30 days of shipment. James Allen will send you a paid shipping label to return the ring.
Lifetime Warranty
Free International Shipping
Free prong tightening, repolishing, rhodium plating and cleaning every 6 months
Provide insurance appraisals
One free resizing within 60 days of purchase
Free ring inscriptions
Best-in-class high quality imagery of all diamonds in stock
24/7 Customer Service
Best-in-class packaging

---
Blue Nile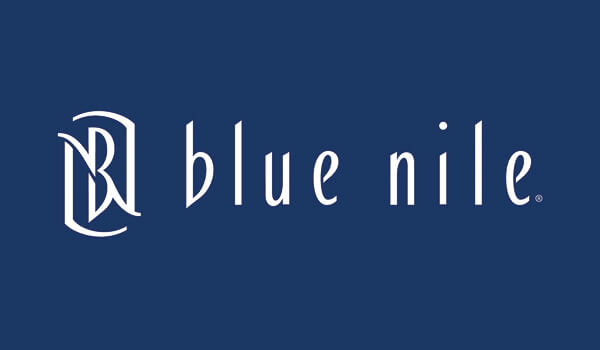 Blue Nile is the largest and most well known internet jewelry seller. They have a very large exclusive online inventory. Their high quality images are catching up to James Allens' and their prices are amazing.

(Pick Up a Blue Nile Coupon Here for $50 off)
What we love about them:
No questions asked returns within 30 days of shipment. Blue Nile will send you a paid shipping label to return the ring.
Lifetime Warranty
Free Shipping
Free prong tightening, repolishing, rhodium plating and cleaning every 6 months
Provide insurance appraisal
One free resizing within the first year of purchase
High quality images of about half of their diamonds
24/7 Customer Service
100% credit towards future upgrades (must be at least double in value)
Best in class fulfillment