House of Hung/JannPaul
Scared of getting ripped off? Don't want to waste your money? Confused by all the choices? Contact us.
Michael Fried

Overall Score:
1
Price:
1
Selection:
1
Customer Service:
1
Bottom Line Recommendation
House of Hung/Jann Paul was one of the better retailers we've been to while secret shopping. All of the diamonds were GIA or AGS certified and the salespeople were knowledgeable. As you will see below, you can save approximately 30% by purchasing by purchasing a similar engagement ring from Blue Nile (with diamonds that have the same quality). While we don't think it's worth paying that premium at House of Hung/Jann Paul, their products are reasonably priced.
The History
House of Hung was founded in 1973 as a family business and was one of the very few jewellery stores in Singapore. The first store was located in Tanglin Shopping Centre, along the Orchard road shopping district. In the beginning, they offered electronic goods and jewellery products. In 1975, a decision was made to specialise in finer jewelleries and an in-house team of skilled craftsmen. They provided customization services with traditional hand-sketched drawings. In that same year, the store was relocated to Far East Shopping Centre and was the largest jewellery store in Singapore. Over the years, they established themselves to be one of Singapore's largest diamond wholesalers and manufacturers. Till date, it still operates in the same location and offers an extensive range of gemstones and jewellery products. Later, this is where JannPaul was conceptualized with the vision to specialize in Super Ideal Cut diamonds.
In 2010, JannPaul was founded to provide consumers high performing diamonds at competitive prices. The vision of the company is to educate the public and empower them with knowledge to make an informed decision. Our goal is to offer the best diamond cuts in all shapes, at the most competitive price. By doing this, we hope to revolutionize the diamond industry and raise the benchmark. The company was established due to the lack of transparency in the diamond industry. Buying a diamond based on a certificate is insufficient and consumers often had to rely on the words of a salesperson to judge a diamond's quality. There was a lack of information in the market and consumers were at a disadvantage. The Idea behind JannPaul was to provide consumers a comprehensive diamond education session to learn more about diamonds and the industry. We shared trade secrets and the Dos and Don'ts in purchasing a diamond.
In 2015, we designed and introduced the World's first Octagon 88 faceted Hearts & Arrows diamond.
In 2016, JannPaul will open its new flagship store in Orchard road, besides House of Hung. This will be the same year where our official e-commerce store will be launched. Our diamond educational articles and videos will be easily accessible on our website, making it one of the most informative diamond sites. Our website will include comprehensive diamonds scopes images (Actual, Ideal, ASET and Hearts & Arrows) to allow consumers to have full information on their purchases. In the future, we plan to strengthen our international presence and distribute our patented diamond cuts worldwide. (source)
The Experience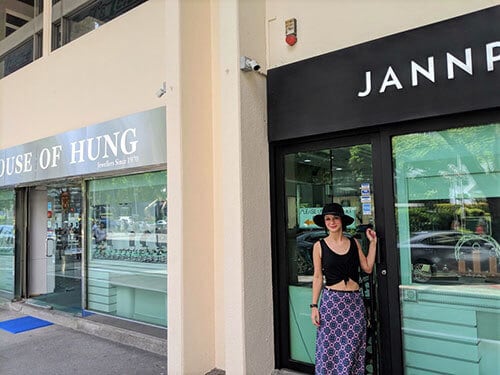 Our first stop in Singapore was, coincidentally, our best stop in Singapore. We started our day by visiting The House of Hung, which is the name for Jann Paul's physical retail location (they have the Jann Paul sign in one of the windows). Walking in felt like I was walking in to a large American retailer. There were rows and rows of showcases, mostly dedicated to engagement rings.
We wandered around for a few minutes with the sales people keeping an eye out for us, but also letting us peruse the inventory on our own. When we slowed down on our own, Ranjit was there to help us out.
We had a fantastic time with Ranjit. He was very knowledgeable when it comes to diamonds and he took the time to explain many different aspects of the diamond that we should pay attention to. He wasn't pushy at all. Too often you get the feeling that the salesperson is trying to sell something they want to get rid of. That was not the case here. Ranjit made us feel like he was trying to find exactly what fits us.
The Product
We looked at a few diamonds while we were there. The first one was the worst of the bunch. It was a 1.02ct F color, VS1 clarity round diamond for SG$ 15,000. While the cut was ok (the table was too big for our tastes), the big problem was the strong blue fluorescence. The diamond had a noticeable milky look to it which sapped the diamond of its brilliance. Fluorescence was the only issue we kept having while shopping here.
The second diamond we saw had medium fluorescence. While we don't recommend that for G+ diamonds, it's not as bad as a strong blue diamond. Check out our fluorescence article for more information. The second diamond was a 1.40ct G color, VS1 clarity round cut for SG$19,500.
The Value
Let's start with the first diamond (the 1.02 F color VS1 round with strong blue fluorescence for SG$15,000). Here is a similar 1.00ct F color, VS1 clarity round diamond for SG$ 9,257 (that is including all taxes). That is 38% less than the virtually identical diamond from JannPaul/House of Hung.
Another way to look at it is what could we buy for that SG$15,000. Here is an absolutely stunning 1.20ct F color, VS1 clarity round diamond with no fluorescence for SG$13,719. You would get a superior quality diamond that is 20% larger and still save almost 10%.
Now let's move onto the 1.40 ct G color, VS1 clarity round diamond for SG$19,500. Here is a similar 1.41 ct round cut, G color, VS1 clarity diamond for SG$14,710. That is a savings of roughly 25%.
JannPaul the E-Retailer
It seems like House of Hung is making a strong push into the internet space. While their website looks fantastic, they have not yet developed the e-retail side. I'm genuinely curious to see what it looks like when it is finished.
In Conclusion
As I've covered before, you'll almost always pay more to buy loose diamonds and other jewelry from a physical retailer than from an online diamond vendor. House of Hung/JannPaul is no exception to this, with prices that were about 25 to 38% more expensive than Blue Nile or James Allen.
With this said, the value for money offered by House of Hung/JannPaul was better than many of the other jewelry retailers we visited in Singapore. Overall, we felt that their products were quite reasonably priced for a retail jewelry business.
From a service perspective, House of Hung/JannPaul gets a great score. The store we visited had a variety of engagement rings on display and a feeling similar to an American retailer, with friendly, knowledgeable and non-pushy staff.
Final Thoughts
The diamonds we saw at House of Hung/JannPaul were all GIA or AGS certified, which is a very good sign. The two diamonds we looked at had some fluorescence issues, although the second wasn't as bad as the first.
Overall, while we don't think it's worth paying the 25-38% extra at House of Hung/JannPaul compared to what you'd pay for a similar diamond from Blue Nile, the friendly, knowledgeable staff and GIA or AGS certification make this worth considering if you prefer to shop offline.
James Allen

James Allen is the leader in online diamond sales. Their imaging technology is at the point where it's almost the same as inspecting a diamond with a jeweler's loupe. Their customer experience is best in class, and they have recently upgraded their non-engagement jewelry inventory as well. For a limited time, take advantage of their 25% OFF Mother's Day sale!
What we love about them:
No questions asked returns within 30 days of shipment. James Allen will send you a paid shipping label to return the ring.
Lifetime Warranty
Free International Shipping
Free prong tightening, repolishing, rhodium plating and cleaning every 6 months
Provide insurance appraisals
One free resizing within 60 days of purchase
Free ring inscriptions
Best-in-class high quality imagery of all diamonds in stock
24/7 Customer Service
Best-in-class packaging

---
Blue Nile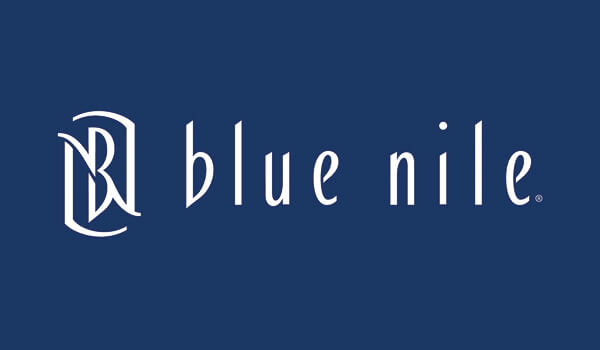 Blue Nile is the largest and most well known internet jewelry seller. They have the industry-leading largest available exclusive online inventory. Their high quality images are catching up to James Allens' and their prices are amazing.
What we love about them:
No questions asked returns within 30 days of shipment. Blue Nile will send you a paid shipping label to return the ring.
Lifetime Warranty
Free Shipping
Free prong tightening, repolishing, rhodium plating and cleaning every 6 months
Provide insurance appraisal
One free resizing within the first year of purchase
High quality images of about half of their diamonds
24/7 Customer Service
100% credit towards future upgrades (must be at least double in value)
Best in class fulfillment

---
Still afraid of getting ripped off?
Before you buy a diamond, get personal buying advice from industry veterans. We'll help you get the best diamond for the money.
Ask your diamond purchase question here
DISCLAIMER: We don't use your email for marketing. Period.