The History of Engagement Rings
Scared of getting ripped off? Don't want to waste your money? Confused by all the choices? Contact us.Blue Nile, one of our favorite vendors, is currently running the biggest sale we have seen in the 10 years running this site! Click here for details.
We get commissions for purchases made from our affiliates through links in this article. Learn More.
The Engagement Ring Tradition
If you ask your average American consumer "When did the tradition of giving a diamond engagement ring begin?" I'm sure most people would answer that this well-founded tradition is at least several hundred years old.
After all, how else can you explain this tradition's widespread acceptance as gospel? What newly engaged woman in America wouldn't be devastated if she didn't receive a diamond ring?
The amazing fact is that the tradition of a diamond engagement ring is less than one hundred years old! Edward Jay Epstein in his important article titled "Have you Ever Tried to Sell a Diamond?" details the early history of the tradition in the late 1930s and 1940s. Here is a telling excerpt:
In its 1947 strategy plan, the advertising agency strongly emphasized a psychological approach. "We are dealing with a problem in mass psychology. We seek to … strengthen the tradition of the diamond engagement ring — to make it a psychological necessity capable of competing successfully at the retail level with utility goods and services…." It defined as its target audience "some 70 million people 15 years and over whose opinion we hope to influence in support of our objectives." N. W. Ayer outlined a subtle program that included arranging for lecturers to visit high schools across the country. "All of these lectures revolve around the diamond engagement ring, and are reaching thousands of girls in their assemblies, classes and informal meetings in our leading educational institutions," the agency explained in a memorandum to De Beers. The agency had organized, in 1946, a weekly service called "Hollywood Personalities," which provided 125 leading newspapers with descriptions of the diamonds worn by movie stars. And it continued its efforts to encourage news coverage of celebrities displaying diamond rings as symbols of romantic involvement. In 1947, the agency commissioned a series of portraits of "engaged socialites." The idea was to create prestigious "role models" for the poorer middle-class wage-earners. The advertising agency explained, in its 1948 strategy paper, "We spread the word of diamonds worn by stars of screen and stage, by wives and daughters of political leaders, by any woman who can make the grocer's wife and the mechanic's sweetheart say 'I wish I had what she has.'"

De Beers needed a slogan for diamonds that expressed both the theme of romance and legitimacy. An N. W. Ayer copywriter came up with the caption "A Diamond Is Forever," which was scrawled on the bottom of a picture of two young lovers on a honeymoon. Even though diamonds can in fact be shattered, chipped, discolored, or incinerated to ash, the concept of eternity perfectly captured the magical qualities that the advertising agency wanted to attribute to diamonds. Within a year, "A Diamond Is Forever" became the official motto of De Beers.

In 1951, N. W. Ayer found some resistance to its million-dollar publicity blitz. It noted in its annual strategy review:
The millions of brides and brides-to-be are subjected to at least two important pressures that work against the diamond engagement ring. Among the more prosperous, there is the sophisticated urge to be different as a means of being smart…. the lower-income groups would like to show more for the money than they can find in the diamond they can afford…
To remedy these problems, the advertising agency argued, "It is essential that these pressures be met by the constant publicity to show that only the diamond is everywhere accepted and recognized as the symbol of betrothal."
It's not nice to say, but whoever buys a diamond engagement ring is a sucker to the biggest scam in history (yours truly included). But what can we do? Our wives-to-be have unfortunately drunk the kool aid as well and it is never advisable to dissapoint a new bride-to-be!
In the diamond business there's a word for this — "illusion." Everyone in the diamond business knows that the whole thing is held together by one giant illusion.
If you have any questions, please post them in the comments below. I will usually respond within 24 hours.
Blue Nile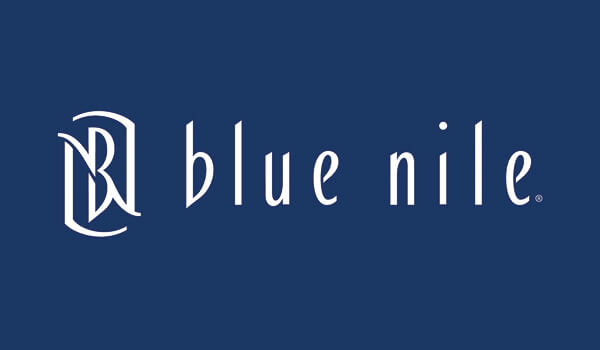 Blue Nile is the largest and most well known internet jewelry seller. They have a very large exclusive online inventory. Their high quality images are catching up to James Allens' and their prices are amazing. Blue Nile is currently running their biggest sale ever! (Click here for details)
What we love about them:
No questions asked returns within 30 days of shipment. Blue Nile will send you a paid shipping label to return the ring.
Lifetime Warranty
Free Shipping
Free prong tightening, repolishing, rhodium plating and cleaning every 6 months
Provide insurance appraisal
One free resizing within the first year of purchase
High quality images of about half of their diamonds
24/7 Customer Service
100% credit towards future upgrades (must be at least double in value)
Best in class fulfillment

---
James Allen

James Allen is the leader in online diamond sales. Their imaging technology is the same as inspecting a diamond with a jeweler's loupe. They have the largest exclusive loose diamond inventory online and fantastic prices. They also have the nicest collection of lab created diamonds online.
What we love about them:
No questions asked returns within 30 days of shipment. James Allen will send you a paid shipping label to return the ring.
Lifetime Warranty
Free International Shipping
Free prong tightening, repolishing, rhodium plating and cleaning every 6 months
Provide insurance appraisals
One free resizing within 60 days of purchase
Free ring inscriptions
Best-in-class high quality imagery of all diamonds in stock
24/7 Customer Service
Best-in-class packaging

---
Still afraid of getting ripped off?
Before you buy a diamond, get personal buying advice from industry veterans. We'll help you get the best diamond for the money.
Ask your diamond purchase question here
DISCLAIMER: We don't use your email for marketing. Period.